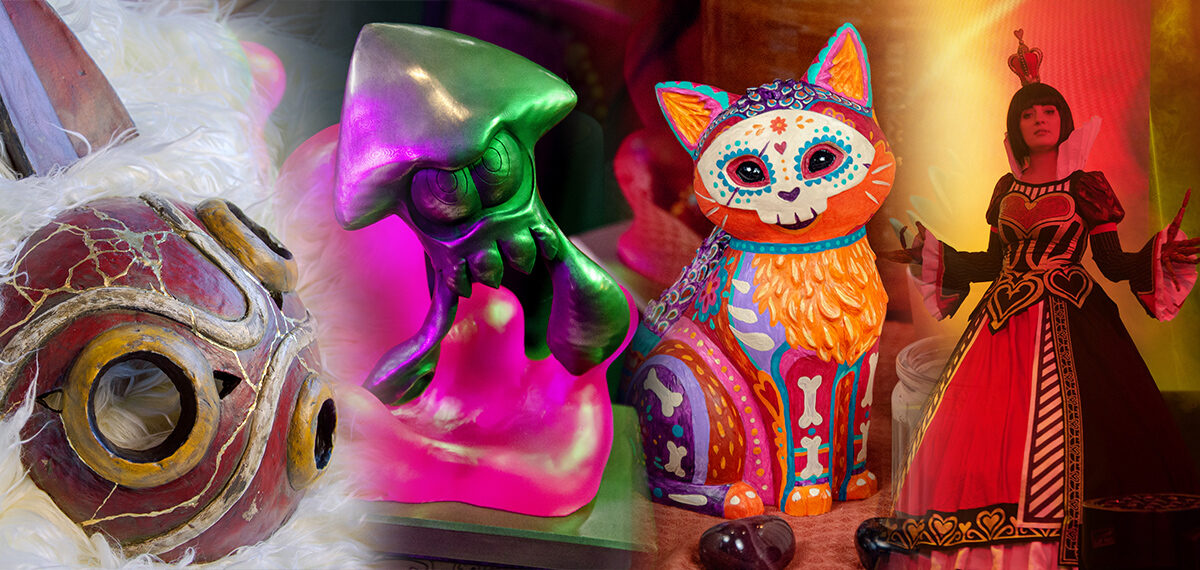 Review 2022
2022 has been a busy year for our studio with challenges, new creations, but also some difficulties. Join us for a review of the past year between cats, mushrooms and mandrakes, change of raw materials, counterfeits and the opening of a TikTok account…
First creation of the year: the Princess Mononoké mask in clay and Kintsugi! (January)
We were contacted by Julien Fontanier for the creation of a very special decorative element: the mask of Princess Mononoké, as if it were the original which would have been repaired according to the Kintsugi method. The mask is destroyed in the film, and this traditional Japanese method consists of repairing a broken object by highlighting its broken parts to make it more beautiful and symbolize its history.
We chose to work with self-hardening clay, a material we had never used before. For the Kintsugi method, Urushi lacquer is traditionally used, which is irritating and requires long drying under very specific conditions. We therefore opted for a more modern method based on pigments and UV resin.
The end result was stunning, and I must say we were a little sad to see this mask go to its new owner. What a pleasure that said, to be able to find it in the videos of Julien Fontanier, in the middle of other really very beautiful artisanal creations.
If you are interested in this project: the video and a more detailed article will be published in the coming days. Don't forget to follow us on our networks so you don't miss a thing!
Find Julien Fontanier's channel here : https://www.youtube.com/coursdejaponaisFR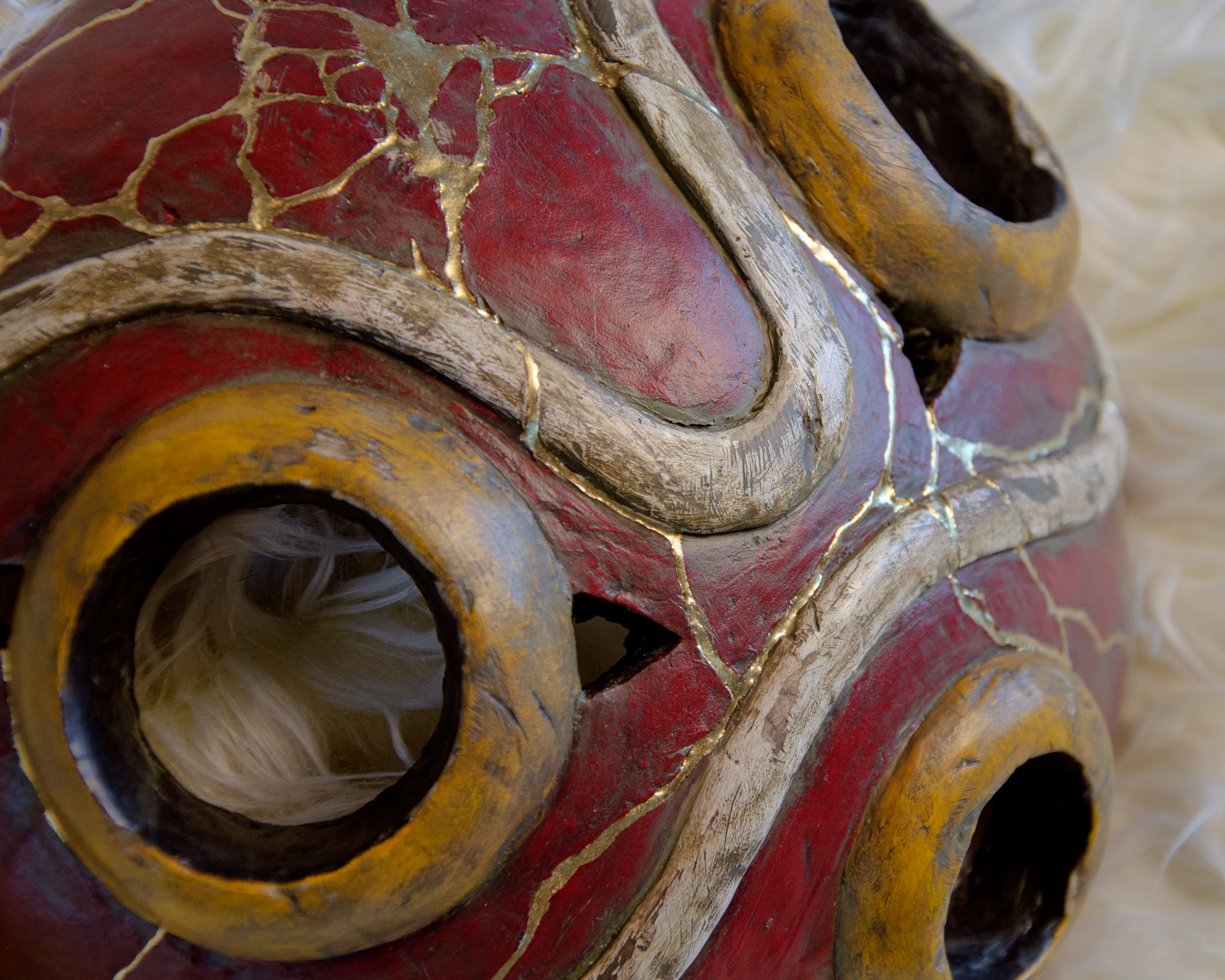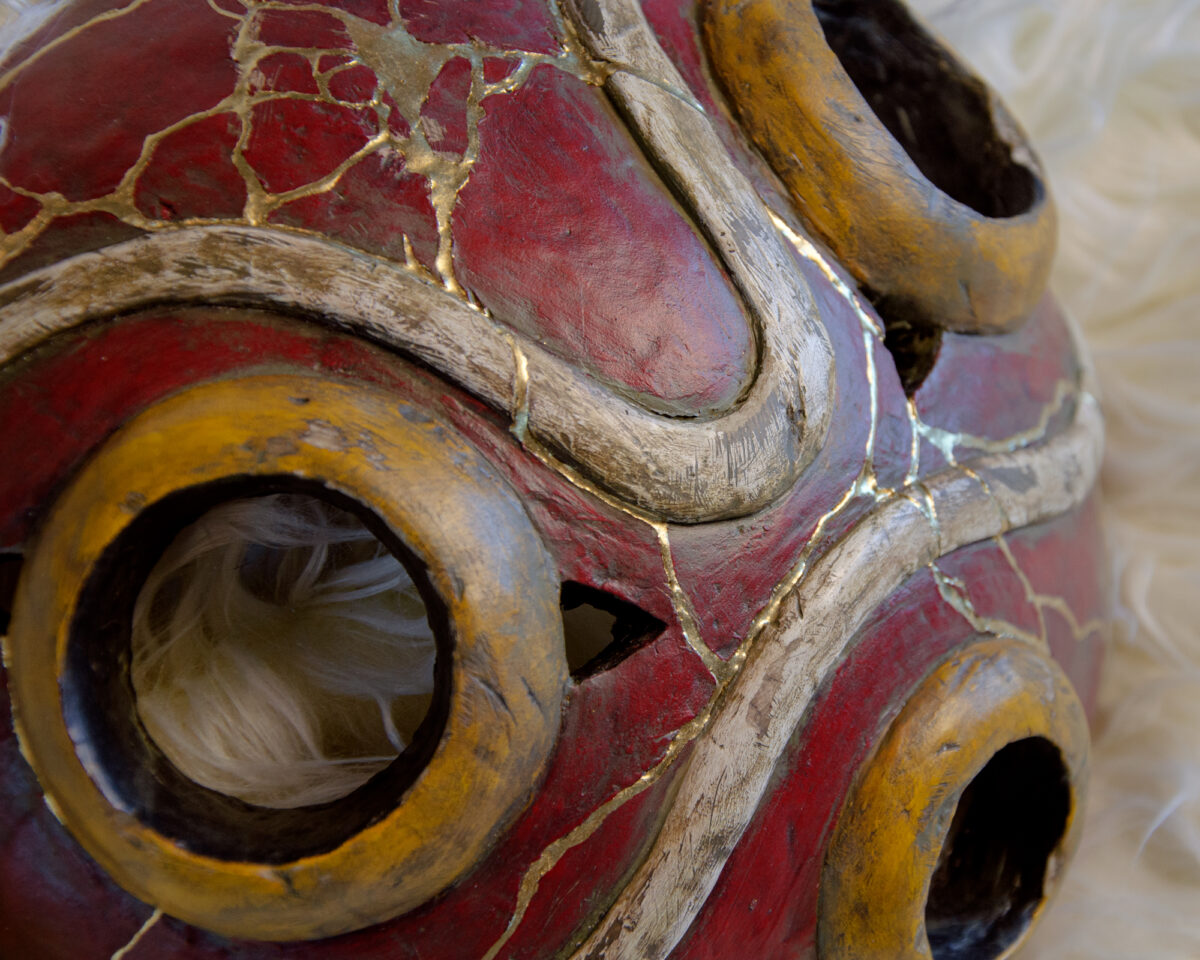 New original creations
In 2021, we decided to take a turn in our activity by developing our own original creations. Little ghosts and dinosaurs had thus appeared in the shop, reflecting our personality and our creative universe a little more.
Even if it is more complicated to have visibility with personal creations than with objects inspired by known licenses, we have chosen to continue with new original creations: an autumnal collection full of mushrooms, a calaveras cat sculpture inspired by the Day of the Dead and little cats to put under the Christmas tree!
Mushrooms (October)
For the month of October, we wanted to bring a little autumnal vibe to our catalog with the creation of mushrooms: Many Amanita, Terry Cantharellus, Holly Horn-of-Plenty & Gary Agaric, each inspired by a well-known variety from our forests.
The largest mushrooms, Many and Terry/Holly, are some of our biggest pieces currently sold in the shop with a weight of almost 1kg each! A very nice harvest, but don't count on us to reveal the location of our mushroom corner…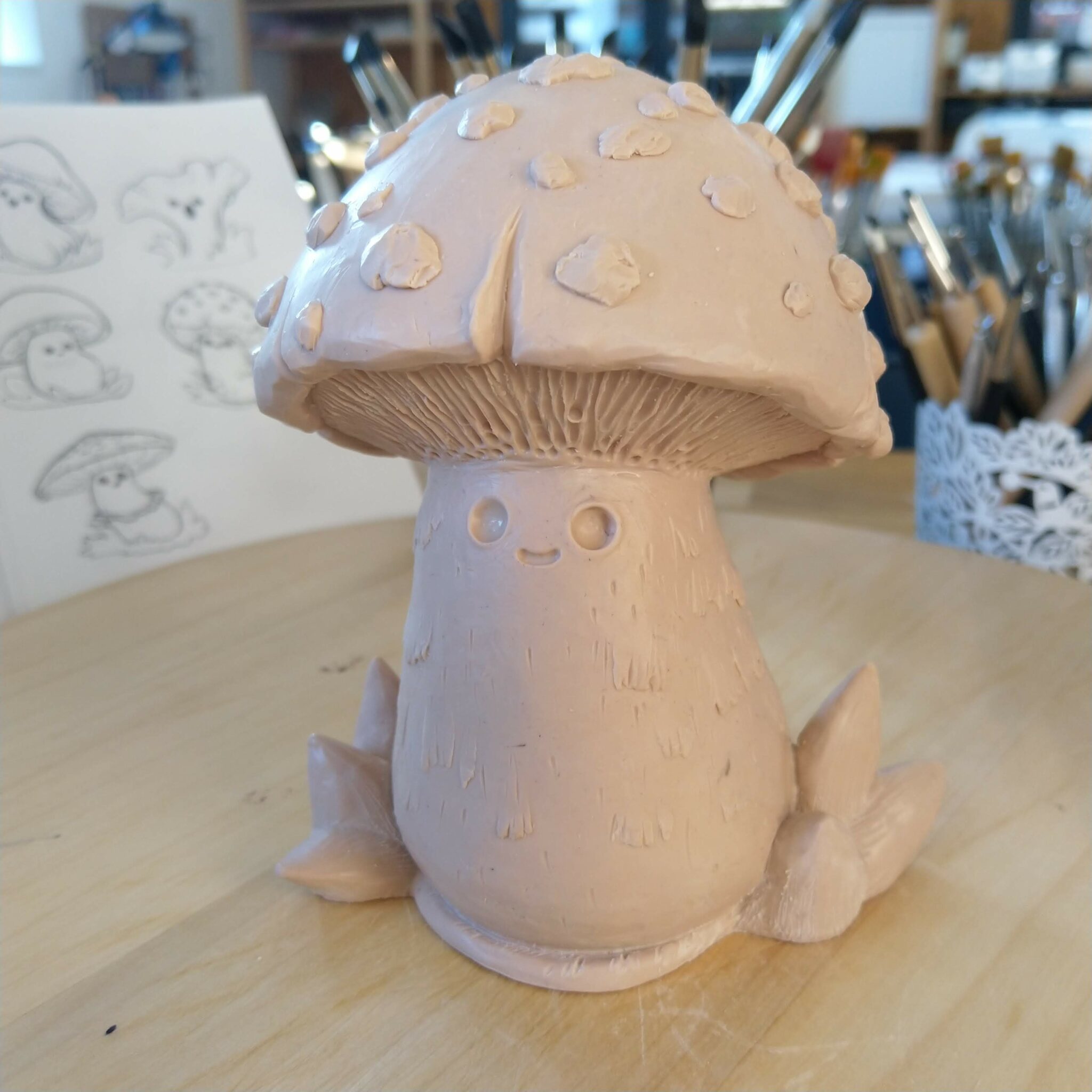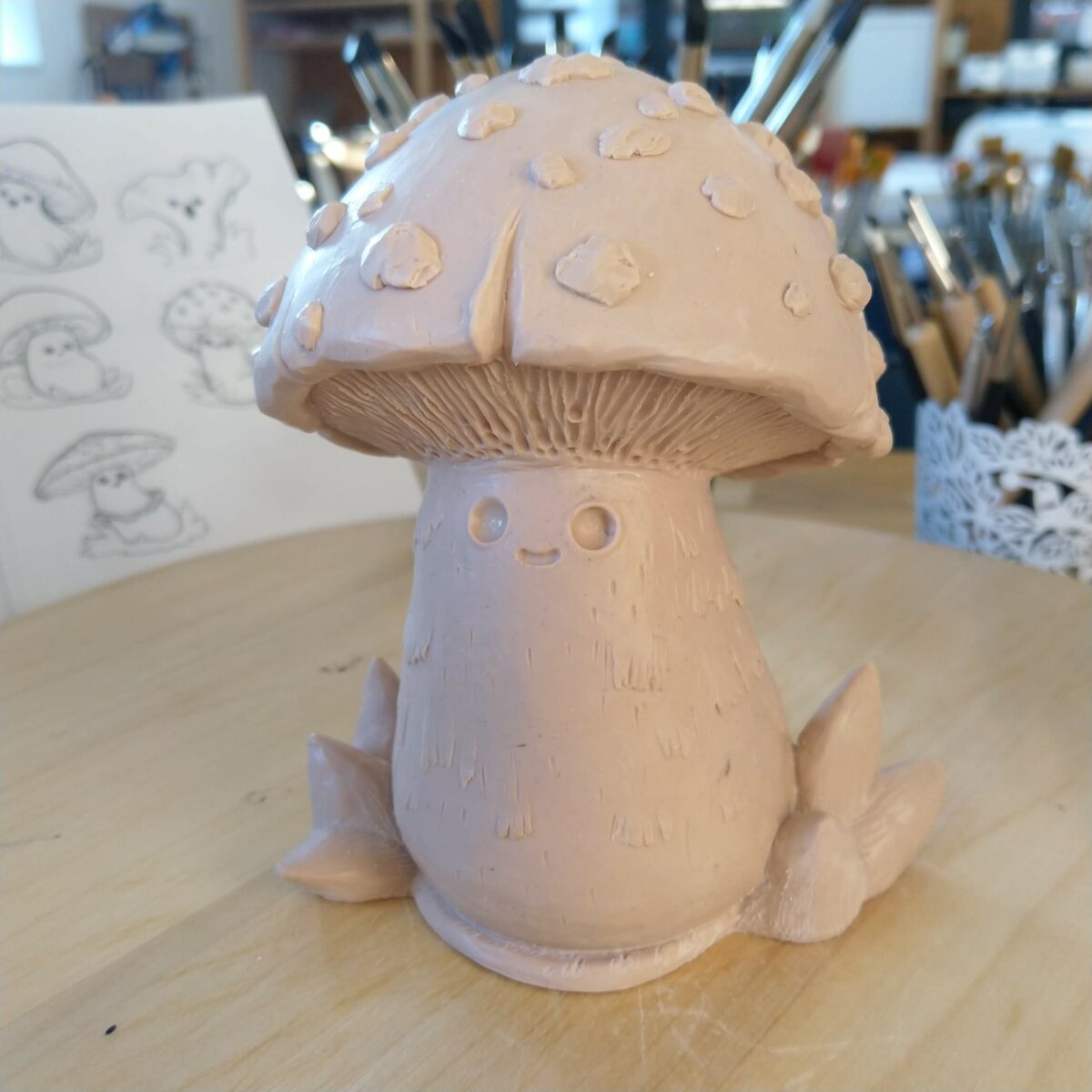 Find the whole collection of mushrooms in our Shop!
Sugar Skull Cat (october)
Dia de los Muertos, or "Day of the Dead", is a traditional celebration that takes place in Mexico and other Latin American countries. This holiday is a joyful way to celebrate the dead and keep the memory of deceased loved ones alive. Different traditions are linked to this celebration. People put on make-up and dress up in folk costumes, like that of Catrina, this woman represented in the form of a skeleton adorned with a flowered hat. Families come together to honor their ancestors with offerings and by decorating graves with flowers, candles and symbolic items.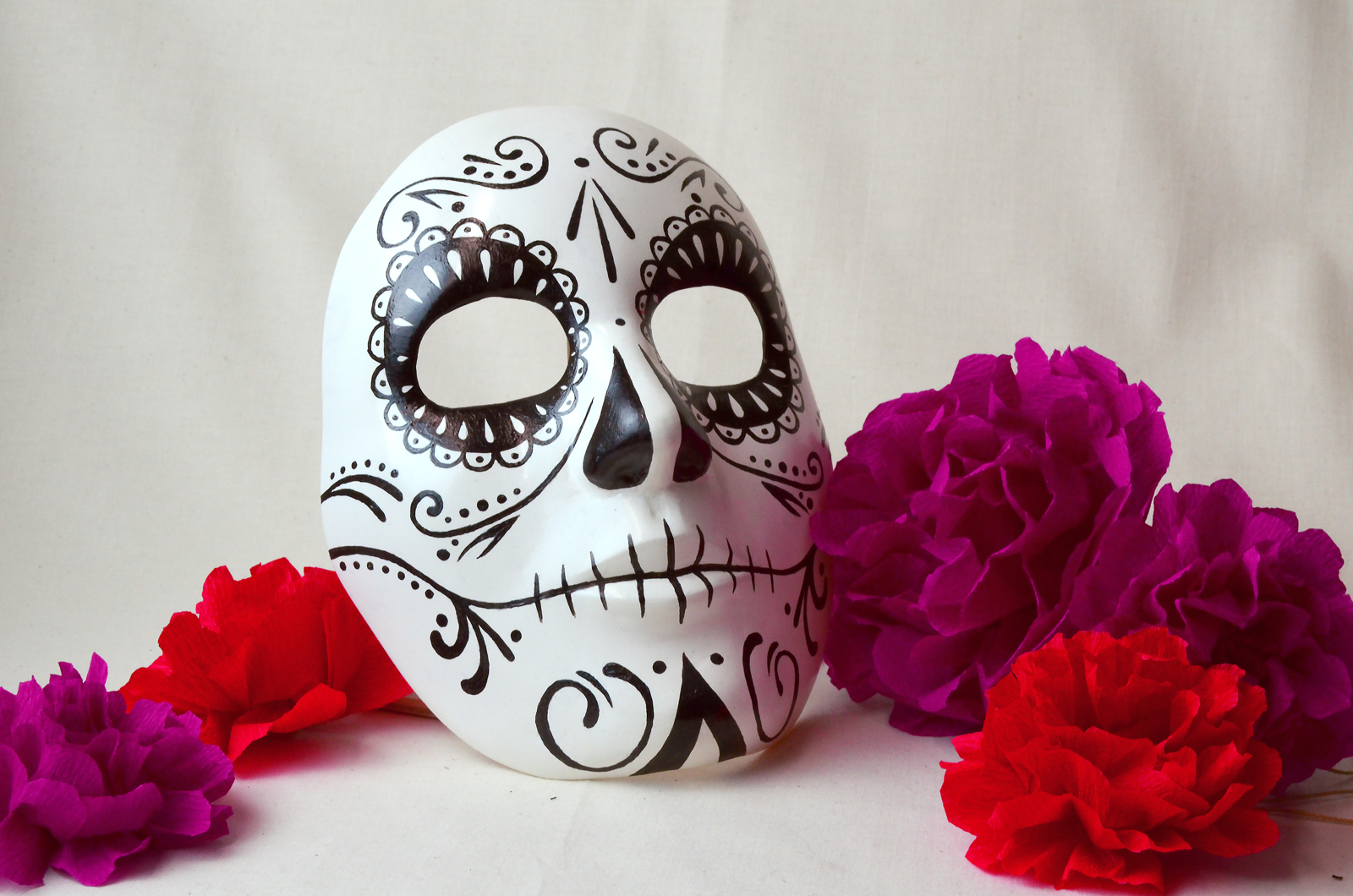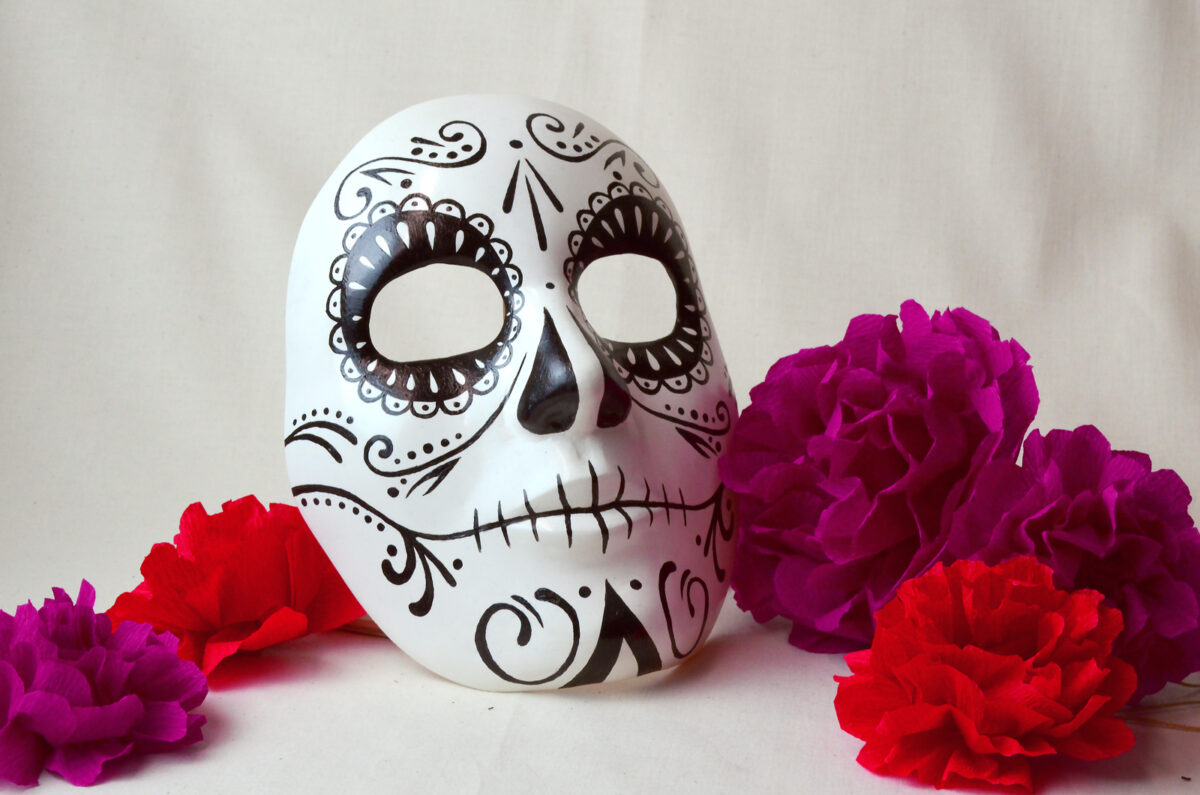 Very sensitive to the aesthetics of this celebration, we had already made masks inspired by it in 2015, with original designs and others taken from Pop Culture works such as Deadpool or The Book of Life: a superb animated film that deserves to be better known if you ask me!
Always with the aim of developing our creative universe, we wanted to create with this cat a more graphic sculpture, full of patterns and colors. We also wanted it to be fully customizable, with the possibility of transforming it into a unique piece as requested.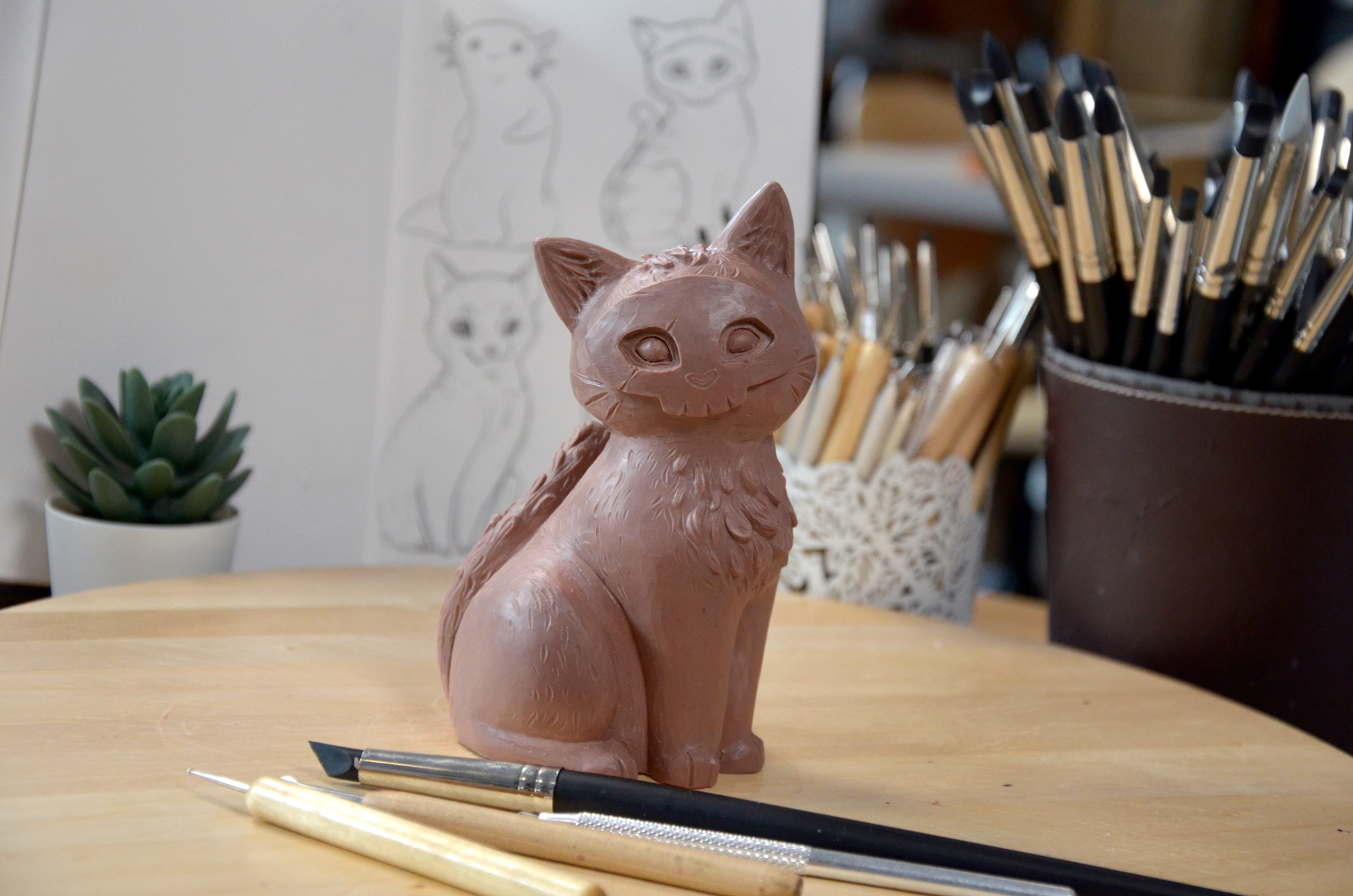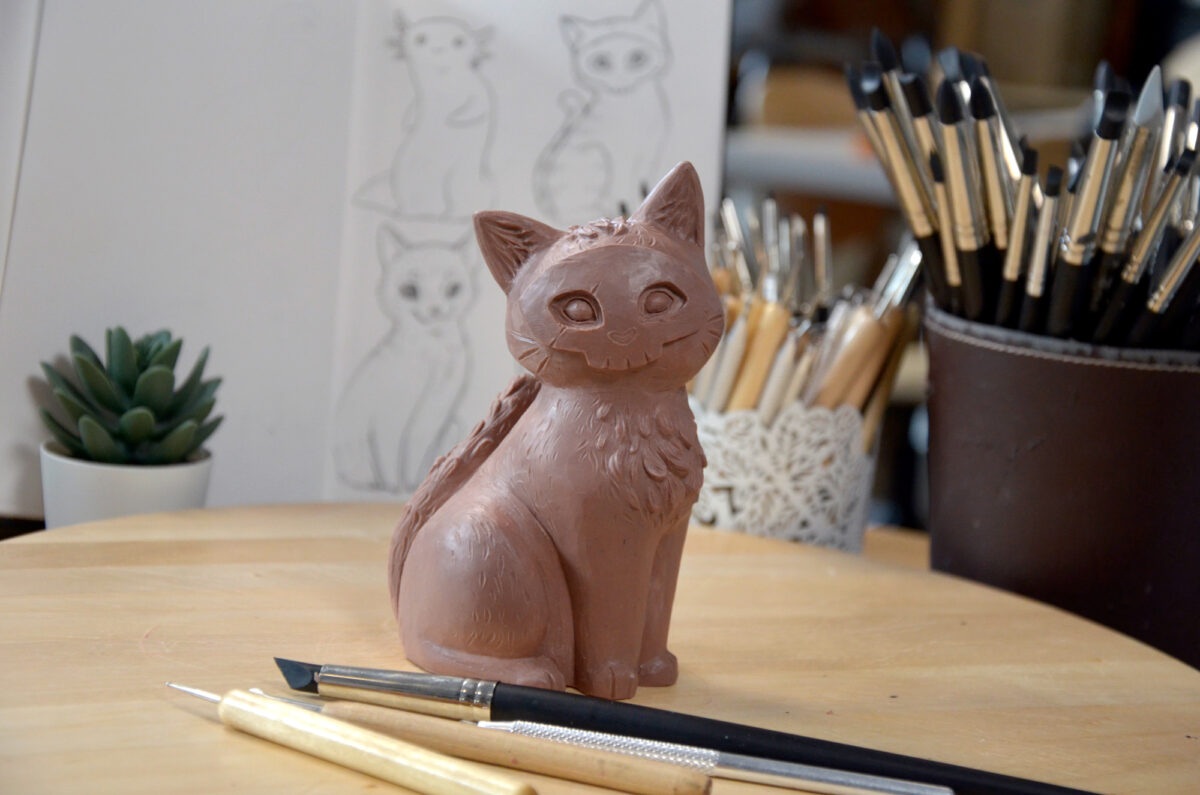 Find these two sculptures, Sugar Skull Cat Original and Sugar Skull Cat Custom Color, in our Shop!
Little Cats (december)
We keep going with the theme of cats, but in a very different style, more cartoonish. The first idea with these small stylized figurines was to create an object that could be personalized from a photo for example. It was in our eyes an original and sentimental gift idea for cat lovers like us. We were also inspired by our own furry balls to create certain models…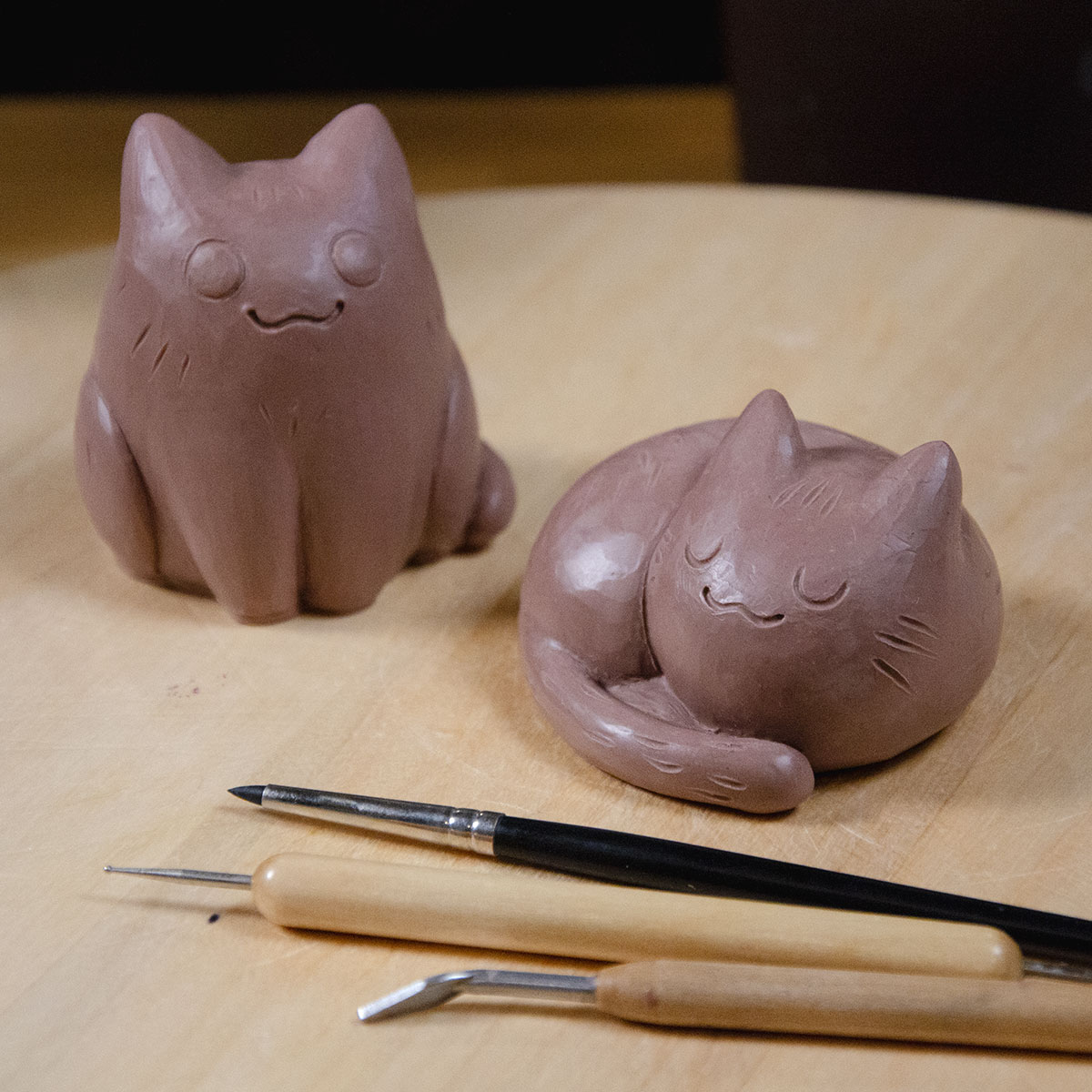 Even if there are 6 basic colors, it is, as we had guessed, the customizable model that ended up mostly under the Christmas trees!
Here are a few examples: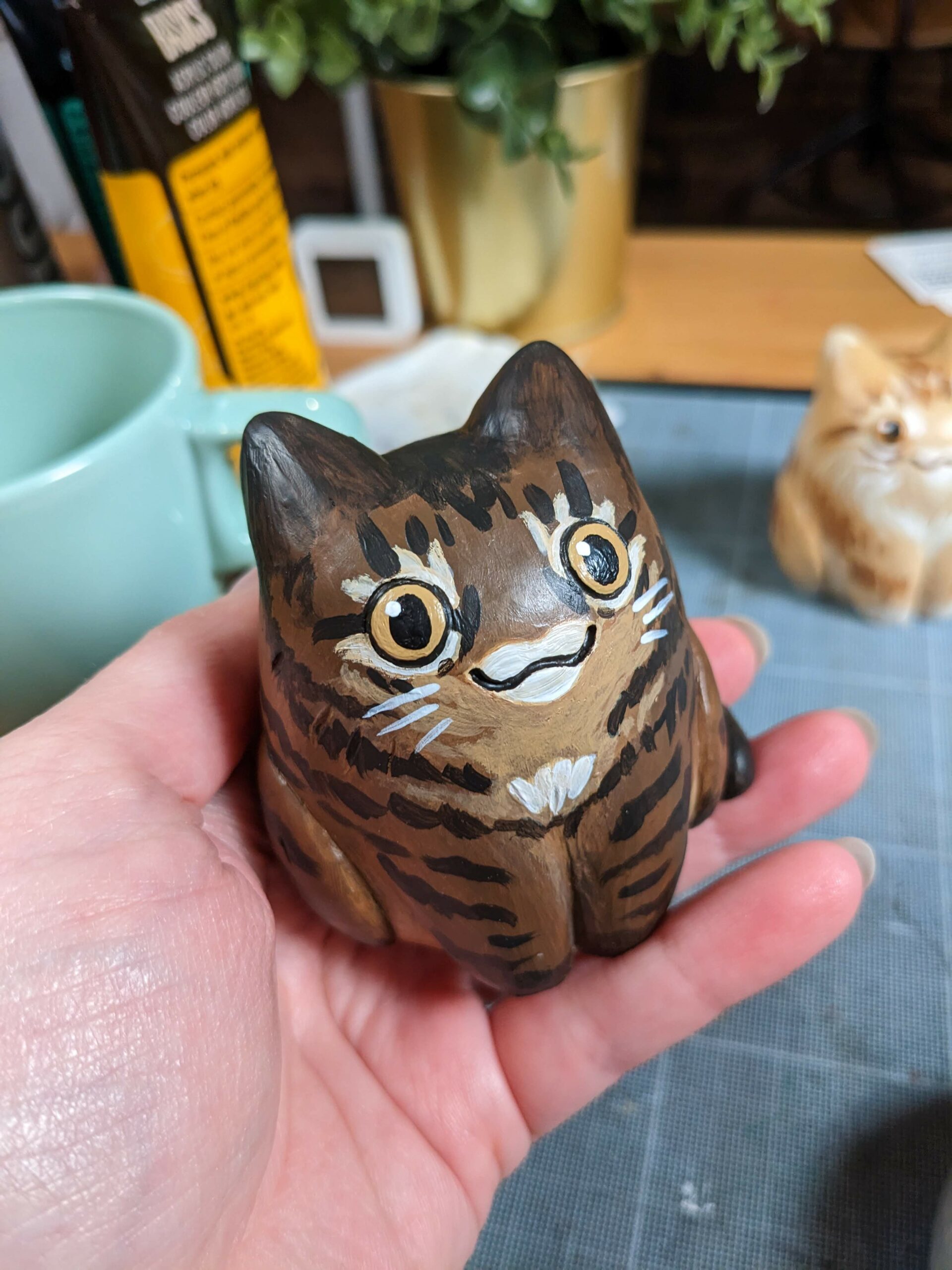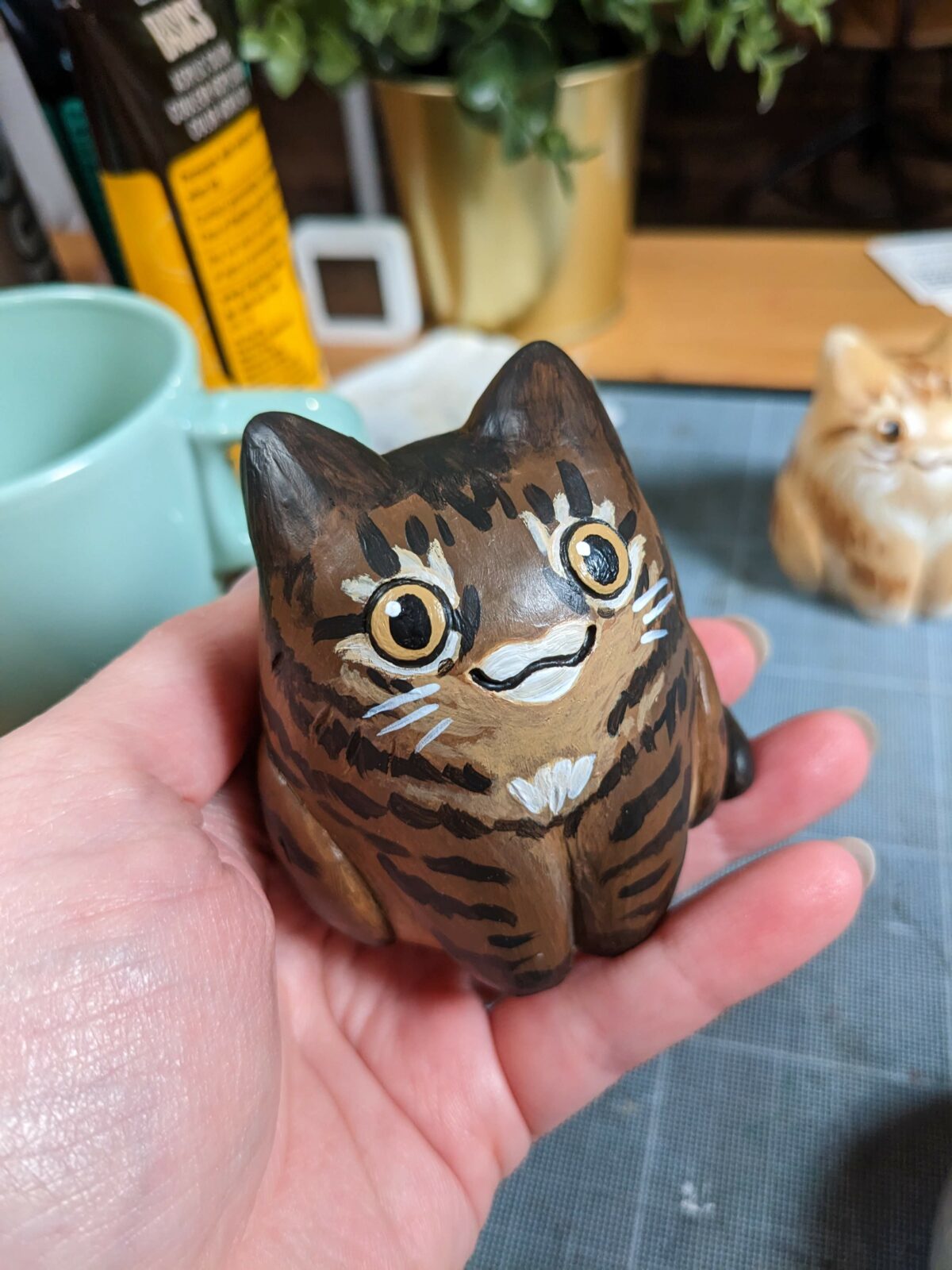 Find the Little Cats on the shop: Little Cat (Customizable)
A lot of Trophies
After a few difficult years, 2022 marks the return of events, but also for us, the return of trophy orders! Old ones, new ones and very heavy ones based on blue shells and octopus…
The return of MakerFight (March)
As for every edition since 2017, the Technistub called on us to create the now iconic MakerFight trophies! It is an event during which robots entirely imagined and created by the participants of the tournament compete in an arena with ferocity: saws, hatchets, hammers, everything is allowed (or almost).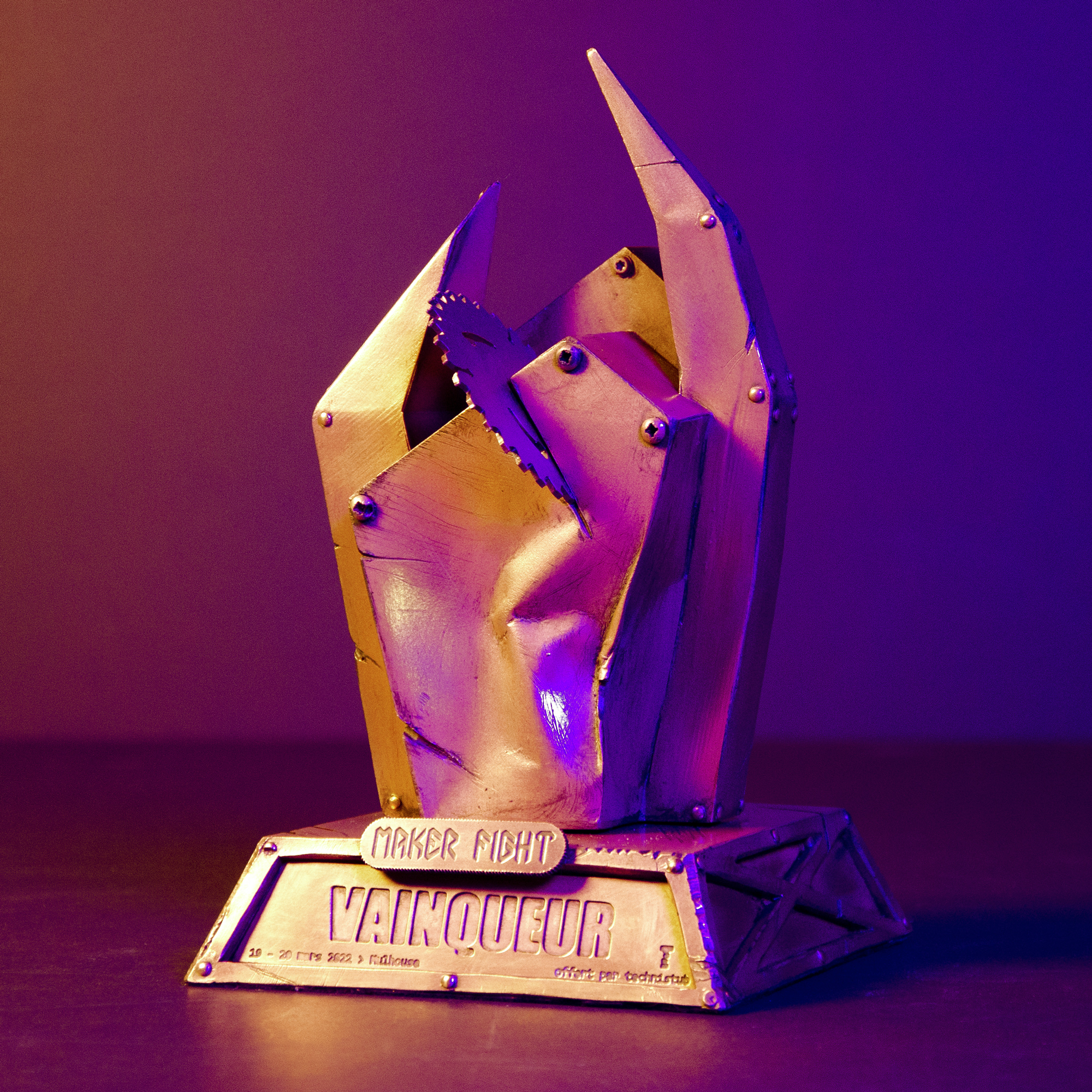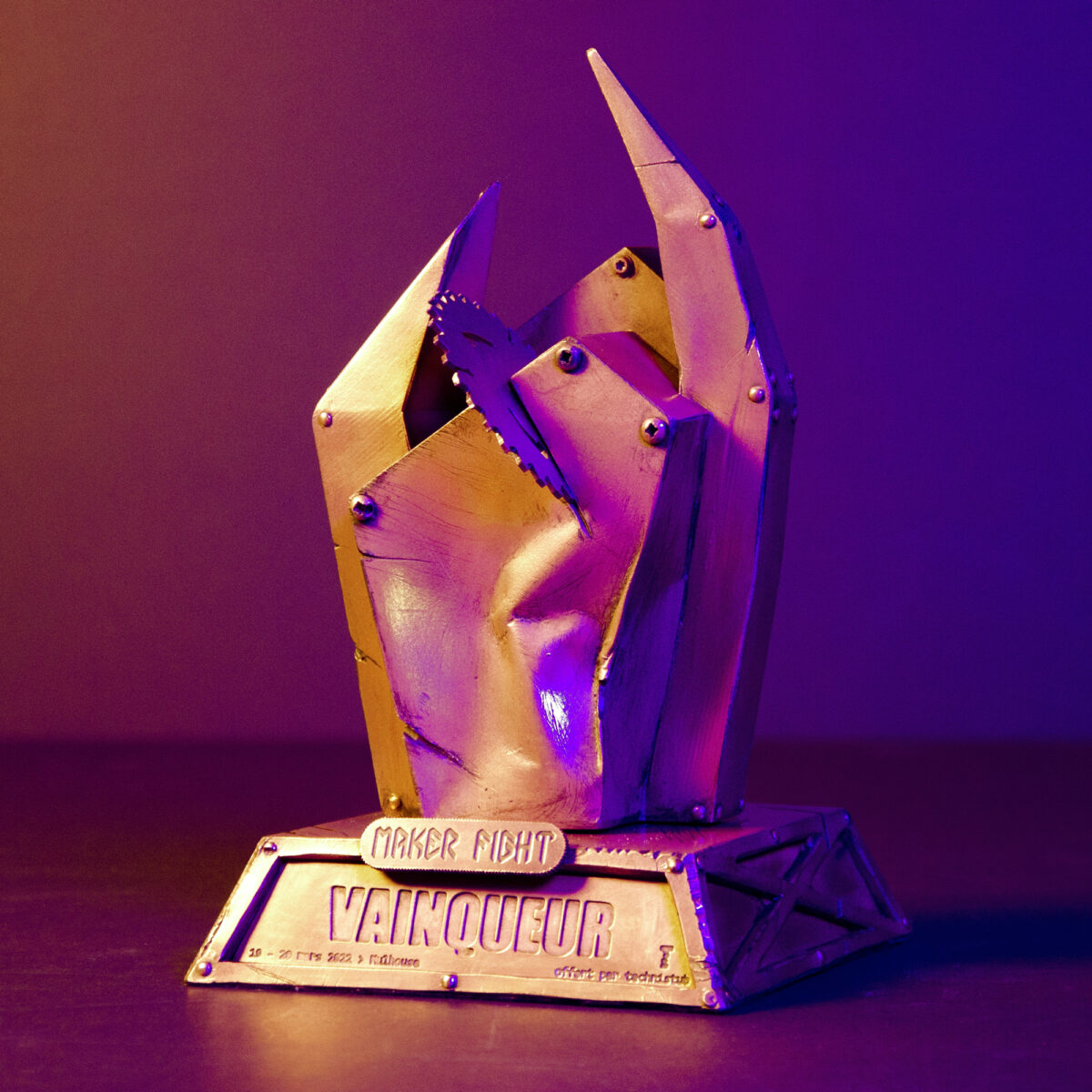 Necronomi'Con and French Cosplay Cup (April)
New this year: the Necronomi'Con convention in Belfort entrusted us with the creation of 7 trophies for their video game tournaments and cosplay contests, including the regional selection for the French Cosplay Cup.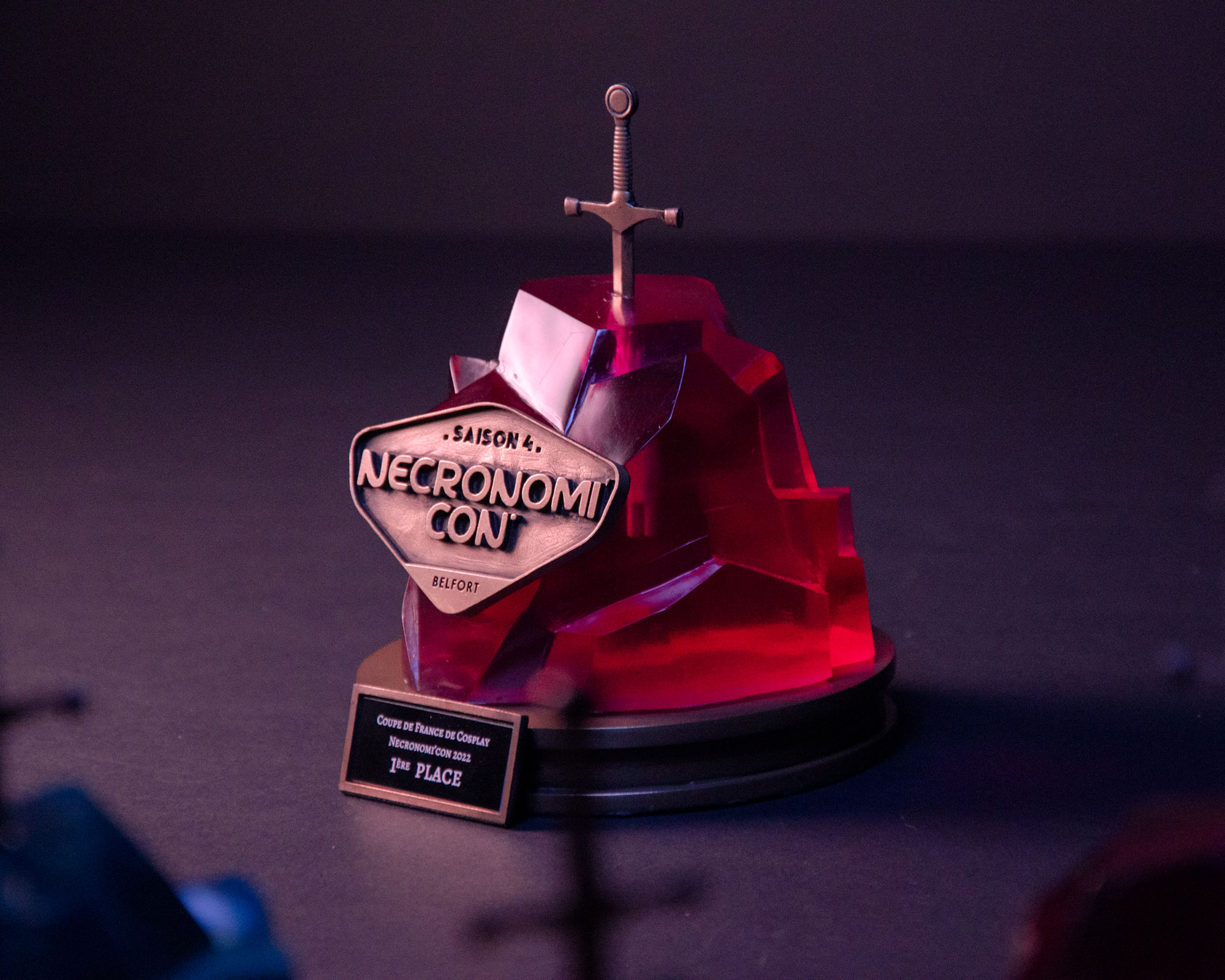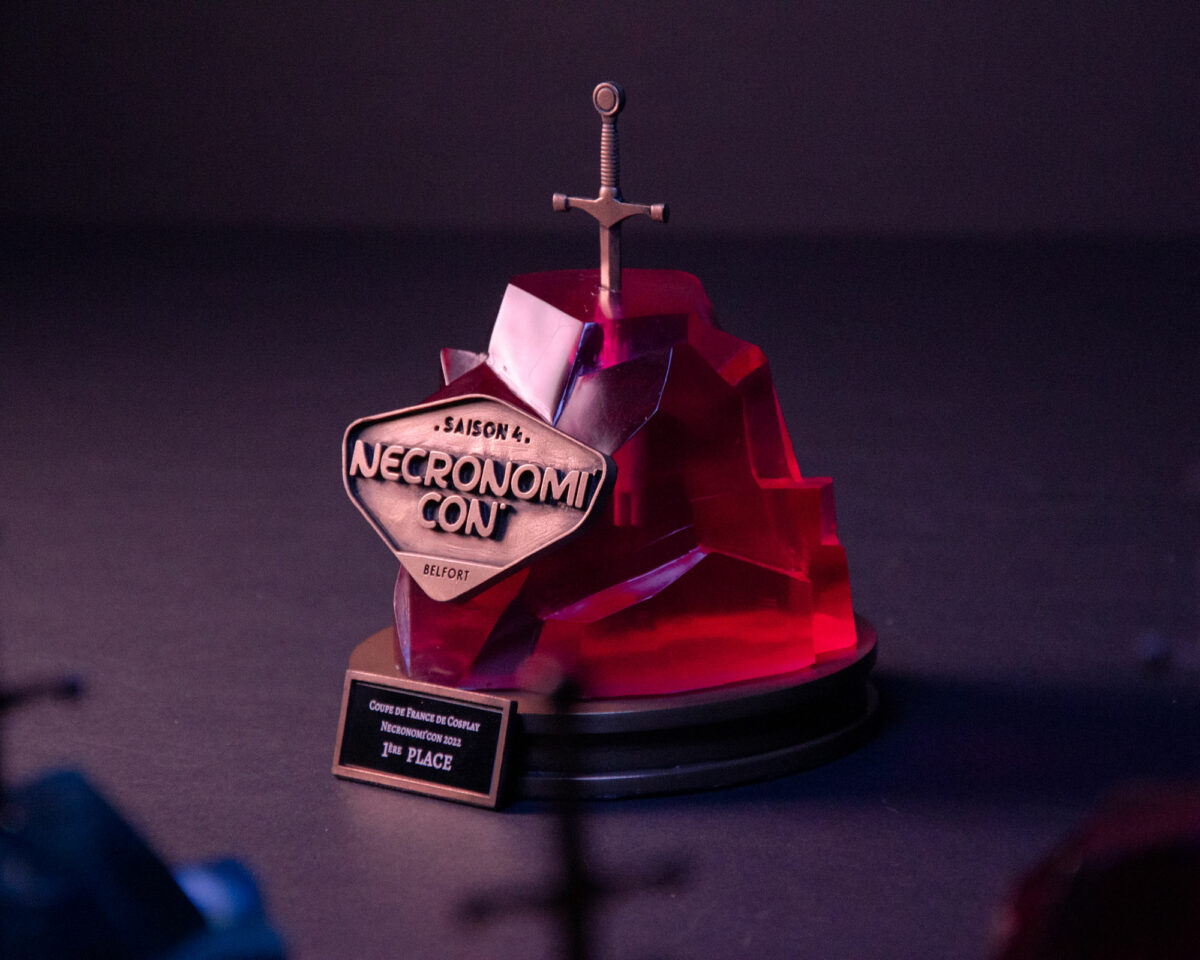 The logo of this edition, very inspired by the Arthurian legend, represented a sword trapped in a rock. We started with this idea by declining the rock in the form of a crystal, through which we would see the planted sword.
When a truly transparent result is desired, the surface must be smooth and shiny. So we made a first mold of the rock sculpture and made a resin print that we sanded and polished until we obtained a sufficiently smooth surface. We then created another impression, the final mold this time, which was used to release all the colored transparent resin rocks.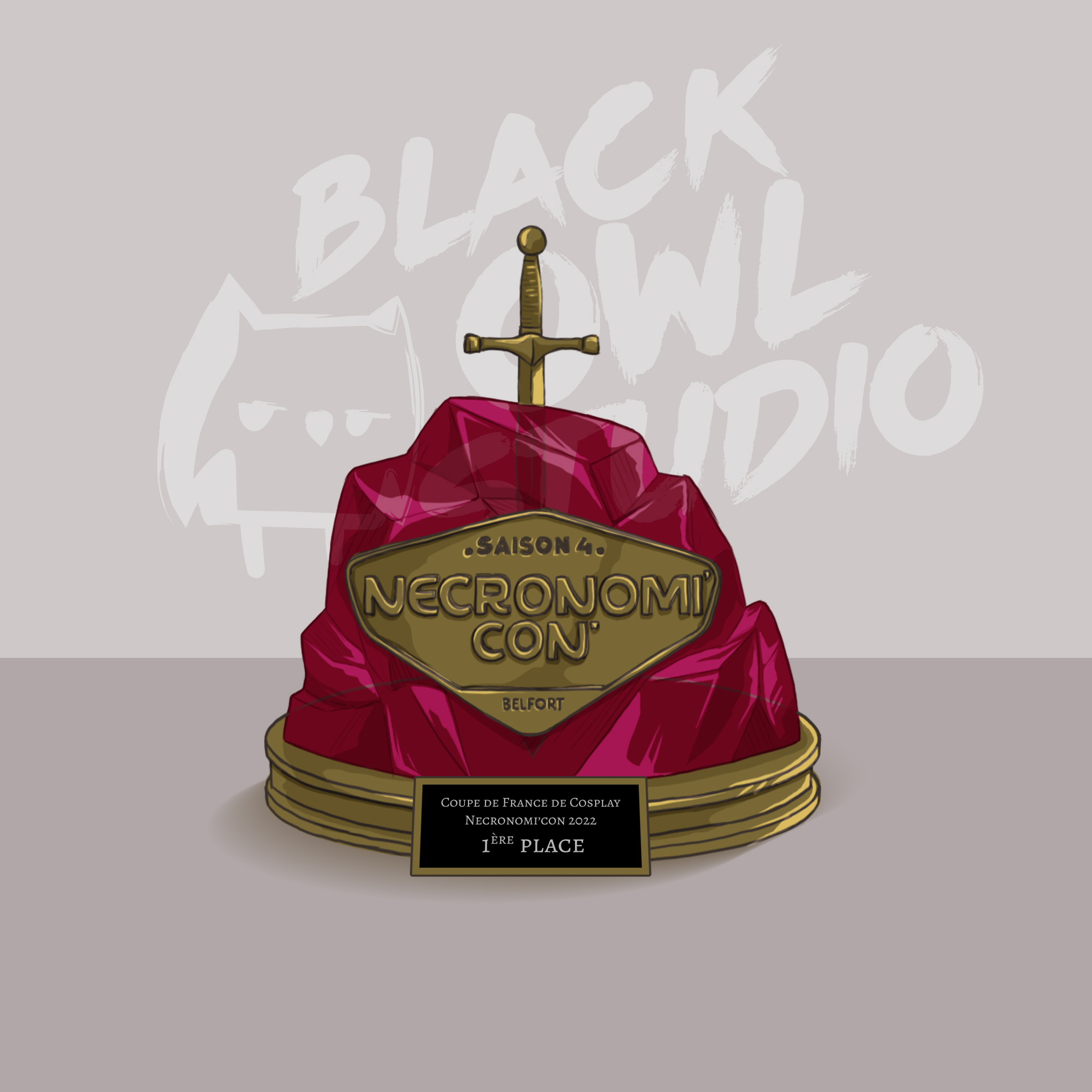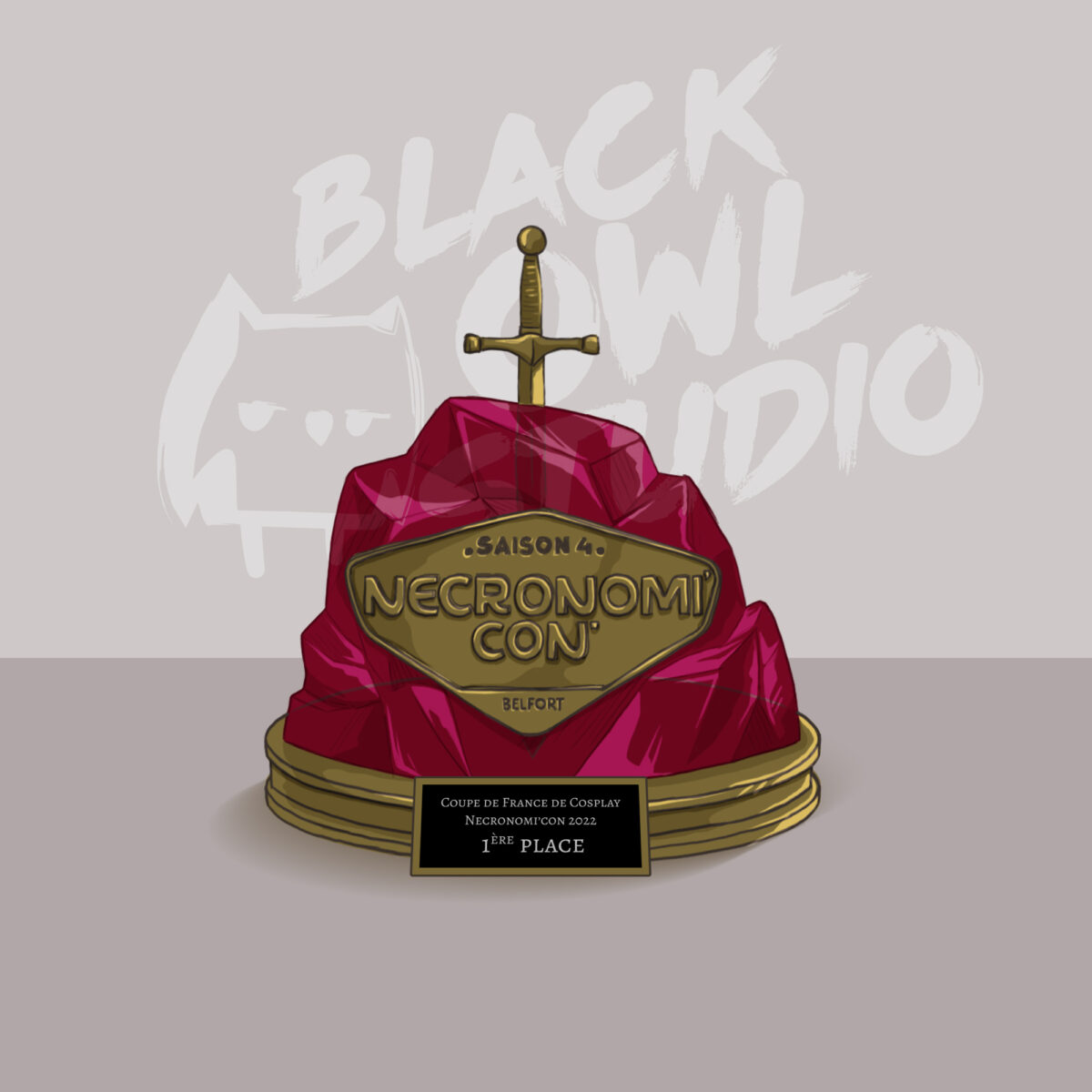 Geek Unchained Convention (june)
We had the opportunity to create the Geek Unchained Convention cosplay contest trophies for the fifth consecutive edition. The time had come to change the design a little to offer a more refined and modern style, very different from the previous ones, and also a bit bigger!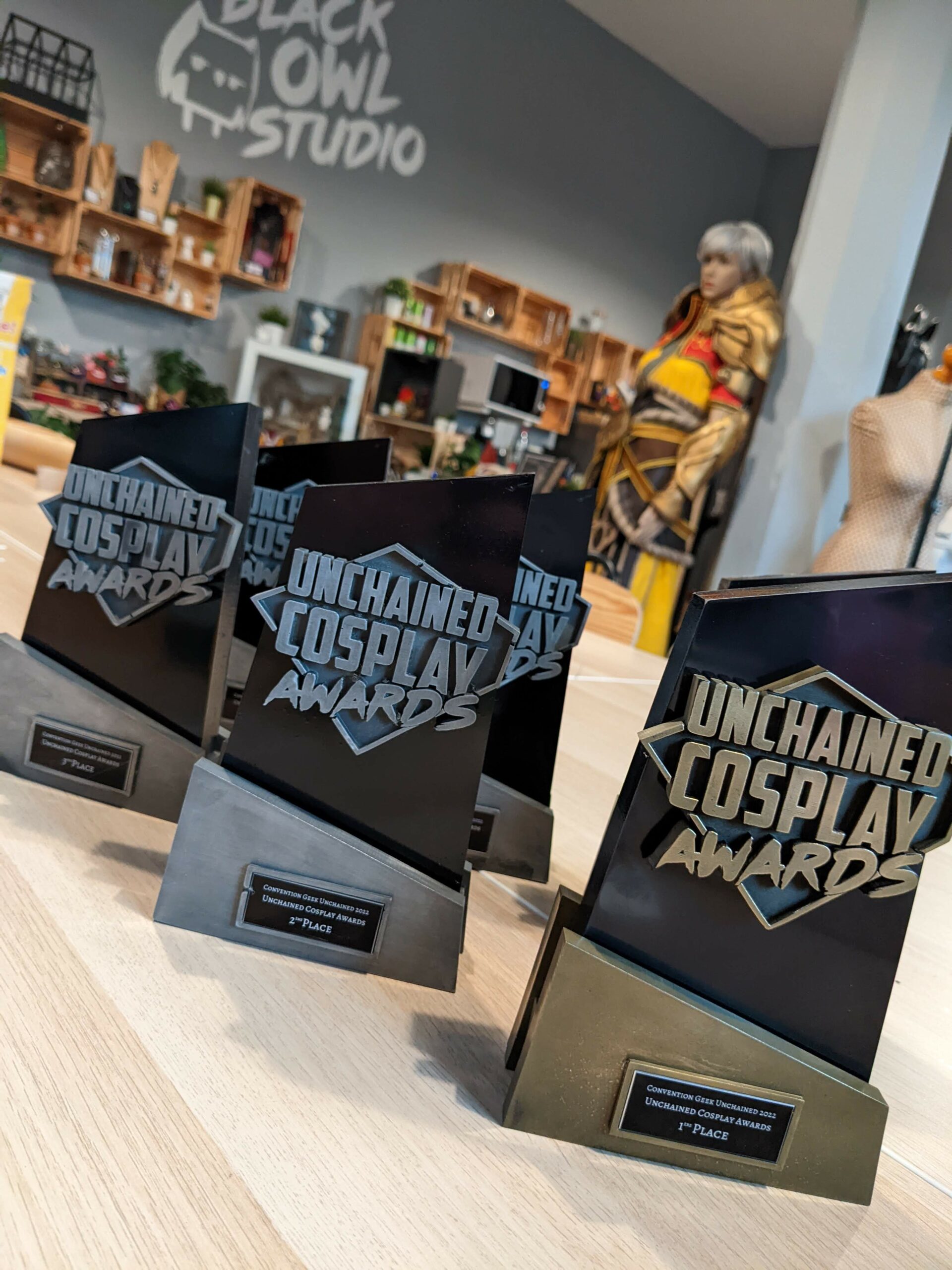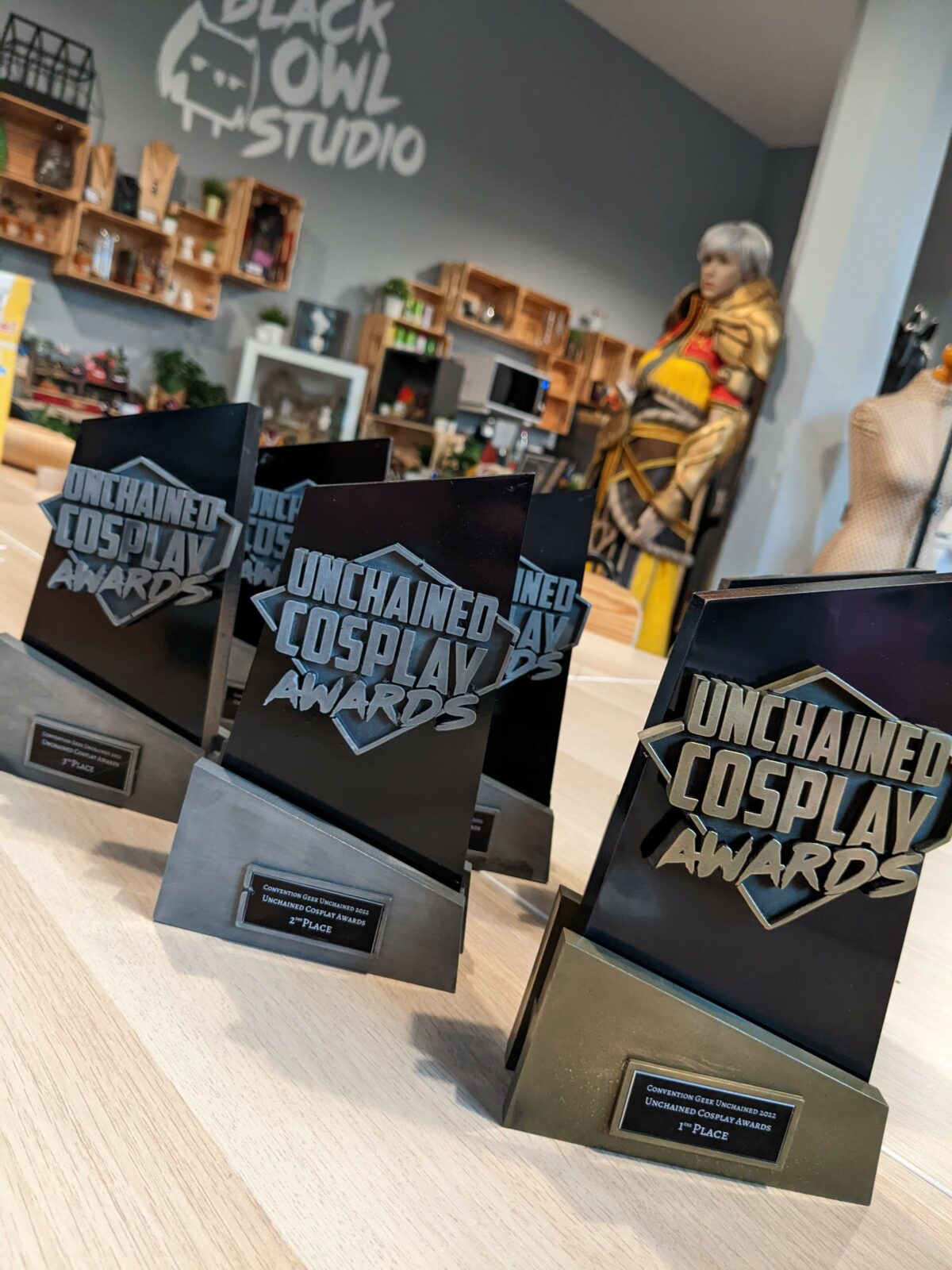 Trophies for Nintendo ! (july)
The last order of trophies of the year, and not the least, was passed to us by Nintendo France. Yup, if you pleaaase!
These trophies were to be given to the winners of the Mario Kart and Splatoon tournaments during Japan Expo in Paris. This is the biggest project we have had in the studio to date, with a total of 20 trophies to be achieved in just one month!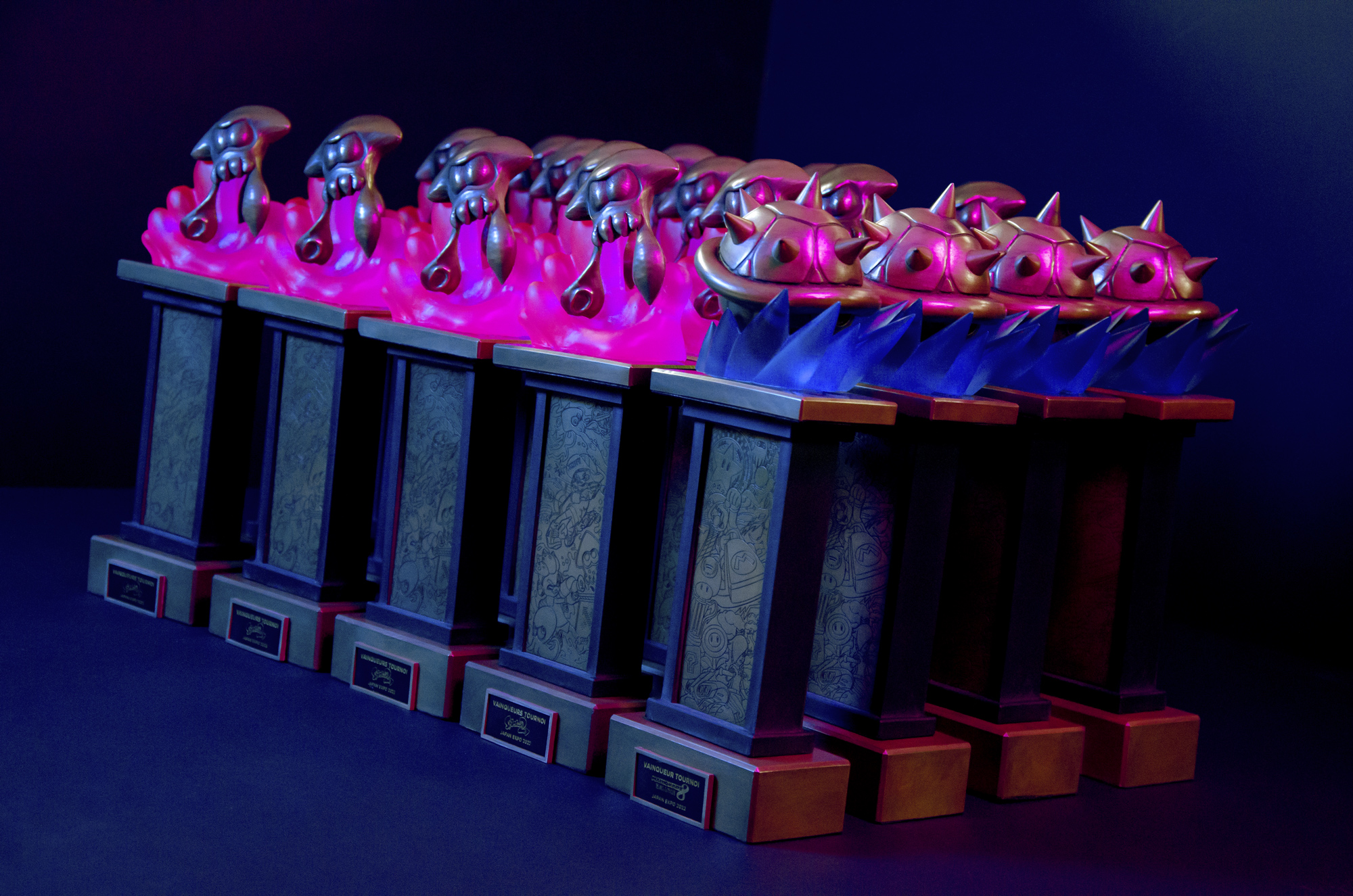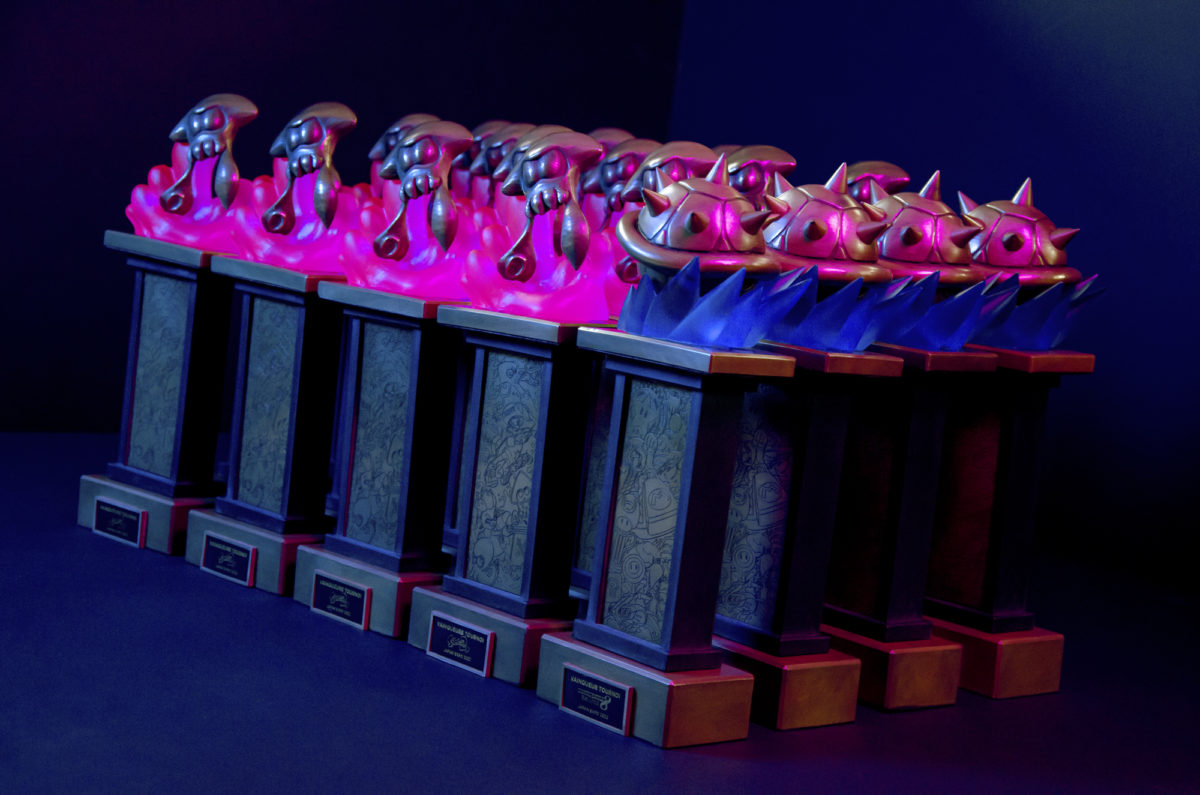 Given the scale of the project, it was an opportunity for us to improve our equipment by switching to a new, more efficient resin printer: an Anicubic Photon Mono X 6K. With a print size 2x larger than our previous resin printer and a 6K UV screen, it allowed us to print beautiful, highly detailed plaques for the trophy base, based on vector artwork made by us.
We saved a lot of time because all the master parts could be printed in one block, with no extra assembly work and very little sanding to remove print lines.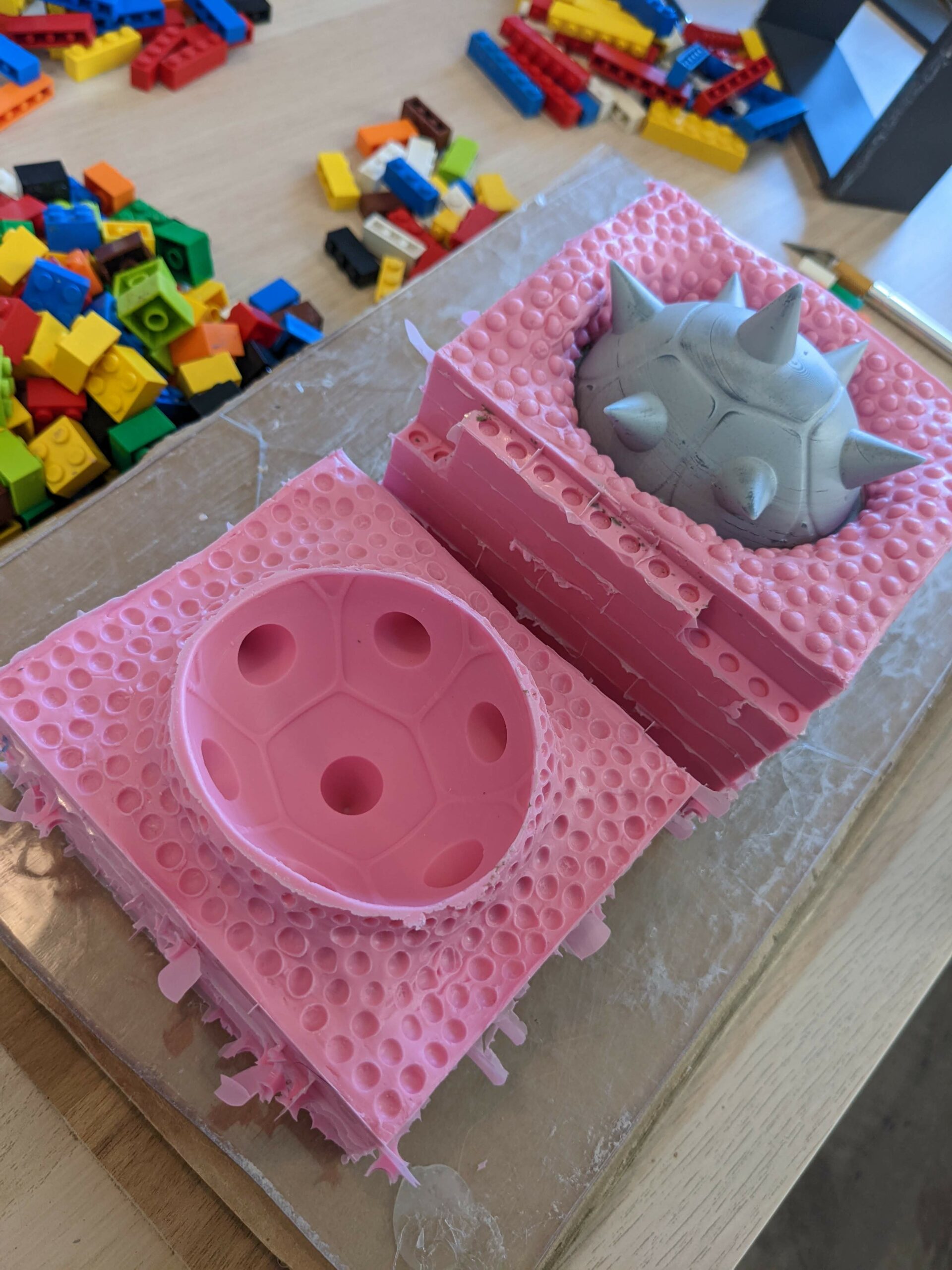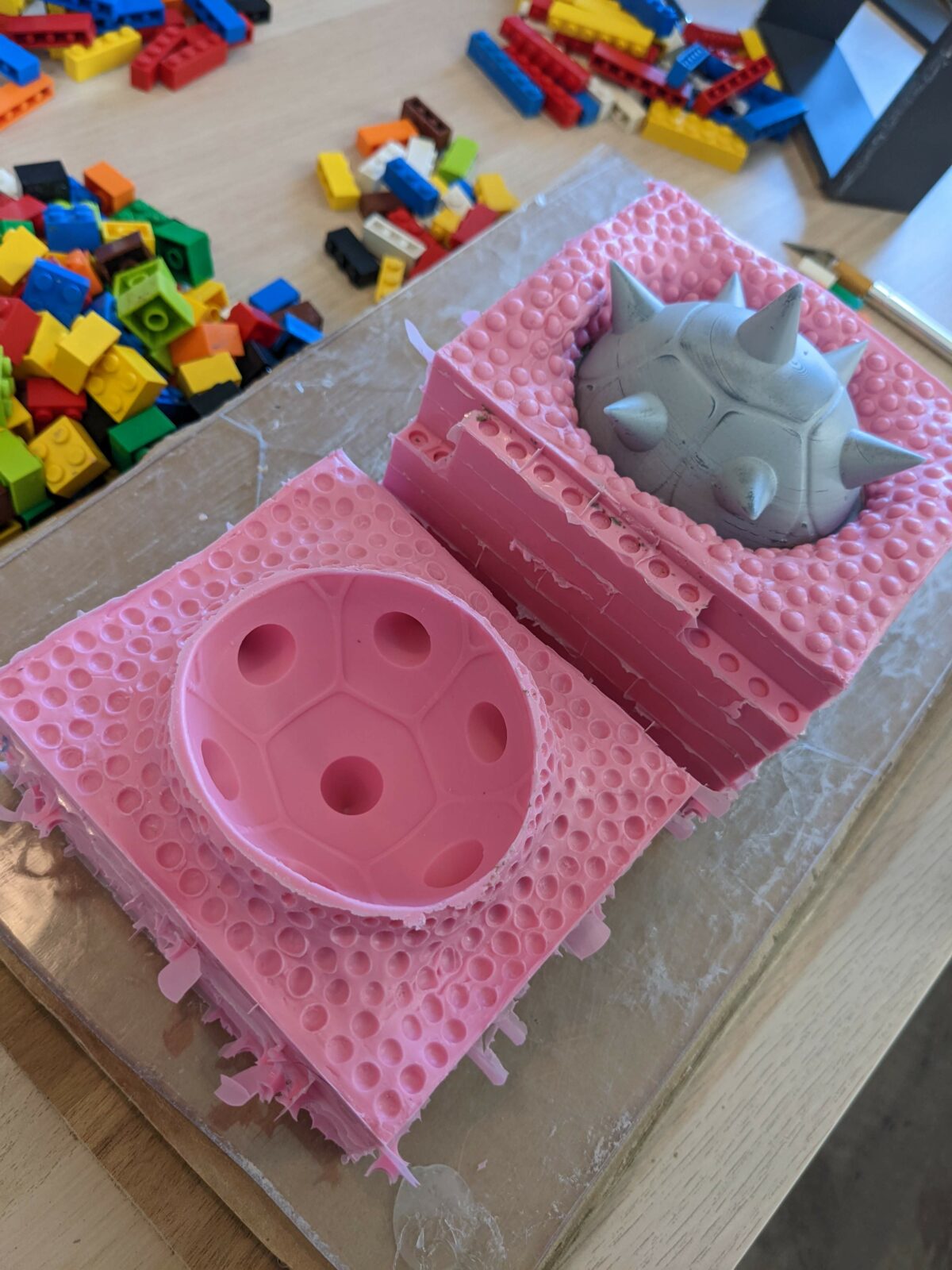 Out of the question for us to entrust all of this to the hands of postal services… We went to deliver the trophies directly to the premises of Nintendo France, which allowed us to discover the district of La Défense on the way.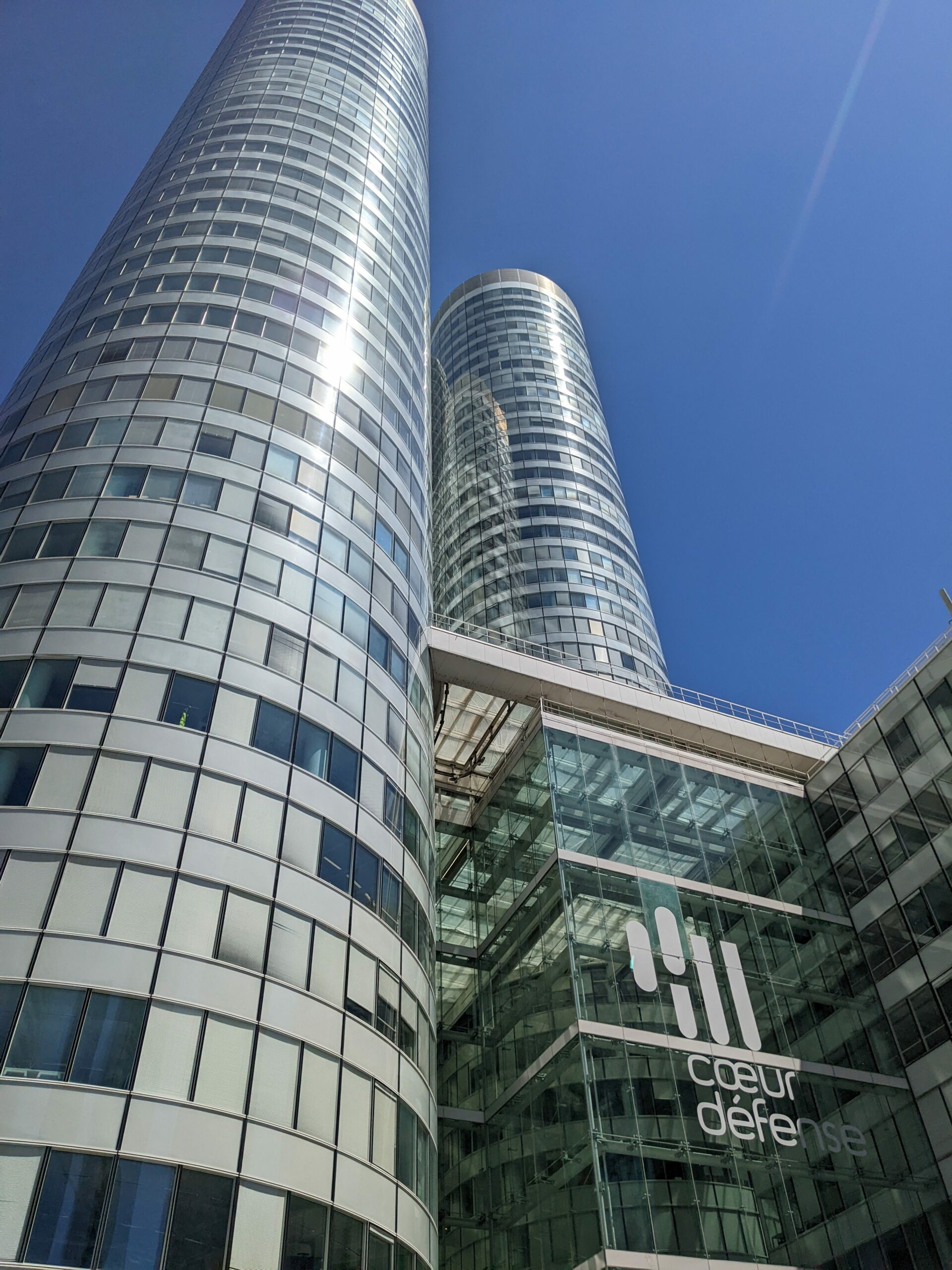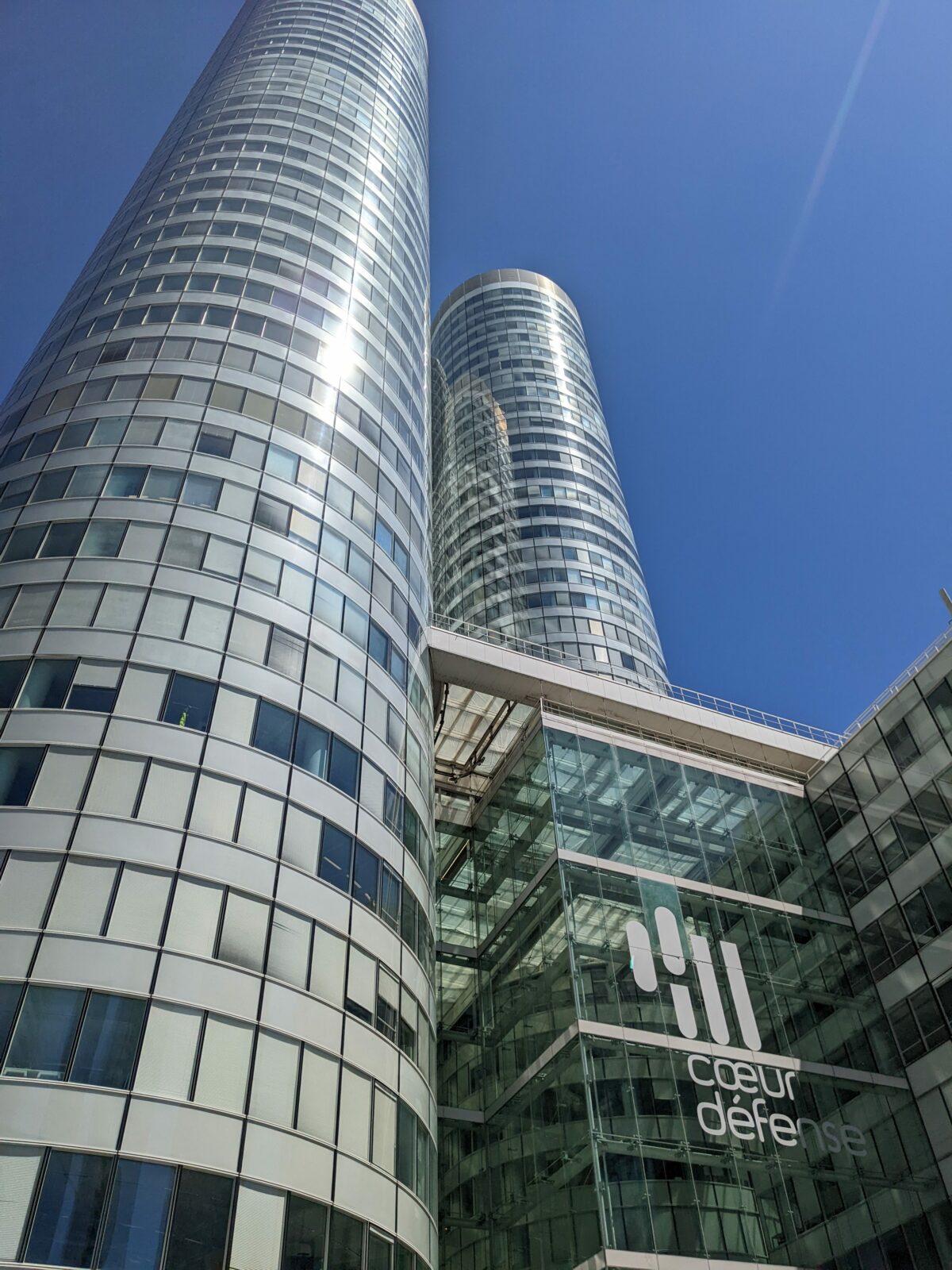 This large order was a real challenge for us, and we are really proud of the final result given the extremely short deadline we had.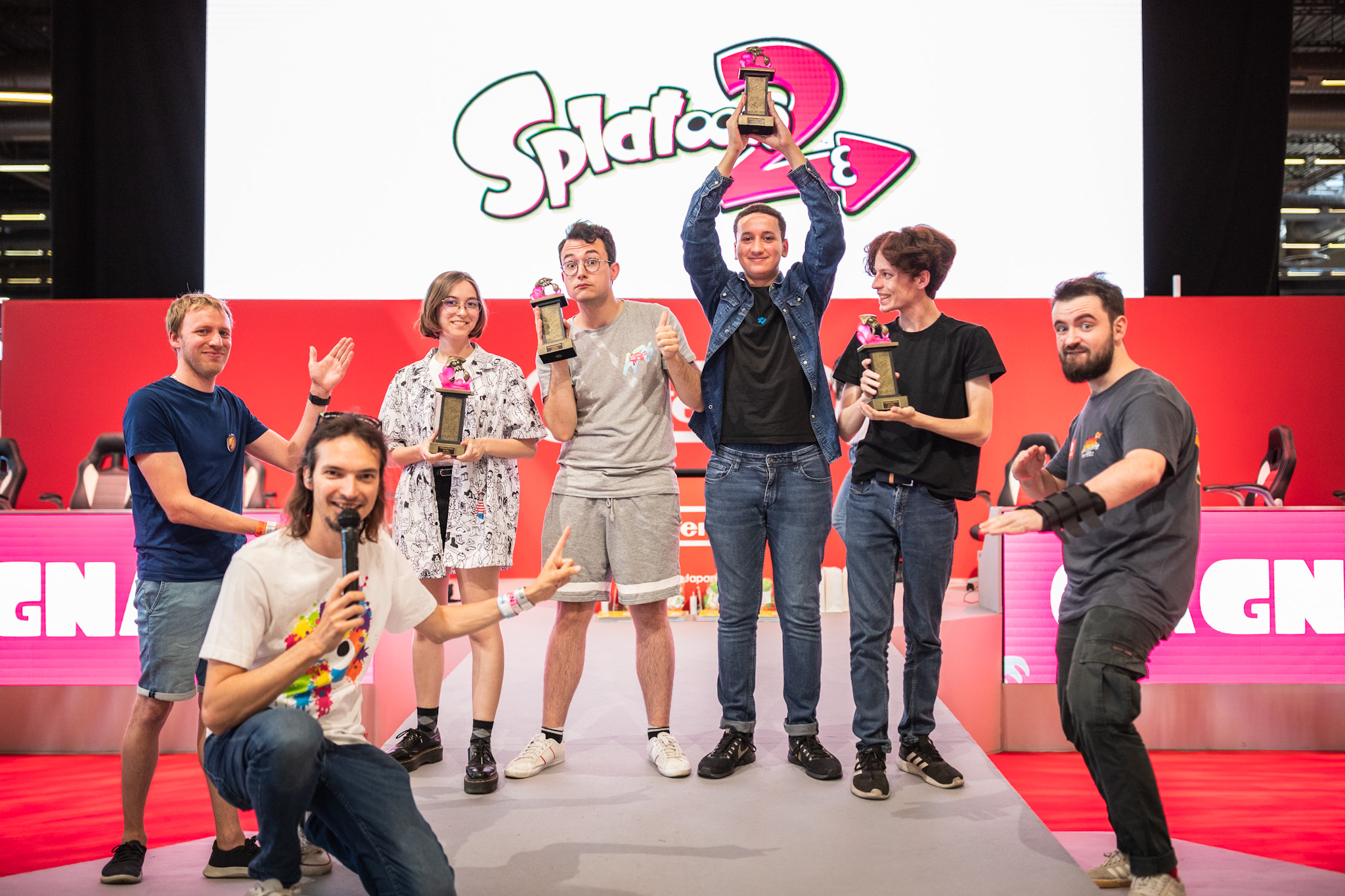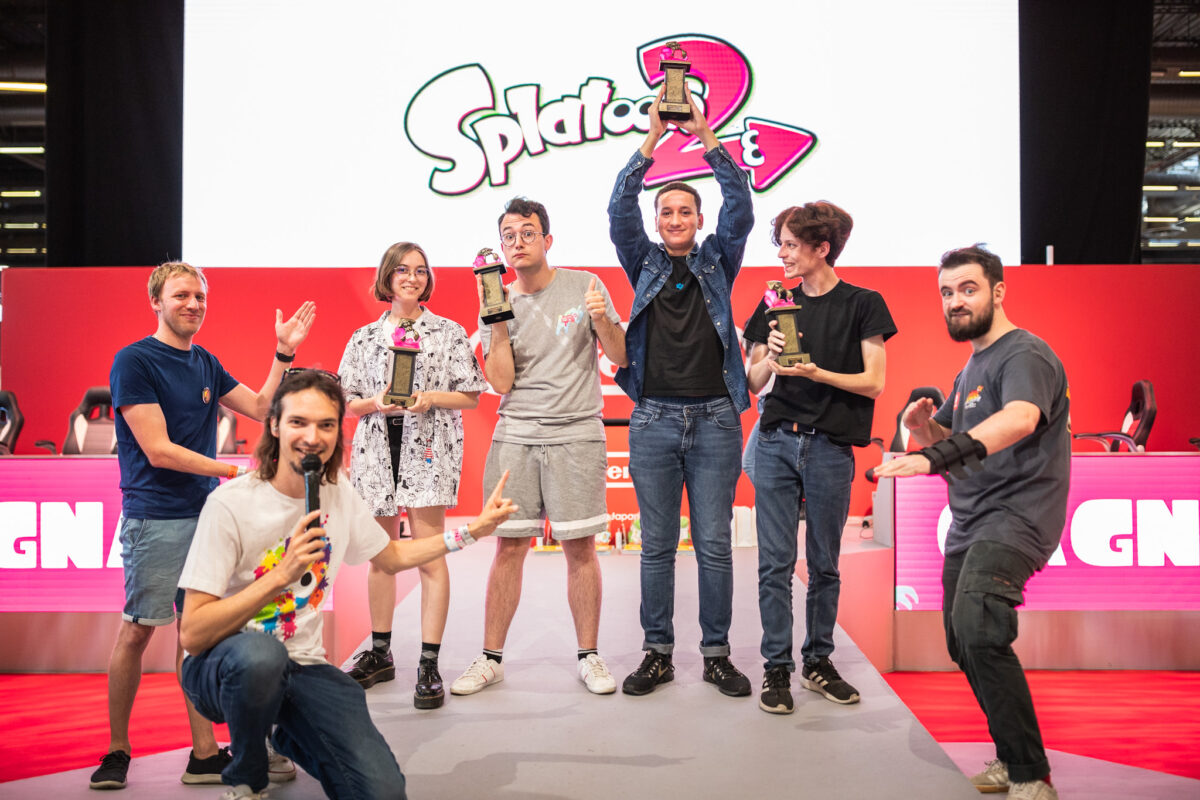 A somewhat complicated year
Rise in the price of raw materials, of shipping costs & packaging, new tax for shipments to Germany, lost or broken packages, AliExpress counterfeits, scams… The life of an entrepreneur is not an easy way every day!
To this is added another major glitch for us in the middle of the year: following a very busy period in the production of resin parts, and despite the rigorous protections (mask / filtration), Mael developed an allergic sensitivity with urethane resin… A material that we have used until now for almost all of our creations.
Small clarification: there is no need to worry about the creations themselves, or if you have an object made in this material. The problem is not the resin itself, but the chemical reaction that occurs when the two components are mixed until they dry completely.
It was impossible for us to continue working with urethane resin… We had to find an alternative, namely acrylic resin. A non-toxic resin, including during catalysis, but with very different characteristics.
New pigments, new dosages, different weights and textures: many parameters to take into account to successfully manufacture our products again while retaining their original appearance.
After a few months of work, testing and fine-tuning, we managed to find the right mixes and processes for the production of most of our objects. With a few exceptions that we are still working on…
That's not necessarily such a bad thing. Acrylic resin is healthier for us to use on a daily basis, and even if it is a little heavier and fragile, the rendering is really nice, softer and less "plastic".
Of course, we will not be able to avoid the use of our old resin on certain projects, its properties being much broader (transparency, flexibility, pigments…), but at least we have found the possibility of reducing it as much as possible.
Counterfeits: a small victory?
New for us this year, we found ourselves confronted with the first AliExpress copies of our flagship creations: the mandrakes.
We could have said that they were just strongly inspired, if they had not stolen our pictures!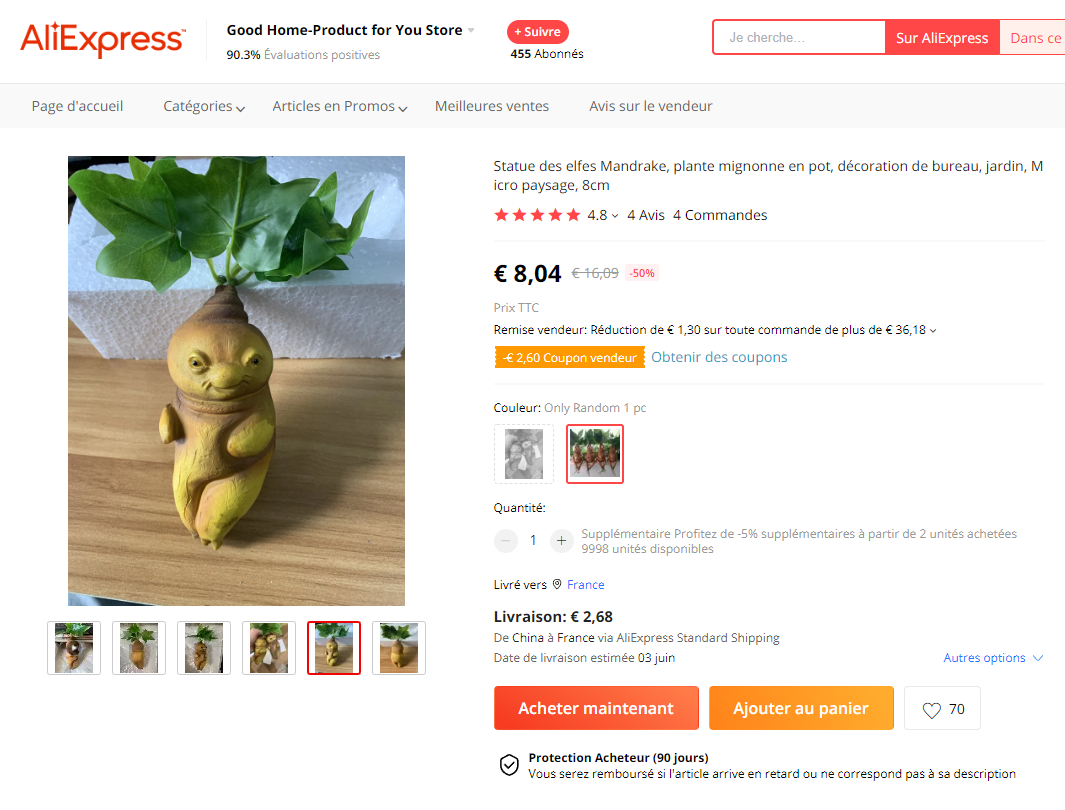 Then begins our little obstacle course. There must be a link to report the product sheet? Yes, but you must first create an account. Allons-y Alonso! It doesn't have to be so complicated. Right ?
Once the account is created, you have to connect to another site… in Chinese. By searching well, we end up finding a button to switch the site to English (yay). It is then necessary to register the company, provide papers and wait to be validated on the site.
Once the validation has been carried out a few days later, it is then necessary to reference the products concerned by the counterfeit. I tell myself that, way we're going, we might as well go to the end of things. We are asked for photos, a link to our site, proof that this object belongs to us, identification numbers, documents, and lots of stuff that we do not necessarily have in our possession. You should know that in France we are lucky to be protected by copyright, automatically, without any deposit, as long as the creation is original. Having no proof of deposit or registration of any kind, since it is not necessary when you are French, we tried a bluff, based on attestations on honor written by us. After all, the documents must be validated by hand by the organization behind the complaint site, they will already tell us if it does not suit them…
What a surprise! No return from them, the products are registered! It now remains to fill out claim forms for all the copies that can be found. The process is a bit painful, the formatting of the links is restrictive and you have to rummage left and right, tweak your brains so that the request is valid and that you can submit it.
No more news. After a few days, I check and no more copies are visible on AliExpress! I checked again the following months, still no sign of a new counterfeit. Finally, the whole recording process was quite long but rather efficient! We can say that it's a little victory!
Events
Every year, we participate in events whether with a sales stand, workshops, or as a cosplay jury. This allows us to meet people, find our cosplayer friends, exhibitors and regulars at conventions, but also to introduce our creations.
On our program in 2022: Necronomi'Con in April, Fantasy Basel in May, a Cosplay day in a shopping center in Auxerre followed by the Geek Unchained Convention in June and a visit to Switzerland in August for a week-end at the Numerik Games festival.
Cosplay Day / Galerie Fontaine des Clairions Auxerre (June)
This was a first edition for the Cosplay Day organized in the Fontaine des Clairions shopping mall in Auxerre, for which we were very pleasantly surprised!
You may know that even if the practice of cosplay is developing more and more, it still sometimes suffers from prejudice among an uninitiated public. Having already had quite mixed experiences in events that are not familiar with this activity, we generally avoid participating outside of conventions. Between the incomprehension of the public who does not expect to meet a costumed person at the bend of a store shelf or those who do not understand the interest of disguising themselves as a manga character, we prefer to make discover our universe where visitors are willing to do so.
In our exchanges with the organizer, however, we noted that even if cosplay was an area that was unknown to him, there was benevolence and the desire to please local cosplayers. So we agreed to go there despite this little apprehension due to our past experiences.
In the shopping mall, we received a very warm welcome from cosplayers and from public. The people present for the organization on site were curious to discover this universe, with seriousness, without a priori or any condescending remark (you have no idea how many times you are entitled to it).
Regarding the contest itself, there are obviously points to improve, but without experience of the cosplay scene and with a rather short deadline for the organization, it was already a great first edition. The participants were spoiled, with a trip to Japan offered by Japan Experience for first place, and other surprises such as shopping vouchers and an invitation to a new restaurant in Paris.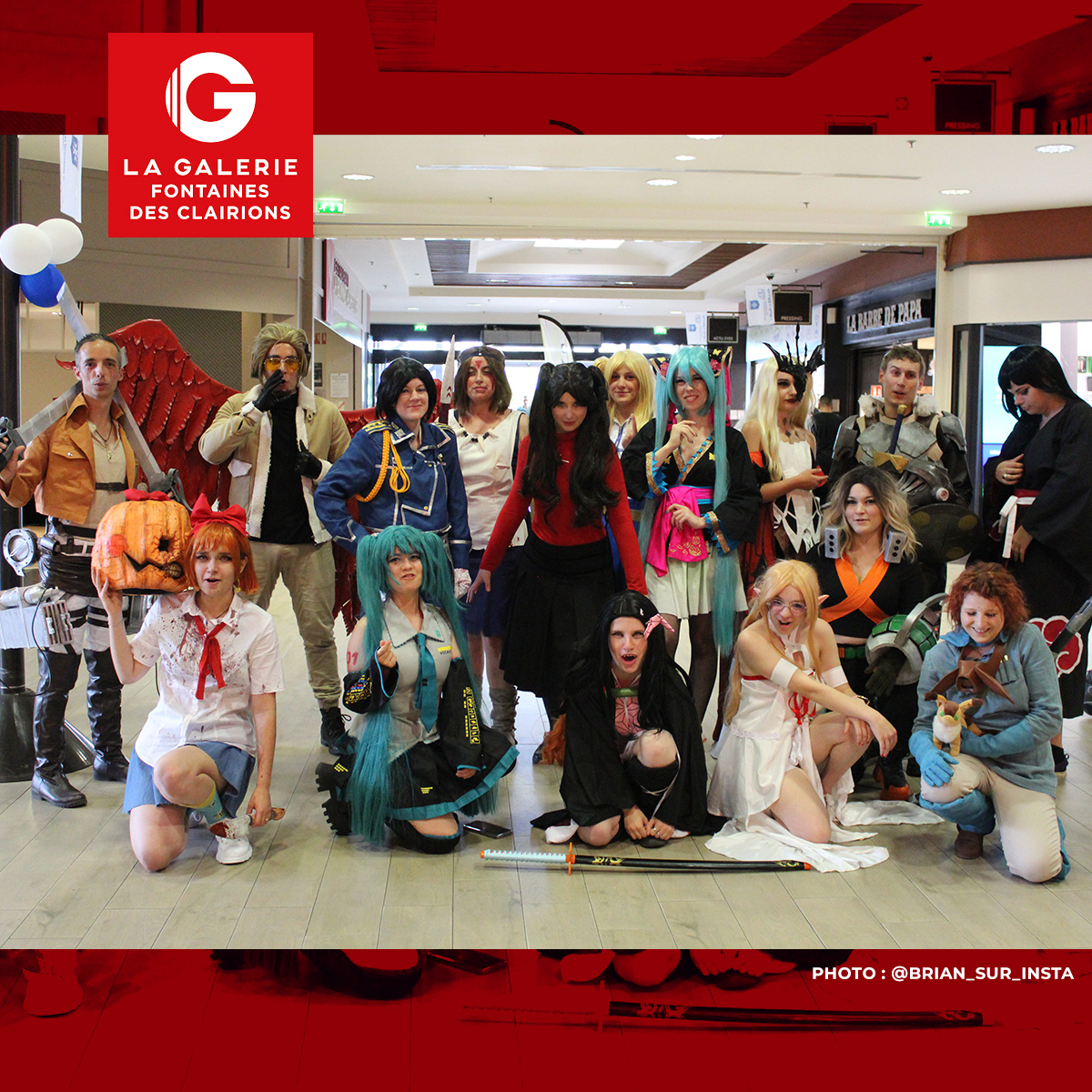 The Numerik Games Festival in Switzerland (August)
In August, we were invited to the Numerik Games Festival in Yverdon-les-Bains, Switzerland. This is an event a little different from the conventions we are used to, more oriented towards new technologies, video games and above all music! A truly special and festive atmosphere that continues until the end of the night, with concerts and entertainment on several stages, stands under marquees, in rooms, vaults and courtyards all in stone, around and outside interior of Yverdon castle.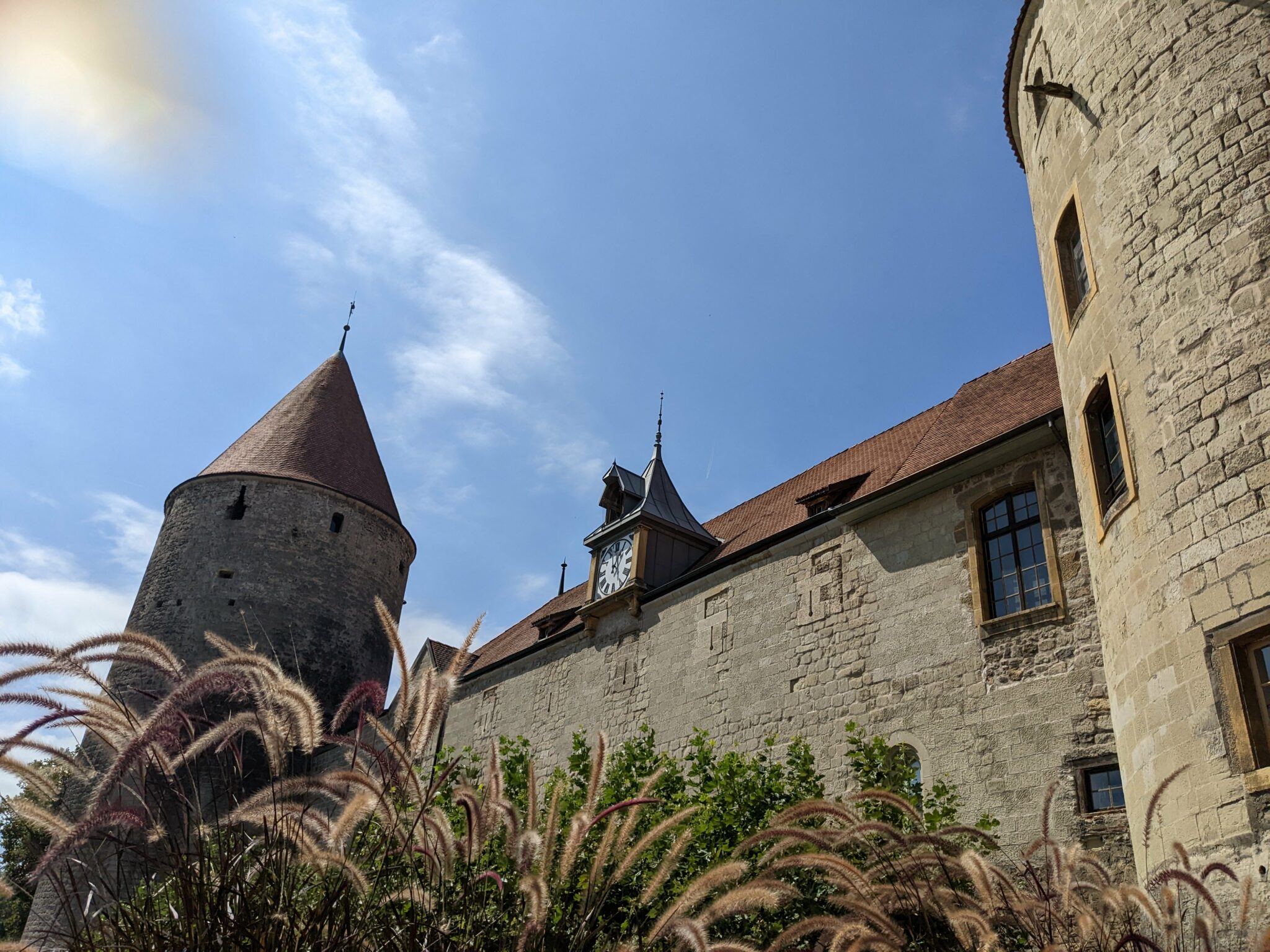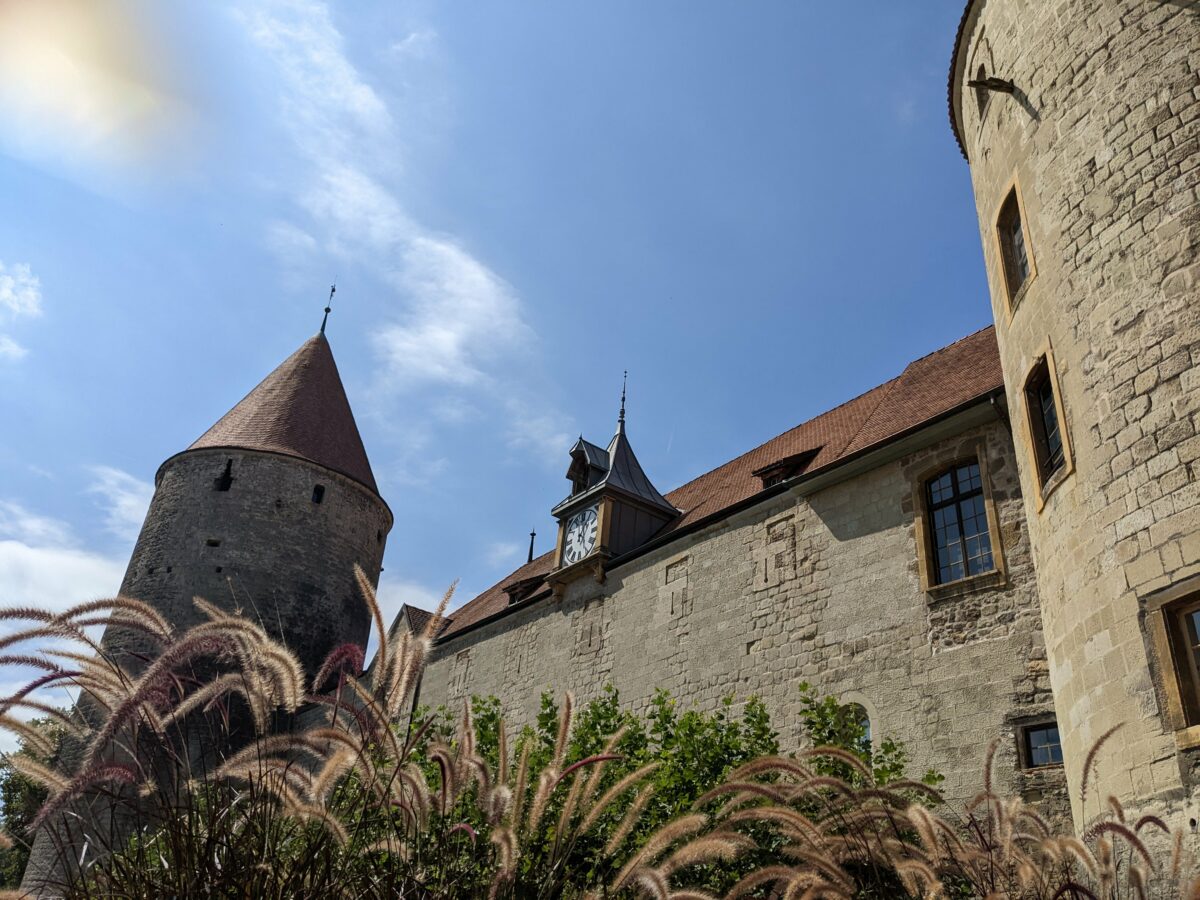 On Saturday, I was the jury for the cosplay contest, and on Sunday I had the pleasure of going back on stage to take part in the Show-Quiz Cosplay, an original concept during which the stage performances of the cosplayers are interspersed with questions of quiz for the public!
I took out my Queen of Hearts costume and on this occasion, we decided to make a new version of articulated hands (the 3rd already!), more mobile and a little smaller than the previous ones. We were very inspired by the work of artist Gary Fay for the 3D printed structure, and we chose to cover the whole thing with Foam Clay, a material that we had not had the leisure to use until here. We'll probably prepare a making-of article later this year (and maybe even a video) to show you all this in more detail.
In any case, what a pleasure it was for us to spend this weekend with our friends from the Swiss Cosplay Family (old and new ones)! And bonus points for accommodation in a thermal hotel, it's not every day that we are welcomed like that!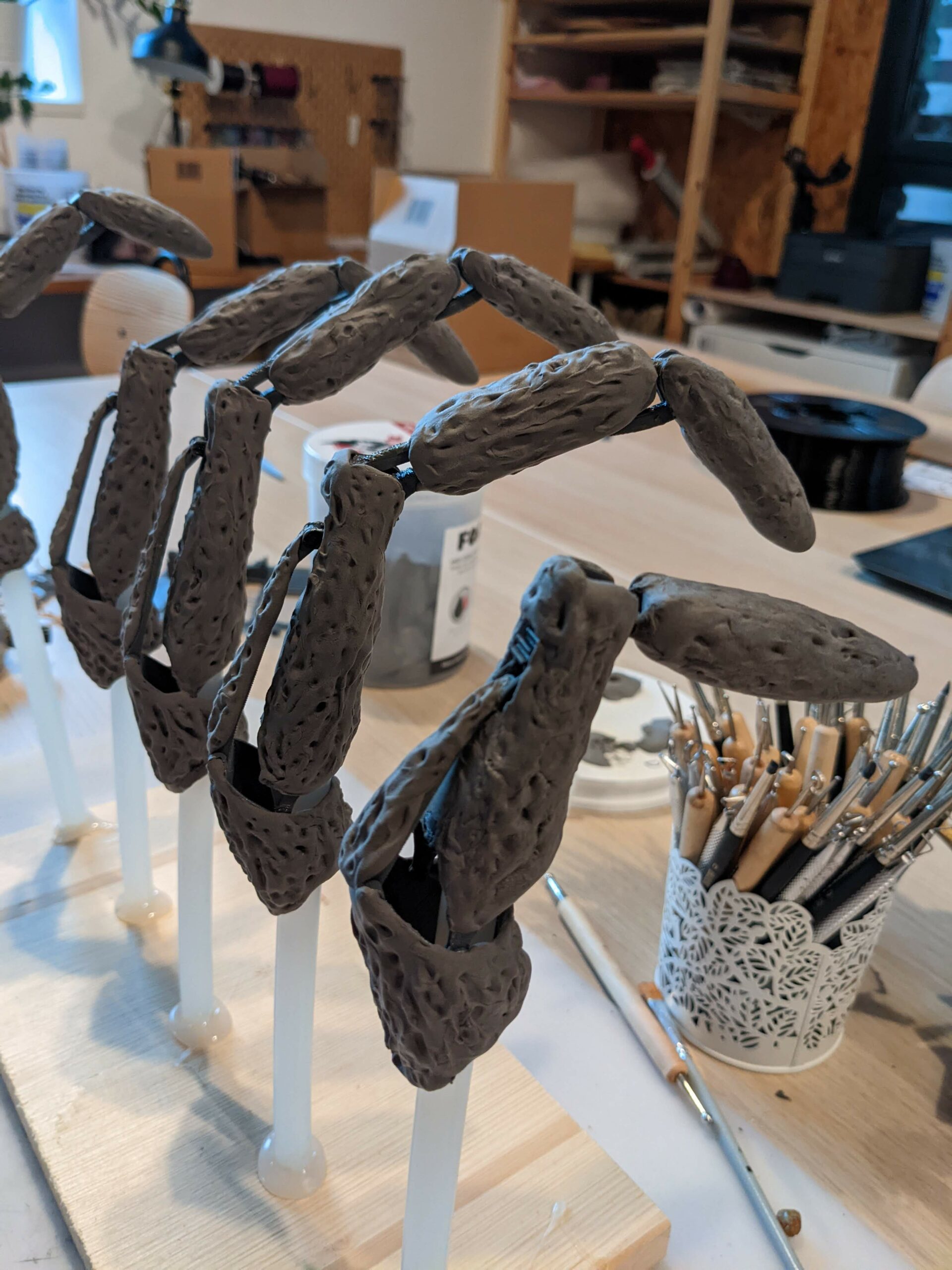 Workshops
Fantasy Basel (May)
In addition to our booth on which we present our latest creations, we had the opportunity to share our know-how with visitors of Fantasy Basel thanks to a conference and a practical workshop. We presented a conference on sculpture, during which we were able to present the materials and tools that we use to make our figurines, masks and other resin replica accessories. The next day, we held a workshop to teach participants how to make their own aluminum chain mail. Two themes that we are now used to addressing, but which continue to interest visitors.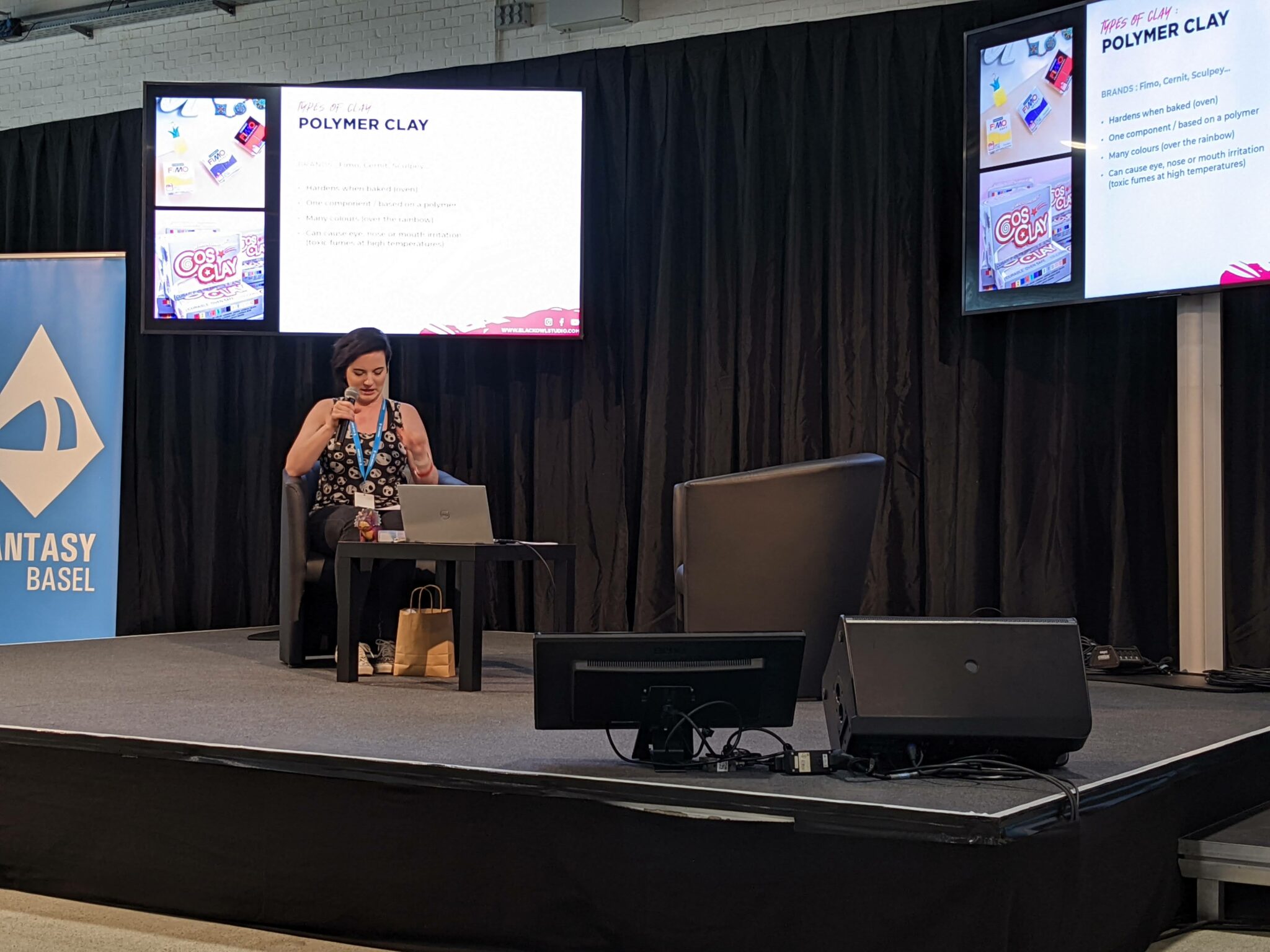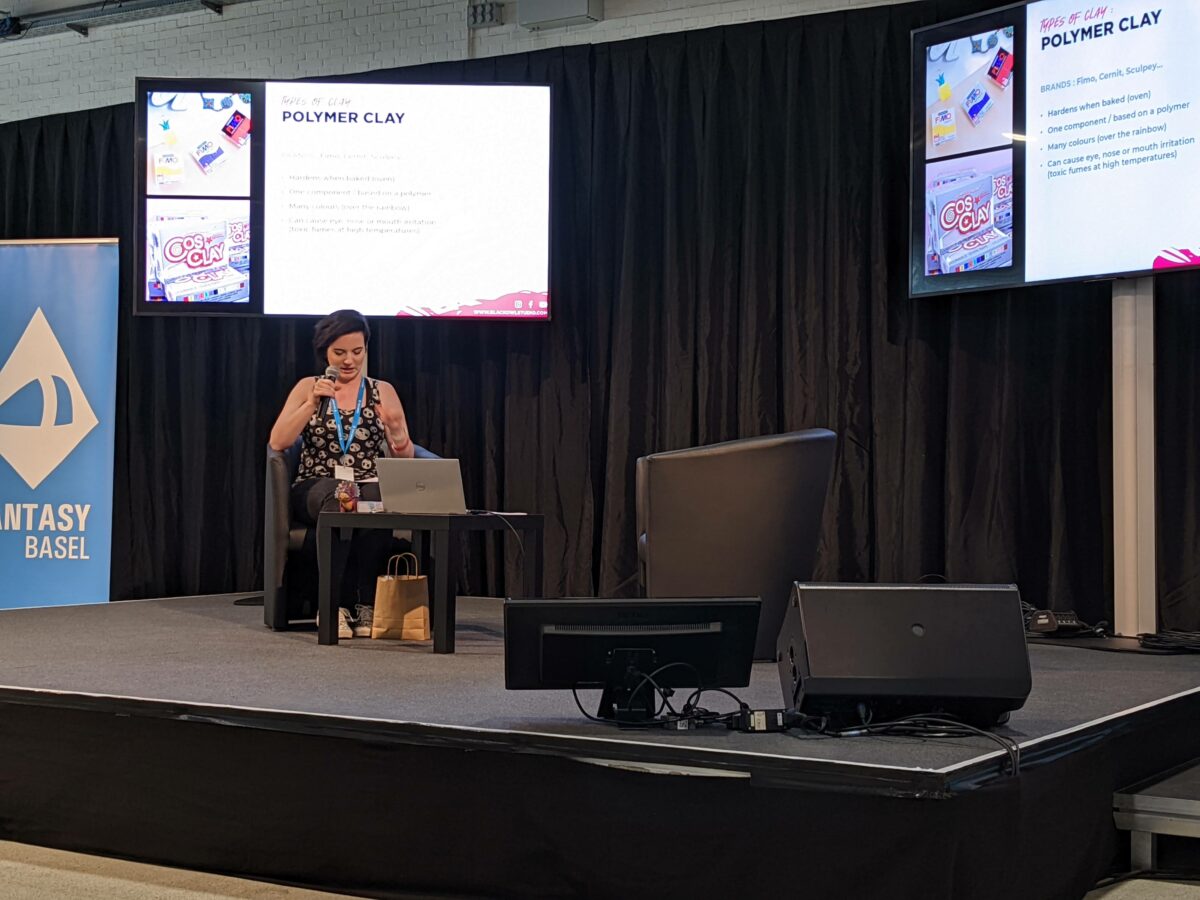 Nancy Expo Fair (June)
After several collaborations with Clairefontaine, manufacturer of Plastiline, we were contacted to intervene at the Nancy Expo Fair to lead initiation workshops.
Present on the booth of Color'i, a shop dedicated to fine arts and creative hobbies, we presented Plastiline and sculpture techniques to the general public. Surprisingly, it was the children who were the most interested and the most creative during this day! Was it due to the many colors of Plastiline available, or the playfulness of modeling clay? The mystery remains…
If you do not yet know Plastiline, I invite you to read our article: Sculpture : Plastiline & Monster Clay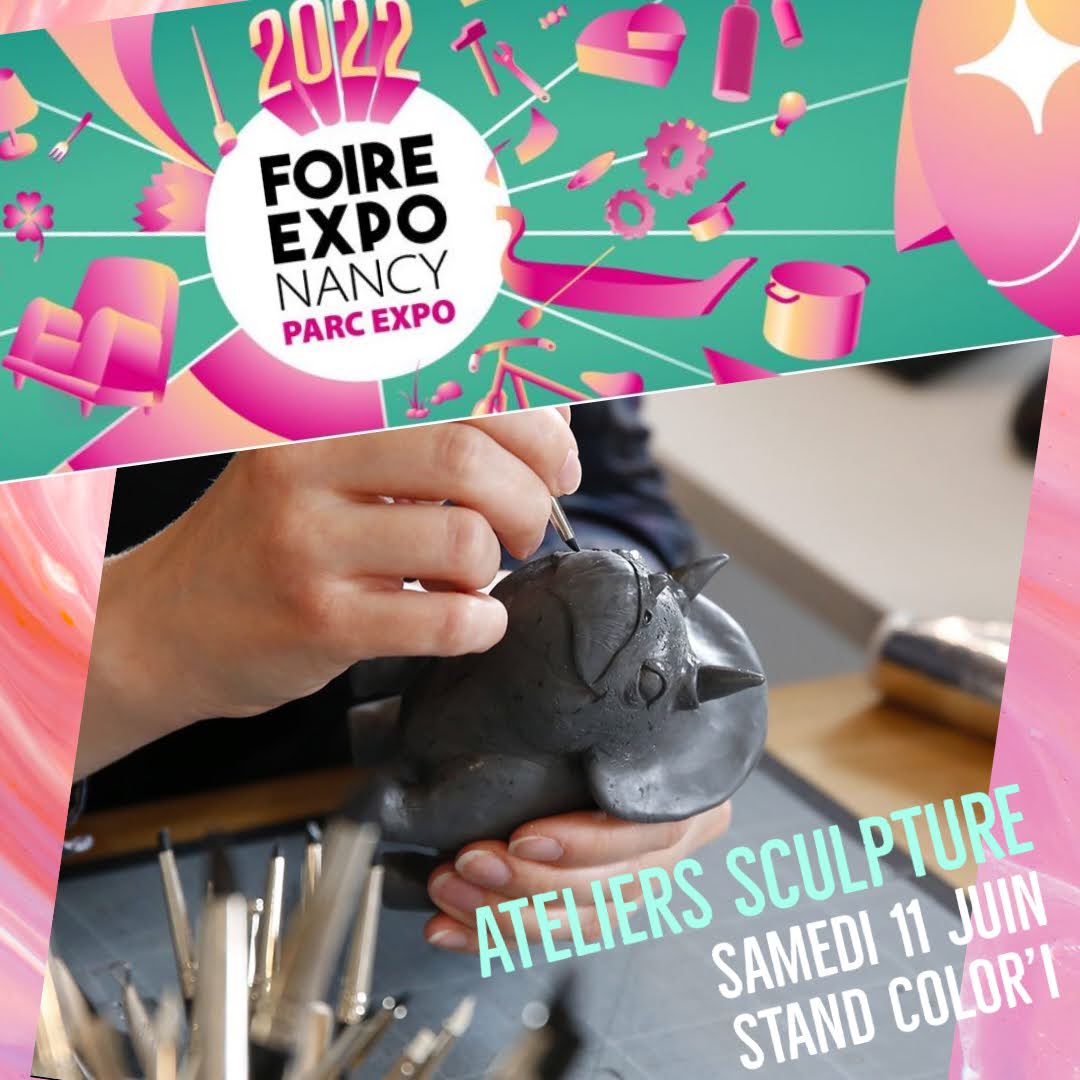 Back-to-work with Crafting Days!
Much later in the year, in October to be precise, we finally relaunched Crafting Days! An appointment that is aimed at cosplayers as well as DIY and handmade enthusiasts. Regardless of your level, this is an opportunity to come discuss and share your ideas, creations and personal experiences with other enthusiasts. Bring your working base and your materials, whether it's a costume, a diorama, a model or any creative hobby project, we take care of providing you with a workshop at little close tidy, tools and coffee.
The Crafting Days should return soon, with probably a Sunday every 2 months (or more depending on our availability and attendance). We are attacking with the next date in February, follow our networks to keep you informed!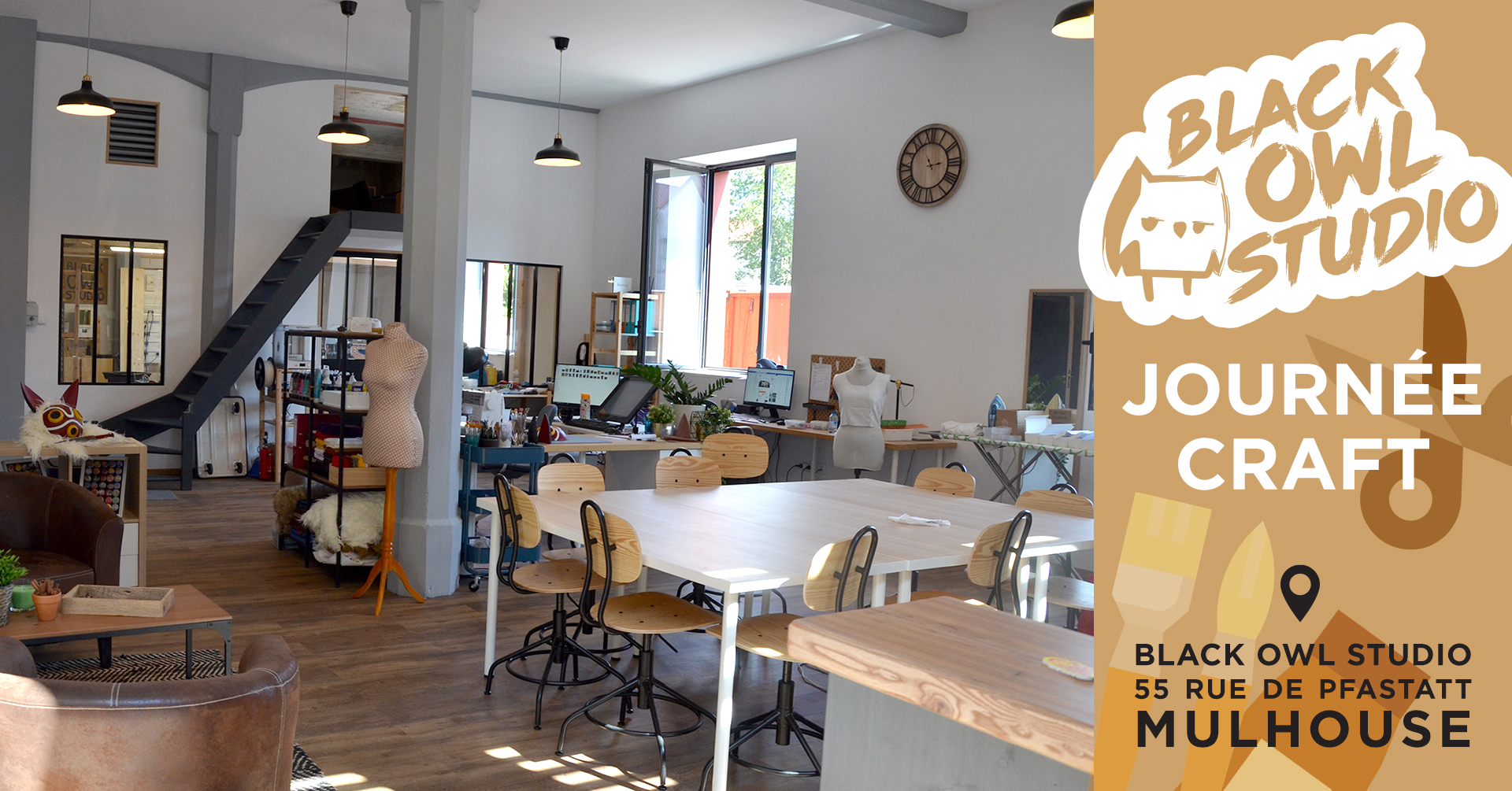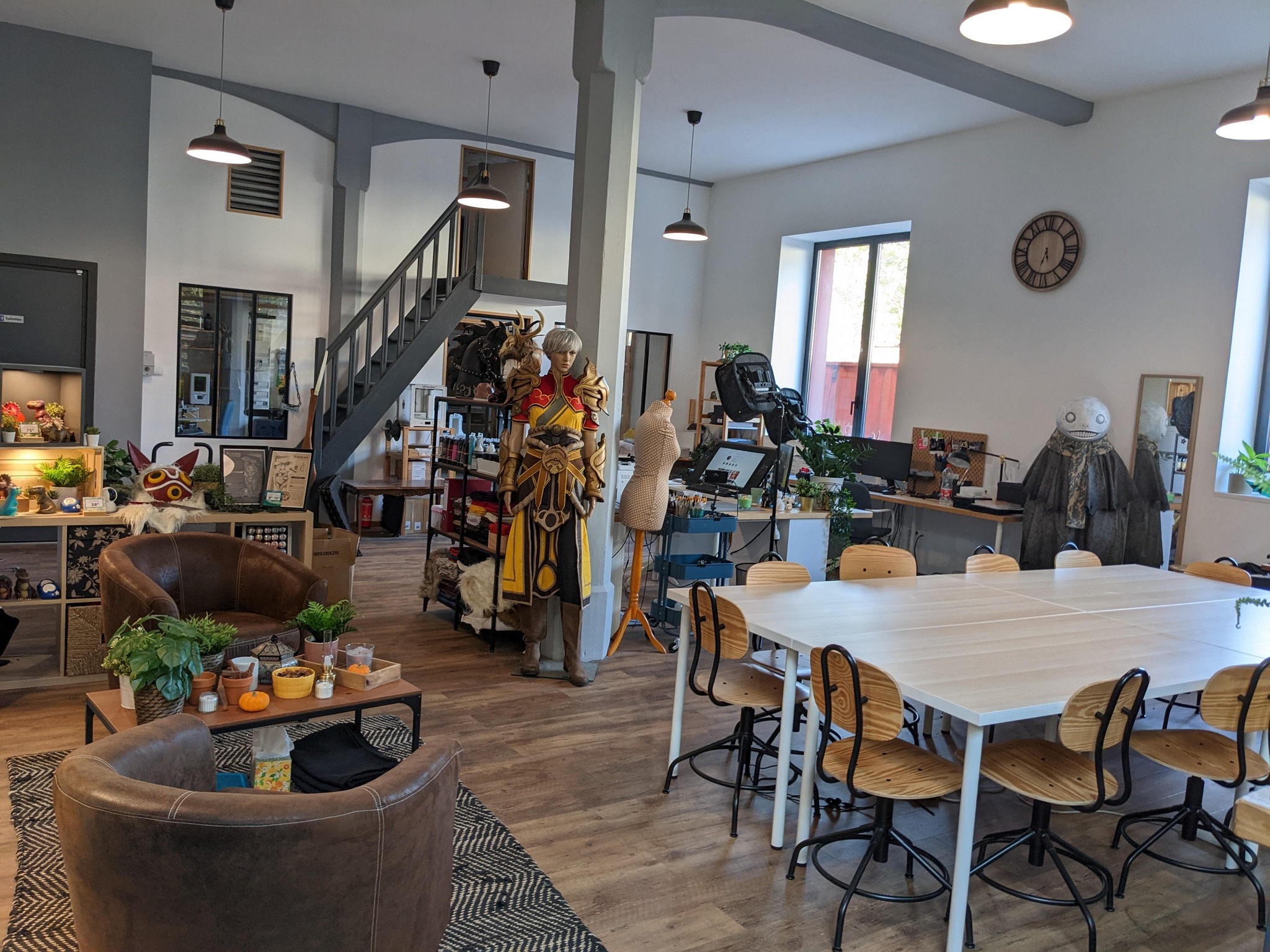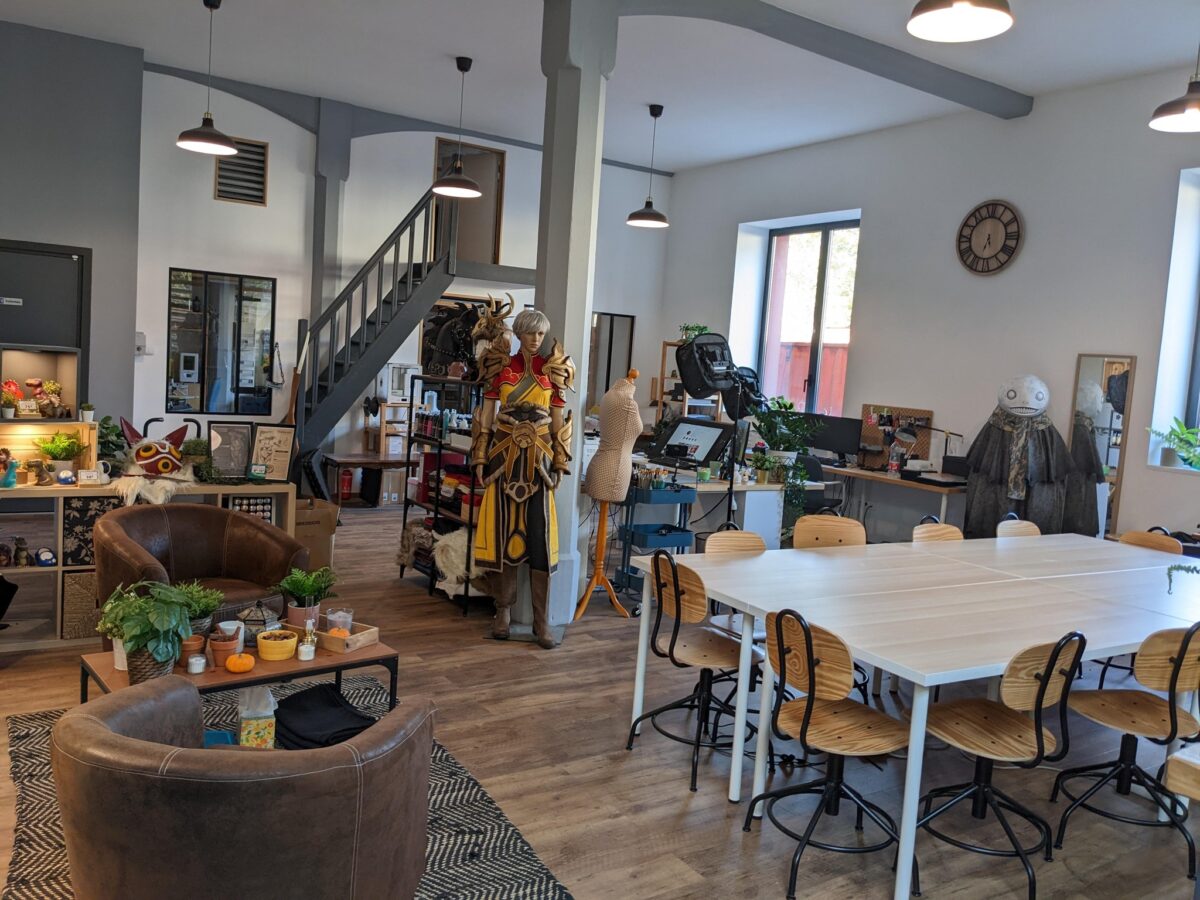 Illustrations: prints & stickers
A craft object takes a lot of time and therefore represents a significant budget. We are aware that not everyone has the means or the desire to put so much money into a purely decorative object, which is why we wanted to offer more accessible creations, in the form of posters that could feature our most popular creations, starting with the mandrakes.
Our first set of prints, in an old botanical grimoire style: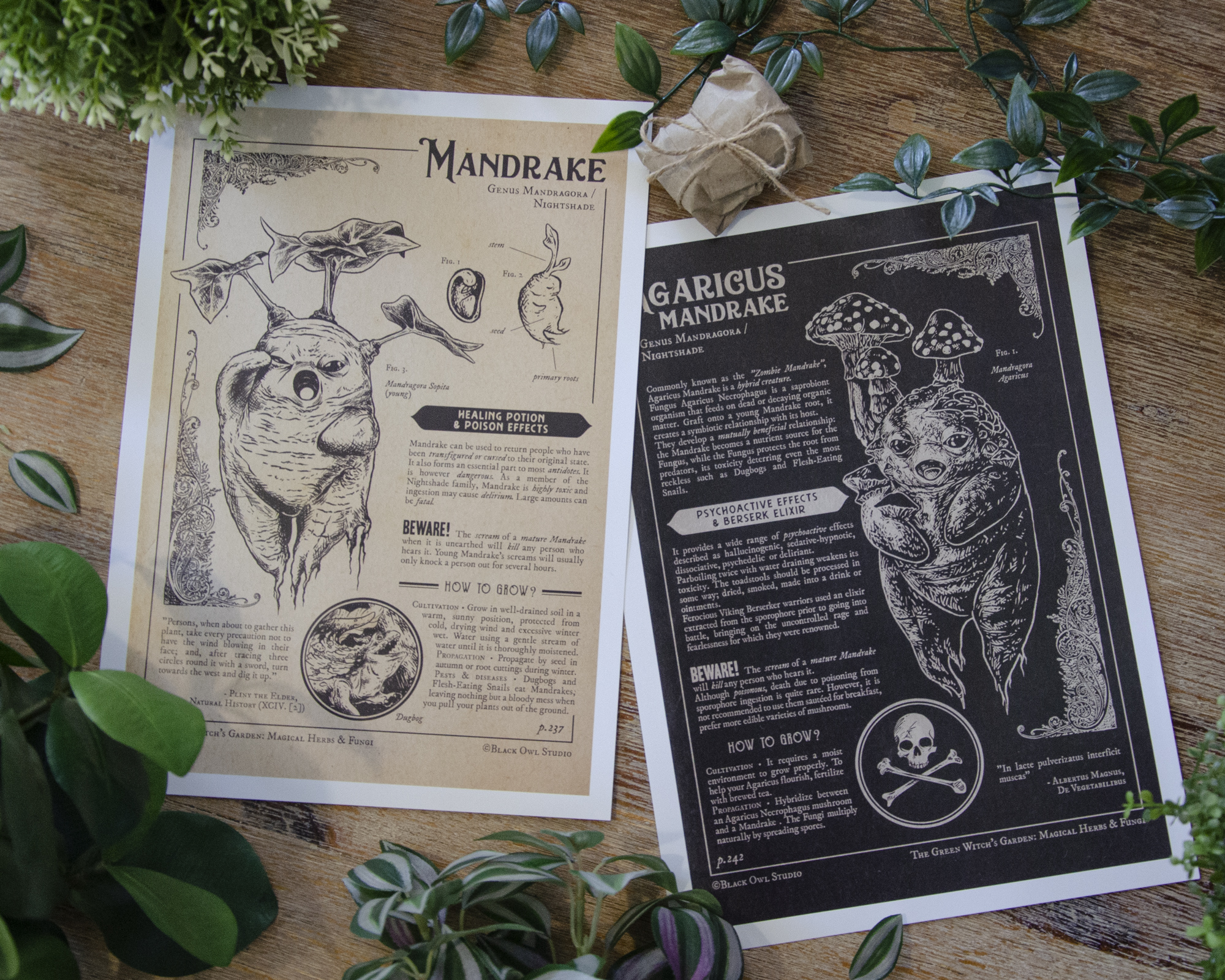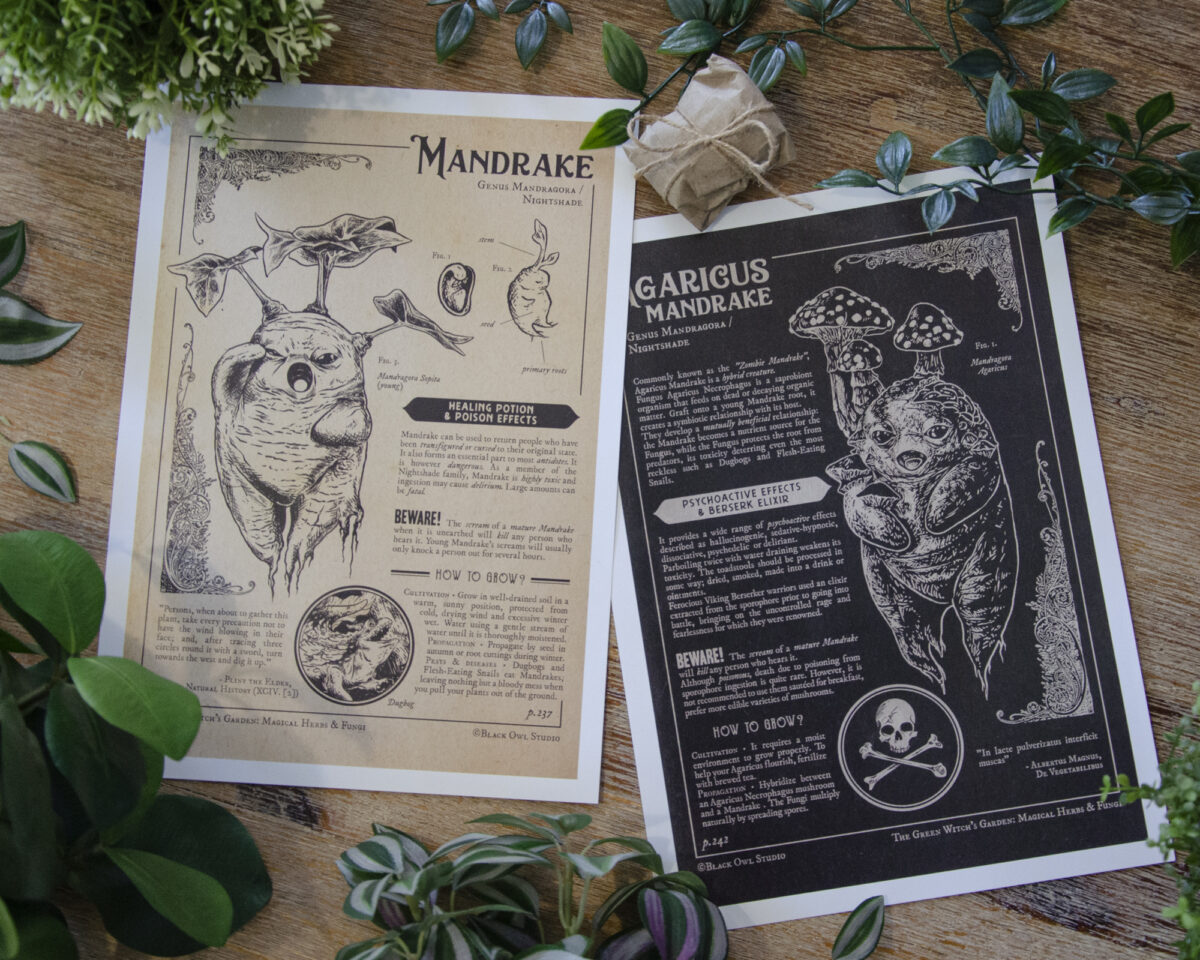 Since my childhood, I have always drawn a lot, but with the creation of Black Owl Studio I have less time to devote to it. When we decided to offer posters in the shop, I took the opportunity to produce an illustration, full of colors, a little playful with lots of details, references to some of our creations and, once again, a little nod to our fur balls Miller, Moira and Kharjette.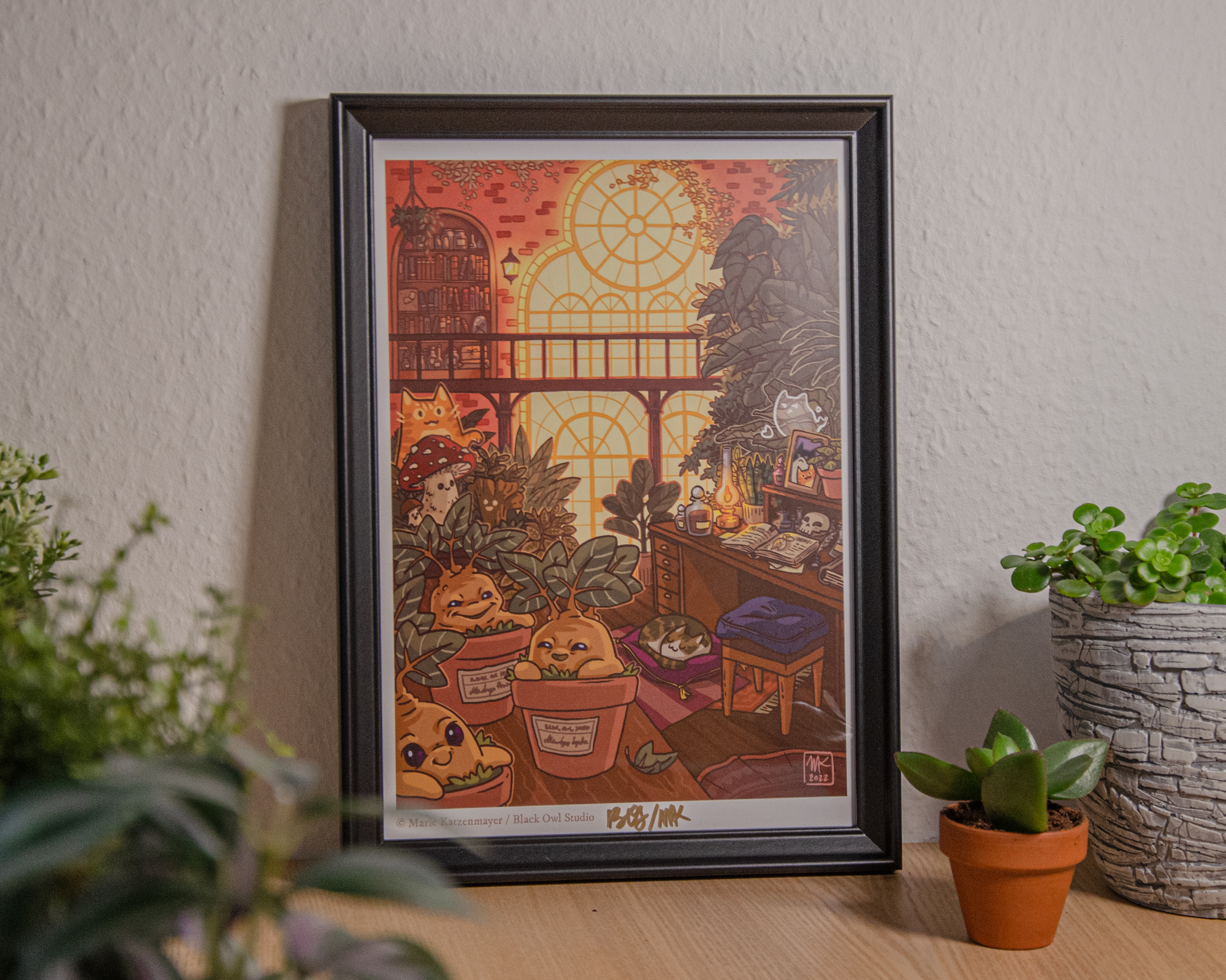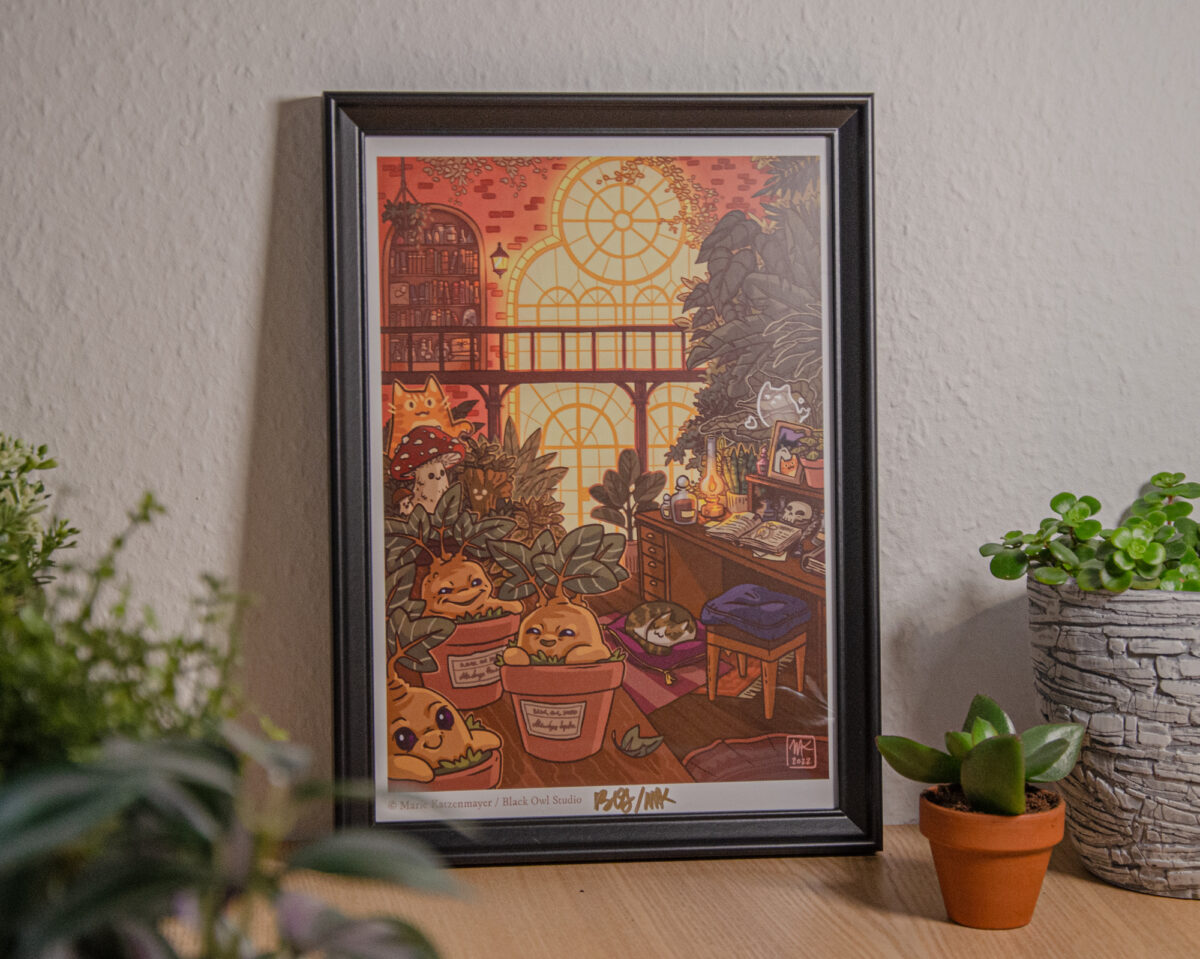 Find our posters in the Shop!
With Mael, we like holographic stuff and we had already made stickers with our logo a few years ago. When we received a newsletter with an offer for holographic stickers this fall, we couldn't help but take the opportunity to order some new ones. With the Halloween season approaching, we have chosen to illustrate our little ghost (Bubble Ghost) for this print.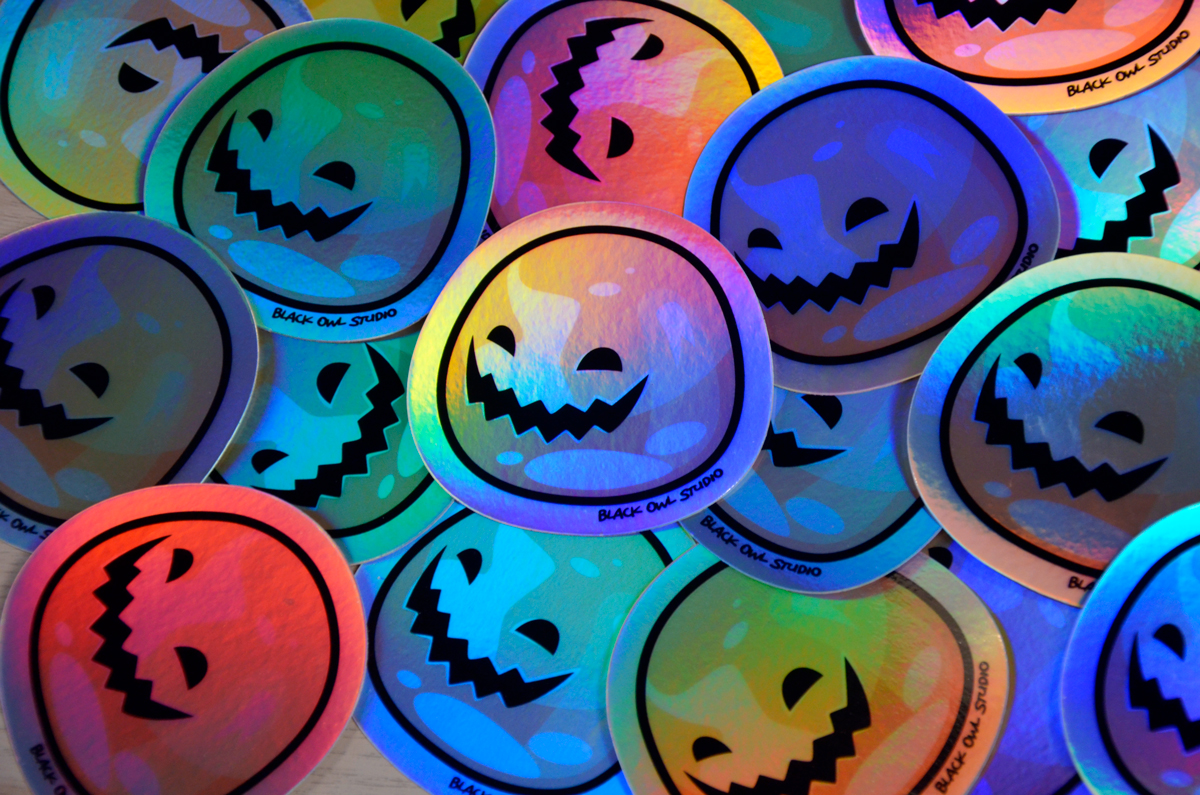 In December, we again received an offer for holographic stickers! In full production of Little Cats, it didn't take us long to decide on the theme of these new stickers. Maybe we should stop subscribing to all these newsletters…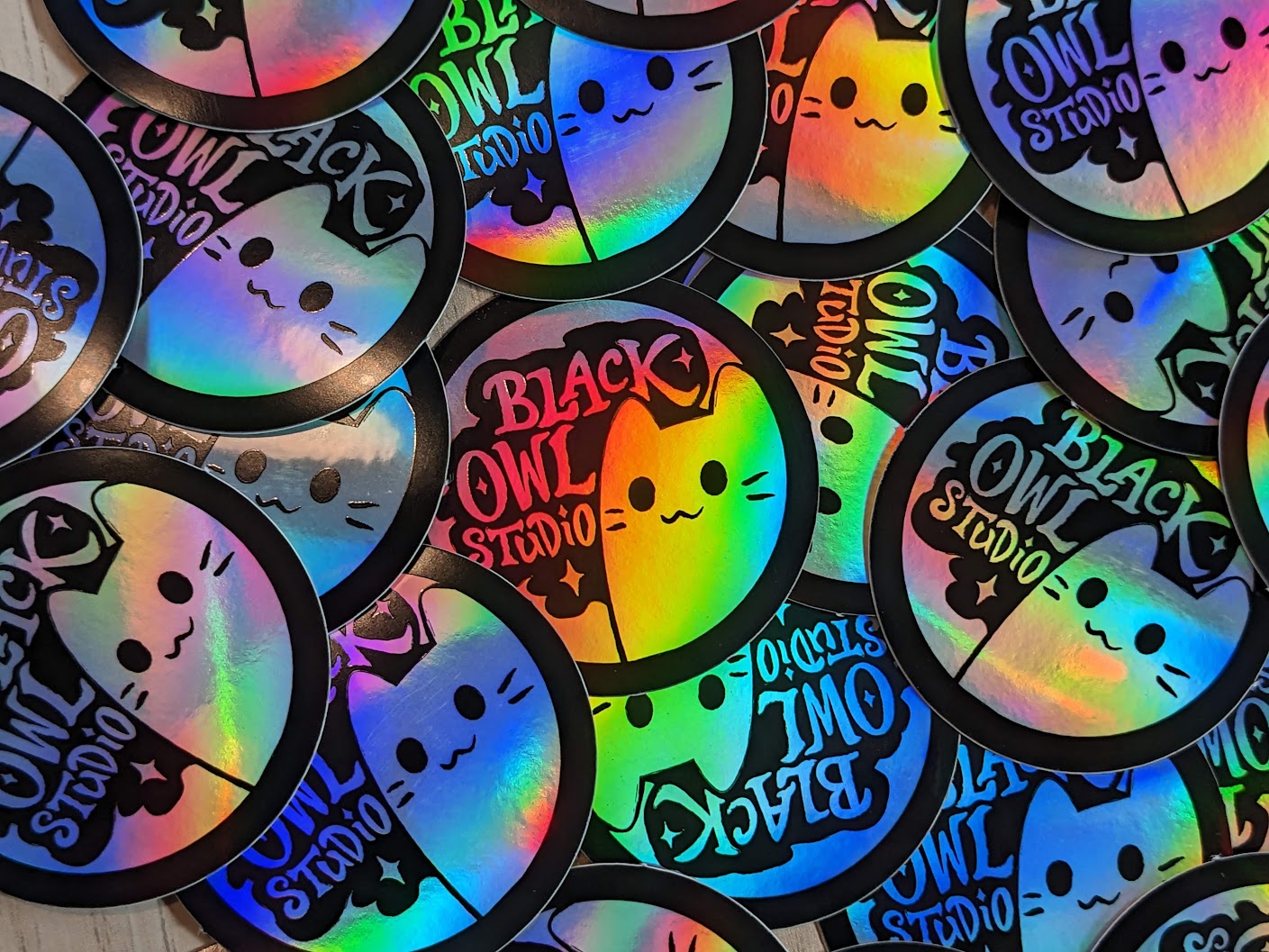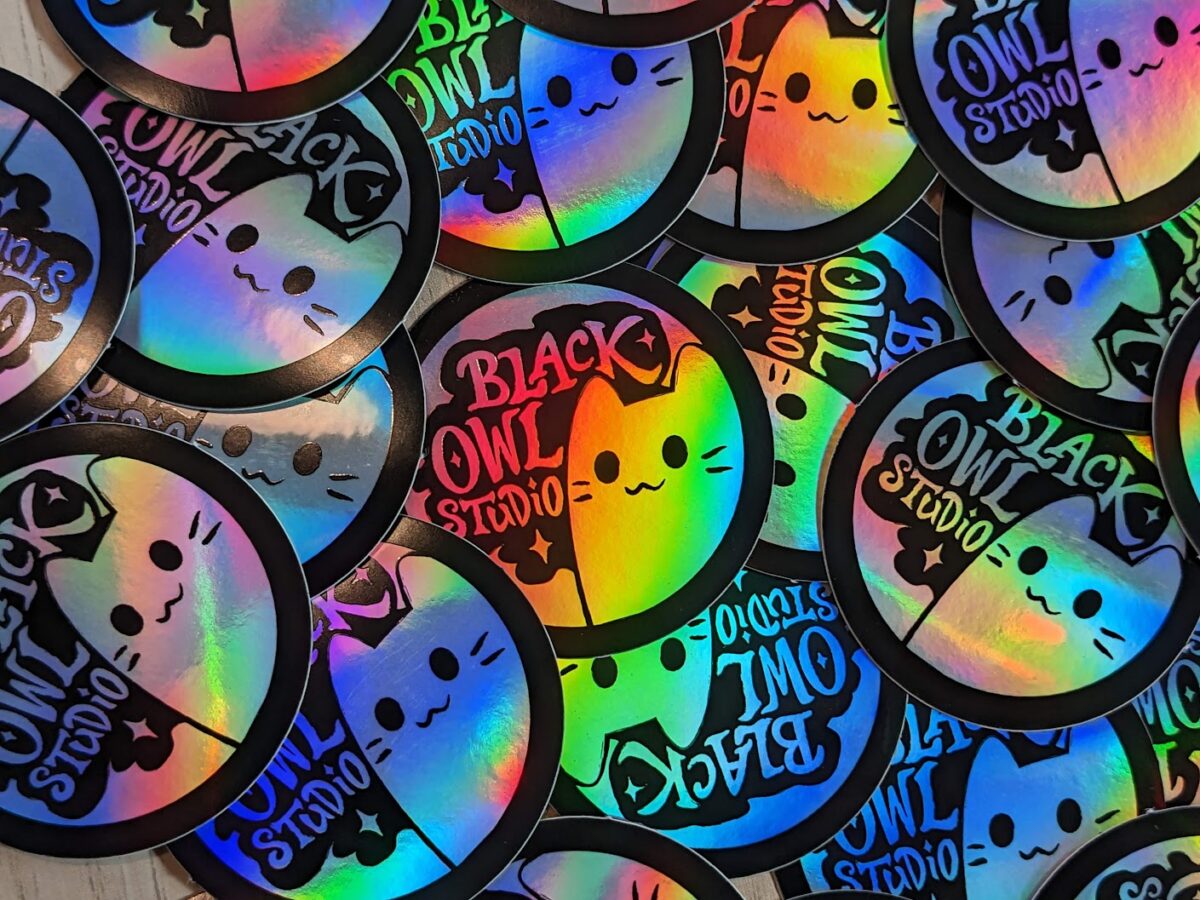 Towards more multimedia content?
New articles on the website!
It's been a while since we published a new article on our site (not good! Booooo). But the good news is that we have resumed writing this year, with 3 new articles published, and new ones in preparation for the coming year.
Resumption of the Youtube channel
Even if our Youtube channel has already existed for a few years, we cannot say that it is very extensive. The Mandrakes Making-Of is our first "real" edited video, we show the manufacturing process of our mandrakes, from molding to painting and assembly in a terracotta pot.
Other videos should have seen the light of day, but as we have fallen behind, they should be released in 2023!
Opening a TikTok account
Between an aging Facebook with an increasingly rotten algorithm, Twitter going nuts, and the new fashion of "Reels", we must admit that we sometimes feel a little overwhelmed by social networks.
We are not particularly fans of TikTok, and consume very little content from this platform. But with such a boom, we had to get started, old dinosaurs that we are…
And it must be admitted, the video editing is rather intuitive and very well done! So we played the game… and we managed to post a few short sequences to show behind the scenes of our workshop. If you have any ideas or special wishes for future videos, please let us know!
In addition to the few videos present throughout this article, I also suggest that we come back to a little tour of our workshop made during the Halloween period.
On the Road to 2023
The year 2022 has been very productive and sometimes even (too?) busy for us, with new creations, big projects, as well as our participation in several events both in France and in Switzerland.
We have new projects in preparation for 2023: new original creations of course, other illustrated posters, the development of the Youtube channel starting with the making-of video of the Mononoké mask made for Julien Fontanier… but also writing our first book (what a leak)!
To finish this review, it is important to thank our great customers who have placed orders on the shop, those who have participated in our workshops, friends, event organizers who have trusted us again this year. And finally we can never repeat it enough, but even if the best support you can give us is to buy our creations, you can also support us by sharing our posts, and by subscribing to our networks. It's very important to us, so THANK YOU to everyone who follows us on a daily basis!
…And thank you for reading this far!