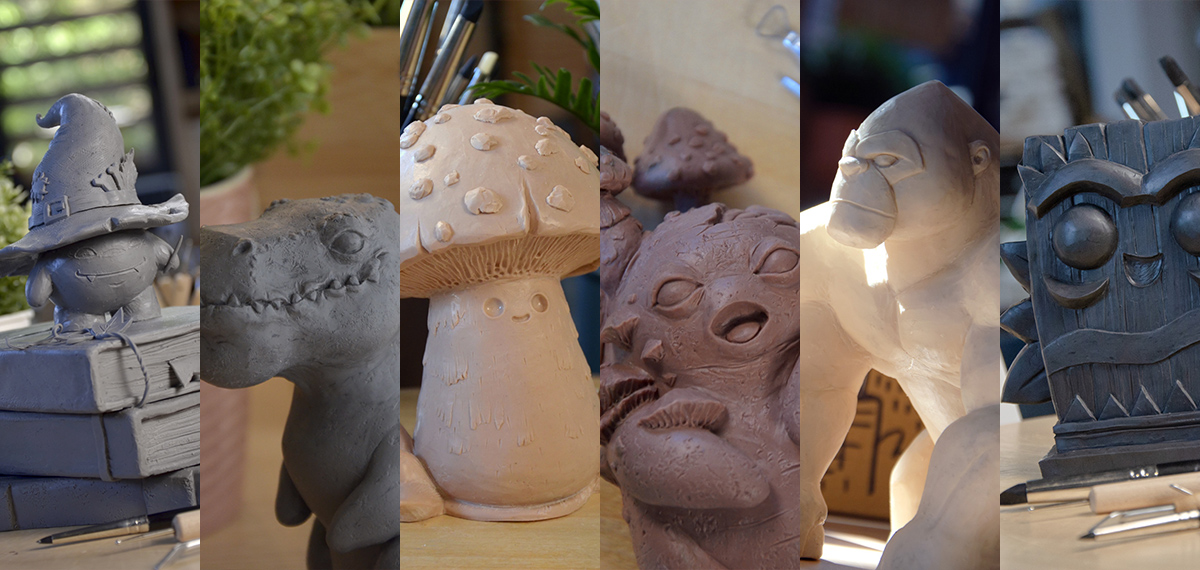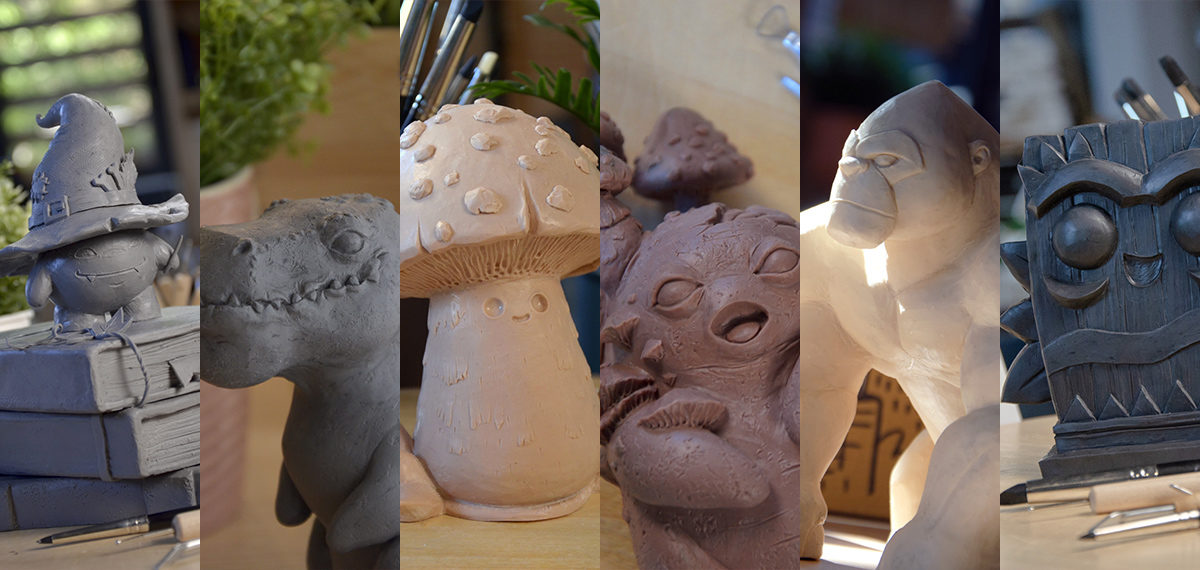 Sculpture: Plastiline & Monster Clay
Materials and tools used :
Matérials
Amazon affiliate links
Oil based clays
Oil based clays are made from various combinations of oils, waxes and clay minerals. As these components do not evaporate, these pastes have the particularity of not drying out and of remaining malleable over time.
They are particularly suitable for the creation of detailed sculptures, from which we can then make a mold (with silicone for example), then one or more casts with more durable materials such as resin. Oil based clays cannot be baked, unlike more conventional clays. The goal is not to make them "finished" objects, but rather to be used in the design phases (prototype or master).
Heat is a very useful component in working with oil based clay. On heating, they become softer or even liquid, which is practical for being able to easily work with volumes. On the same principle, placing this type of clay in the fridge will make it harder, which can be useful for sculpting the finer details.
Plastiline or Monster Clay?
When we started out at Black Owl Studio, we used Plastiline a lot. Then over time, we also started working with Monster Clay. Today we mainly use the latter, although we still work with Plastiline on certain occasions.
As we know these two clays well, we will try to make a comparison and bring you some elements if you do not know which way to go.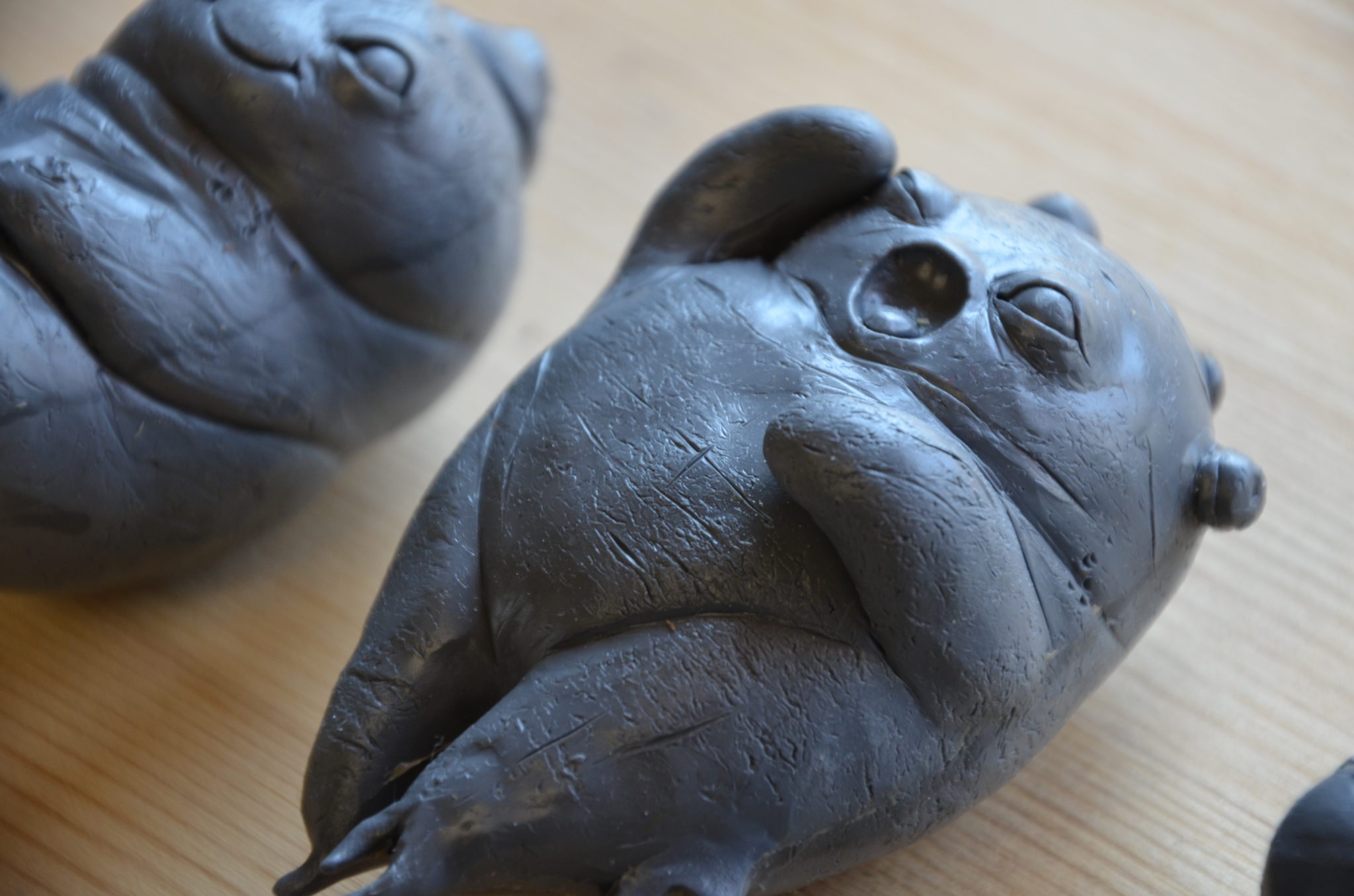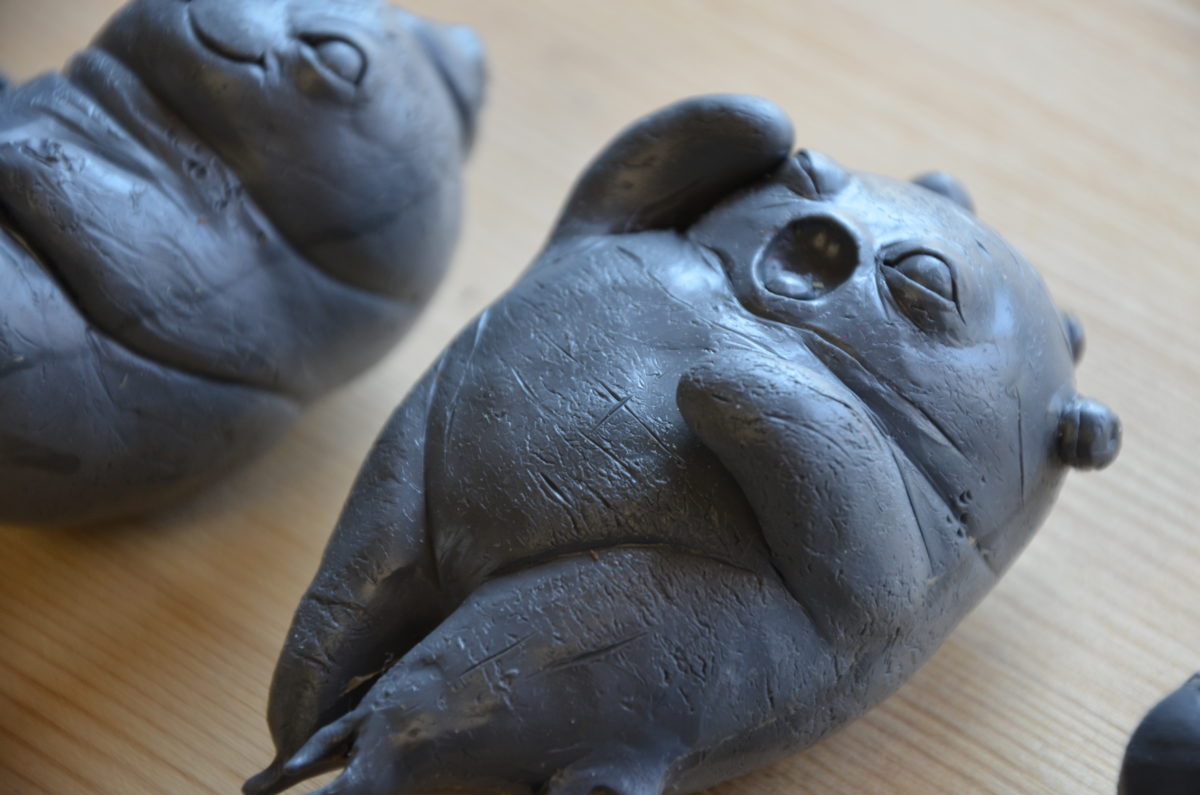 Hardnesses (Grades)
The hardness of a modeling clay is calculated based on its softening point. Basically, a clay with a low (soft) hardness will start to melt at a lower temperature than a clay with a high (hard) hardness.
If on the side of Monster Clay, you can find 3 hardnesses:
The Plastiline brand offers more choices with 5 hardnesses:
Very Soft (40)
Soft (50)
Medium / Standard (55)
Hard (60)
Very Hard (70)
However, I will add a little nuance, since these 5 hardnesses are only available on 1 or 5kg tubes. Indeed, if you wish to opt for sheets in 750g, you will find 3 hardnesses which are as follows:
Grade 1 – Very Soft (40)
Grade 2 – Soft (50)
Grade 3 – Medium (55)
Beware: Although the packaging has evolved in 2022, we still find on the market the old packaging for which we can also count 3 hardnesses, but different from those mentioned above:
Grade 1 – Soft (40)
Grade 2 – Medium (50)
Grade 3 – Hard (70)
To find the equivalent between the hardness of the tubes and those of the old sheets, you will have to compare the number indicated here in brackets. Thus a sheet in hardness "1 – Soft" will be equivalent to a tube in hardness "Very Soft (40)" and not to a tube in Soft hardness.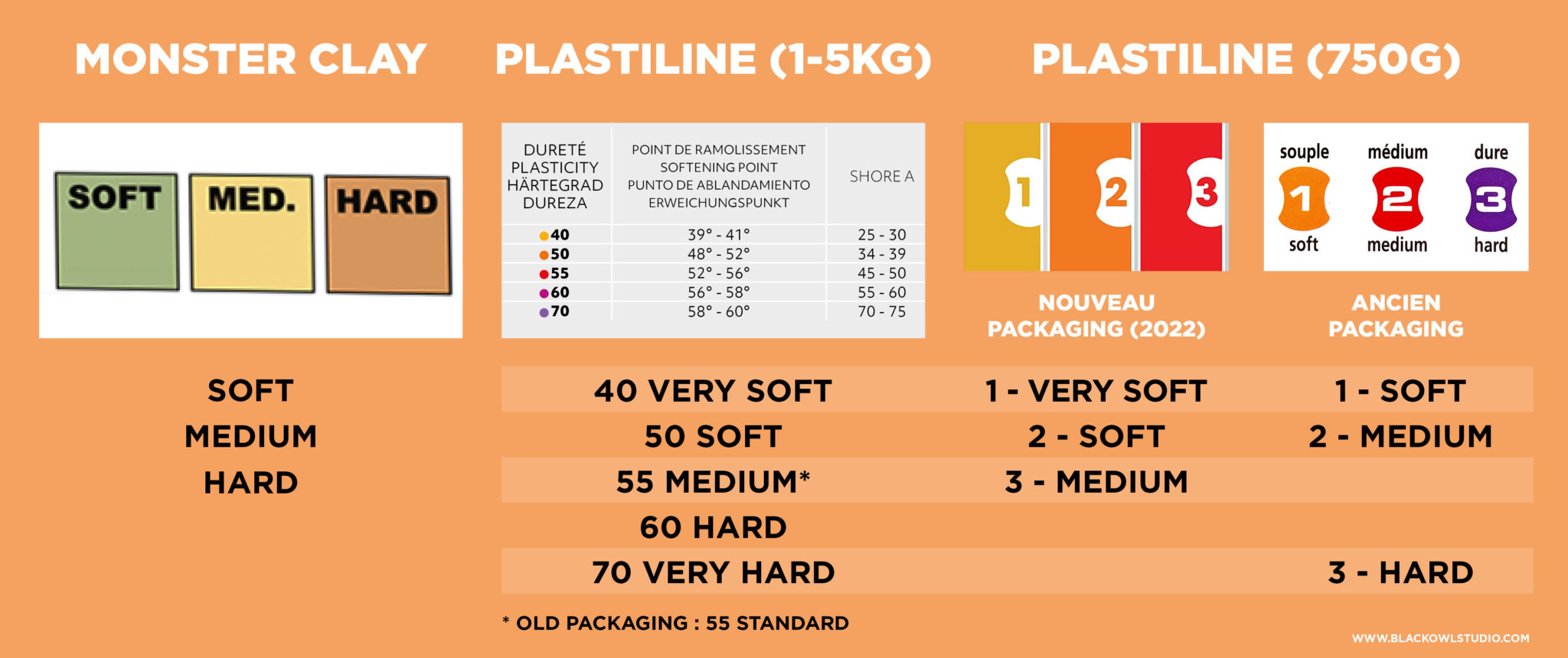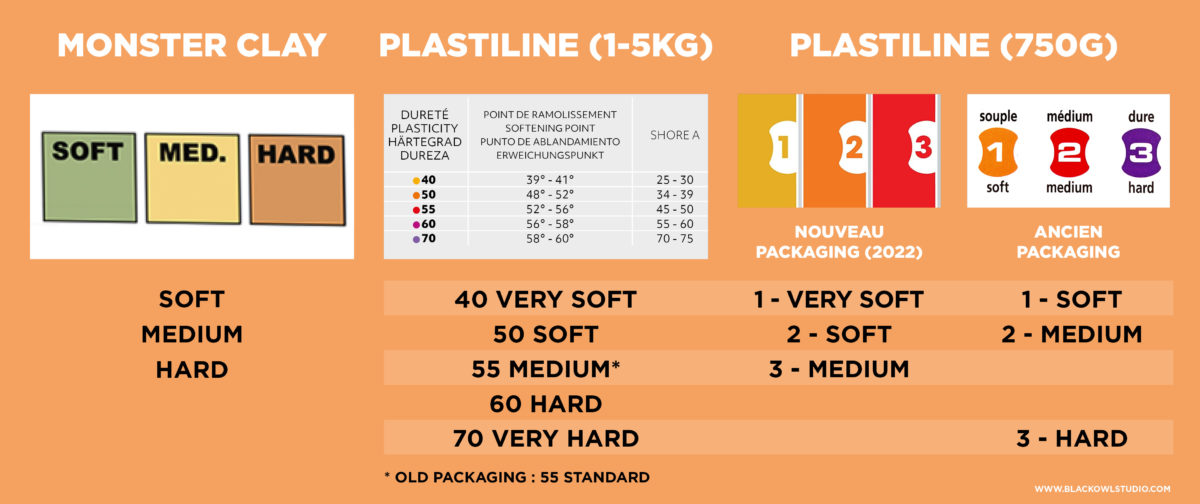 Colors
Monster Clay is available in two colors only:
Red (color very close to clay / terracotta)
Gray (only in Medium hardness for now!)
We find more choices on the side of Plastiline:
Grey
Ivory
Fleshtone
Red Ocher
Light Grey
Black
Grey is the most frequently shown color because it is the "historic" color of Plastiline, even though Ivory Plastiline can be found for many years. The colors Fleshtone and Red Ocher were also marketed but very uncommon, and it even seems to me that production had even been stopped. With the new 2022 catalogue, these two colors are back along with two new shades: Light Grey and Black.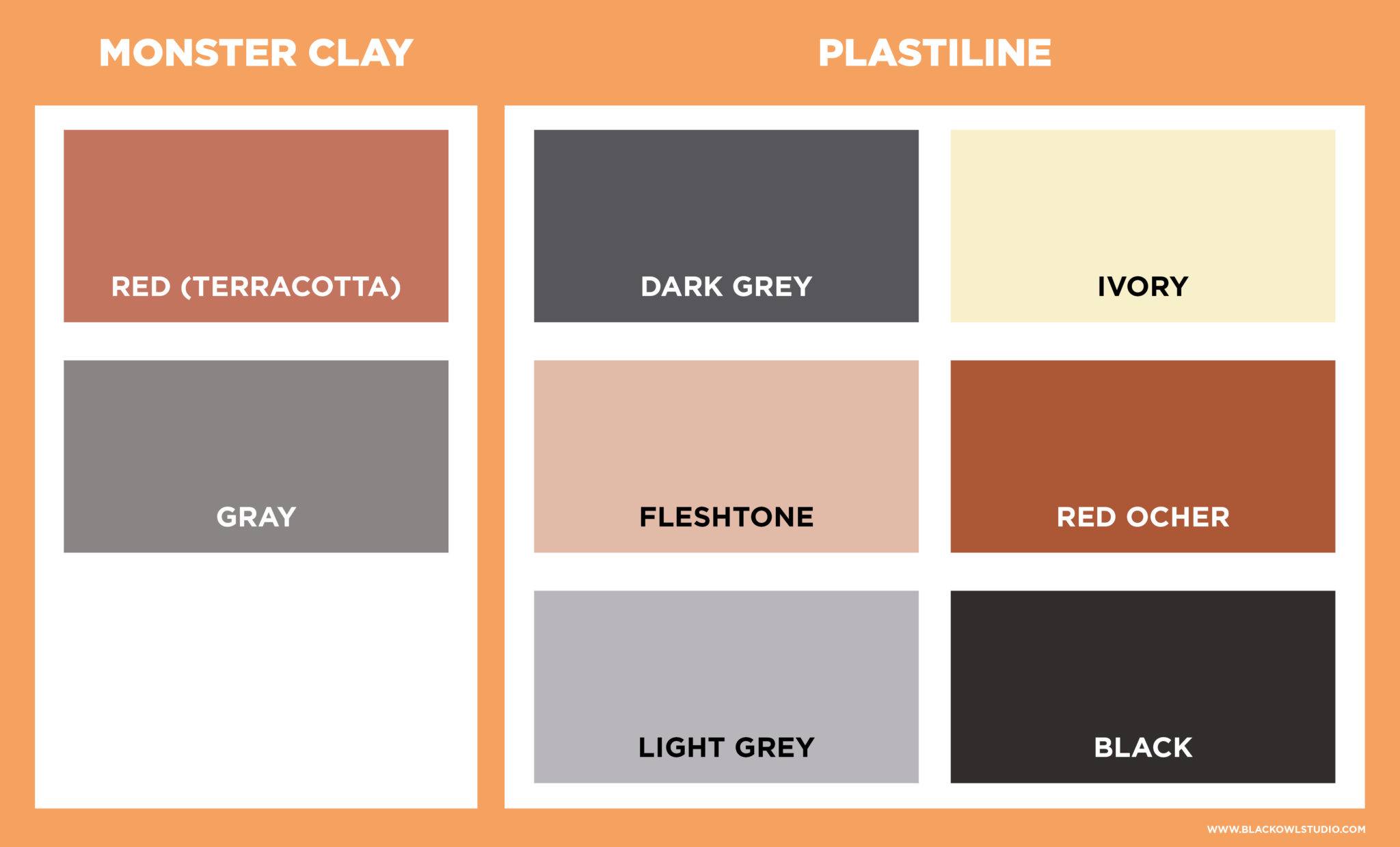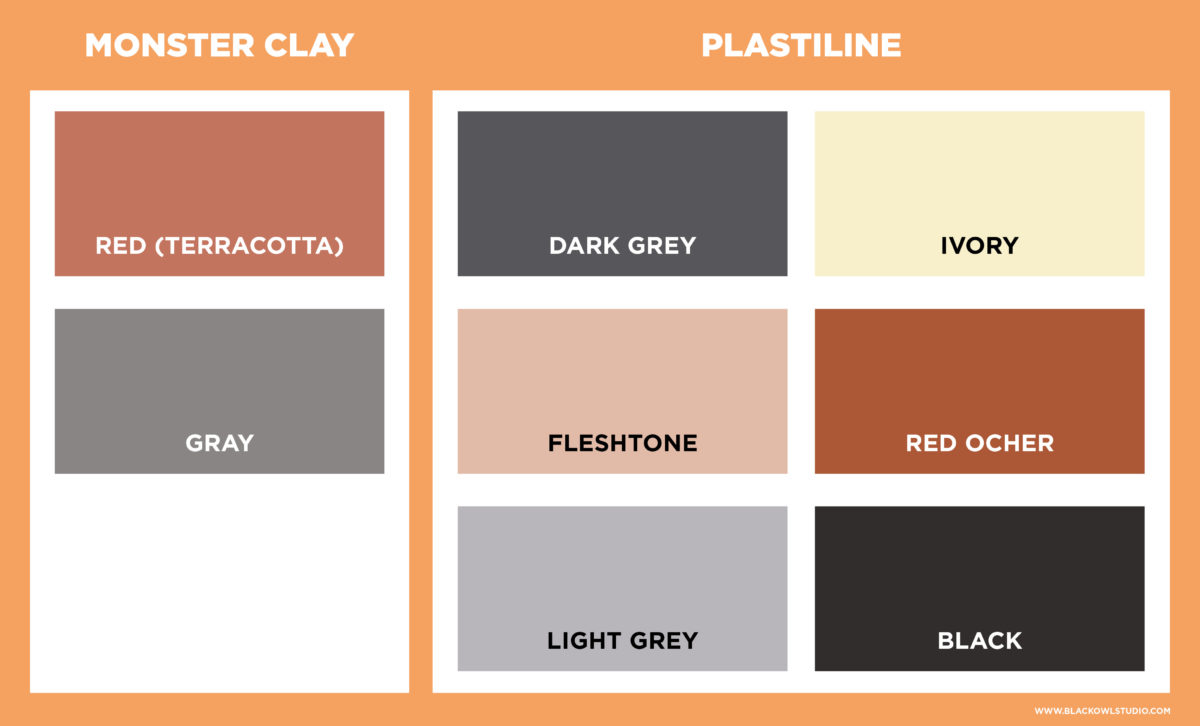 This is a rather subjective choice, it all depends on your personal preferences. It can be noted, however, that a darker color will require good lighting in your workspace in order to be able to clearly see the details. On light colors, care should be taken to keep a clean work surface as they will be more easily soiled with the incorporation of dust and impurities.
My personal top:
Top 1: Red (Monster Clay)
For my part, I have a preference for the red of the Monster Clay, because I find that it presents a good contrast both with low lighting, indirect or with very bright spots. This is also valid for photo or video shooting, you can easily distinguish the details whether it is with a smartphone or an SLR. The color is homogeneous and even, no noticeable difference from one block to another.
2nd: Naples Pink (Plastiline)
On the Plastiline side, I like the Fleshtone color, even if I have noticed that from one tube to another, the color is not always the same (more pink, more orange, lighter, etc. )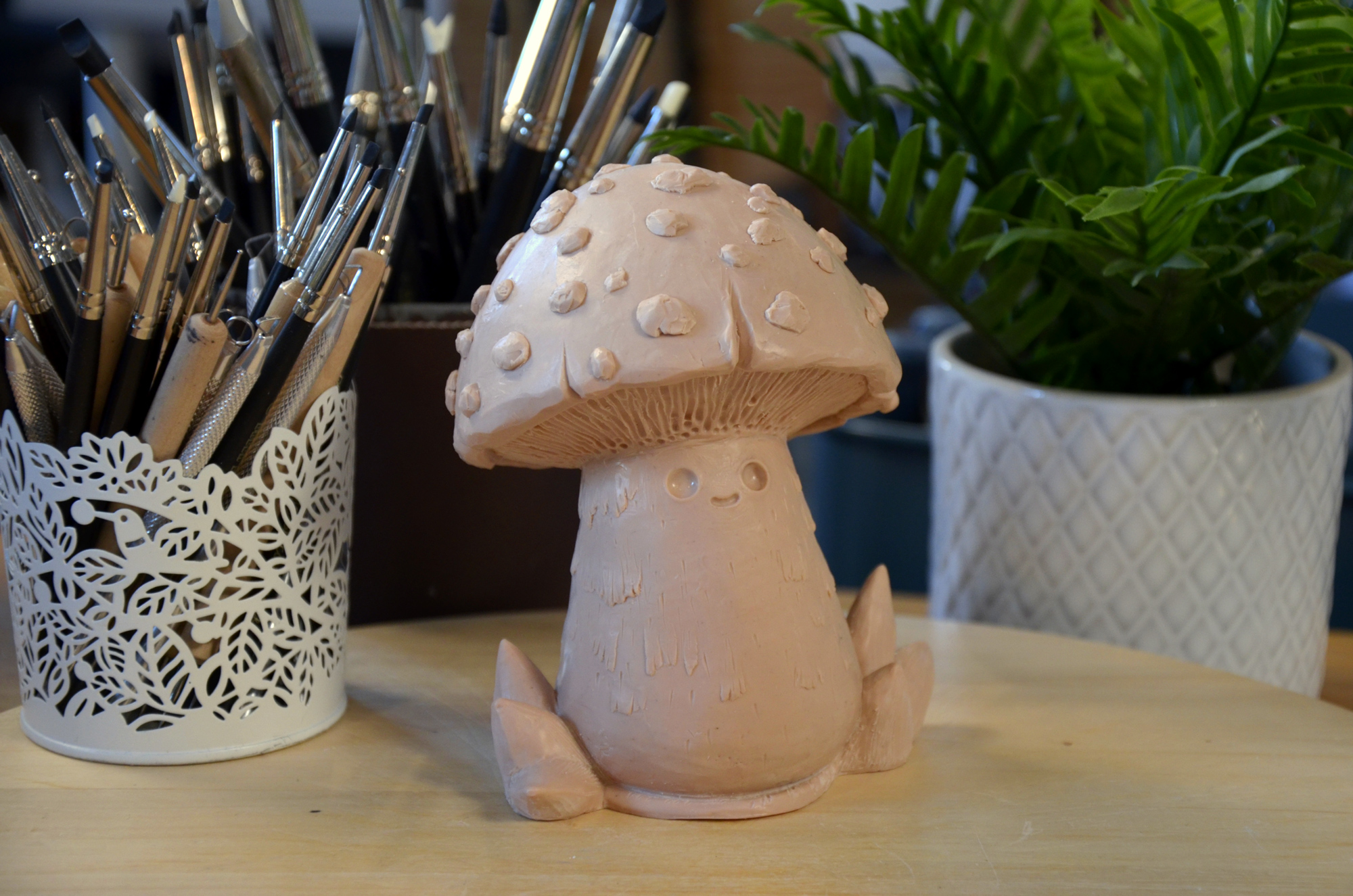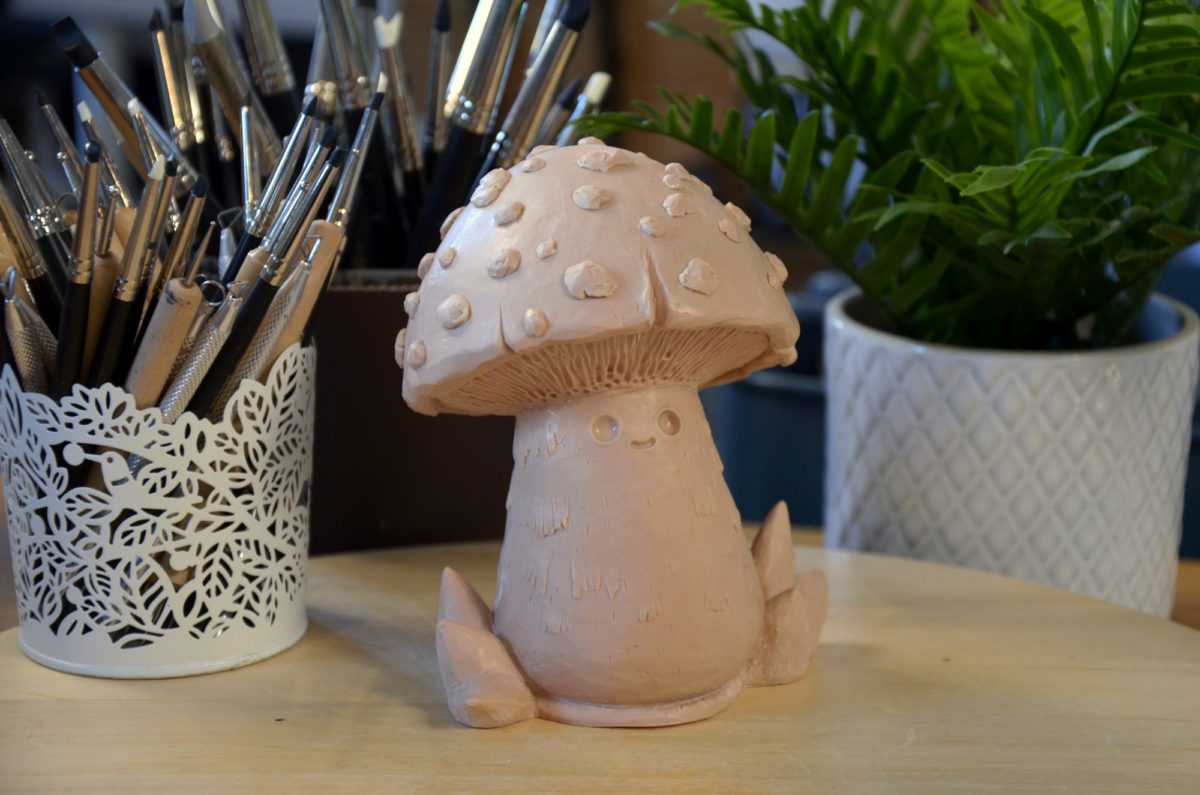 3rd tied: Grey and Ivory (Plastiline)
I'm also quite used to the grey shade from Plastiline (the most common), although this becomes quite difficult to work with if you have insufficient lighting (it's a bit dark).
The ivory color is quite pleasant to work with, but it is more complicated for shooting, it requires more effort (lighting, camera adjustment, etc.) to be able to distinguish the details on the object… My phone's autofocus hates this color.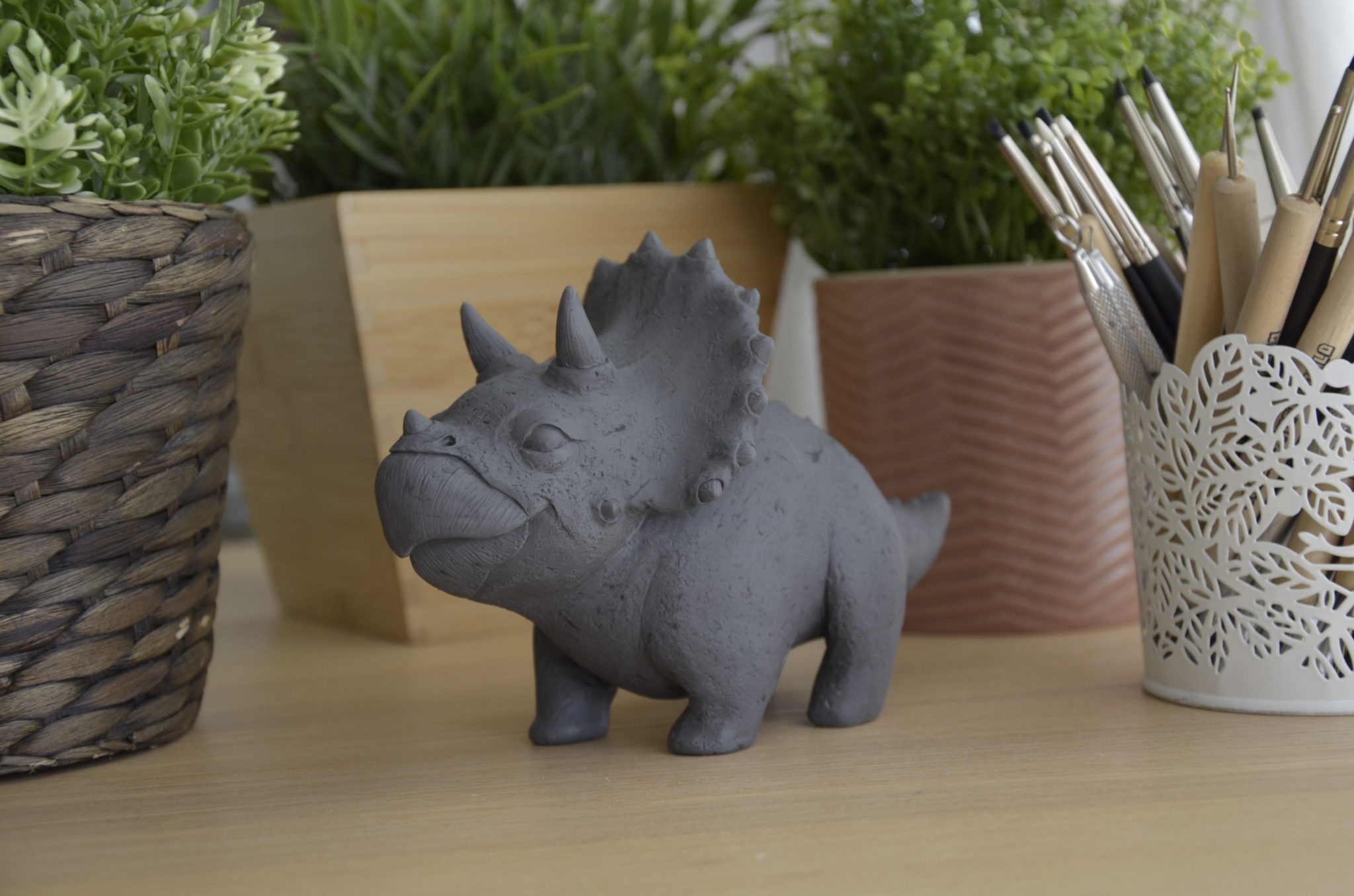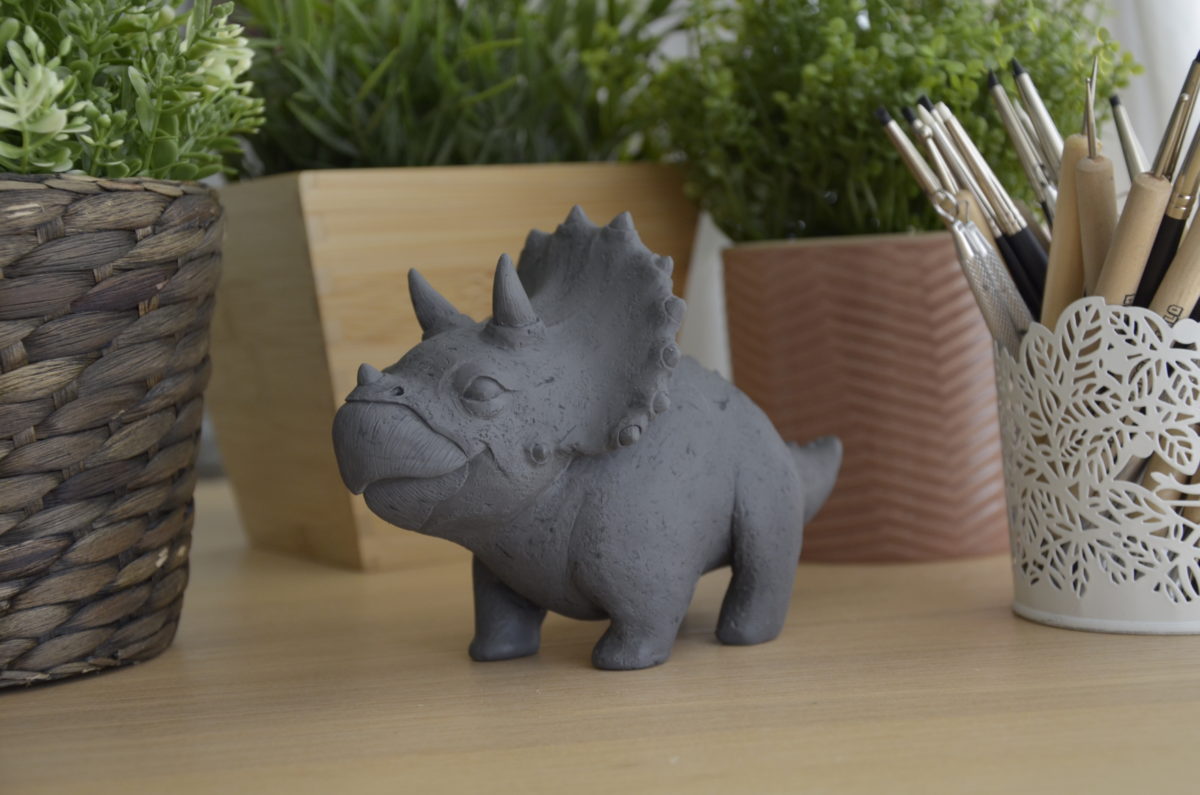 I also had the opportunity to test Black Plastiline, which is visually nice, but complicated to work with because it is difficult to see the details well when sculpting. I had to use two spotlights to be comfortable with it.
As for Red Ocher Plastiline, I only had the opportunity to make a small part in soft hardness. Very close to the color of the Monster Clay, although getting a little more dirty, with good contrast during work or for photoshooting, it could possibly reach the top places in the ranking. However, I prefer to leave it outside for the moment because I don't have enough perspective yet to be sure that it is regular in terms of its hue.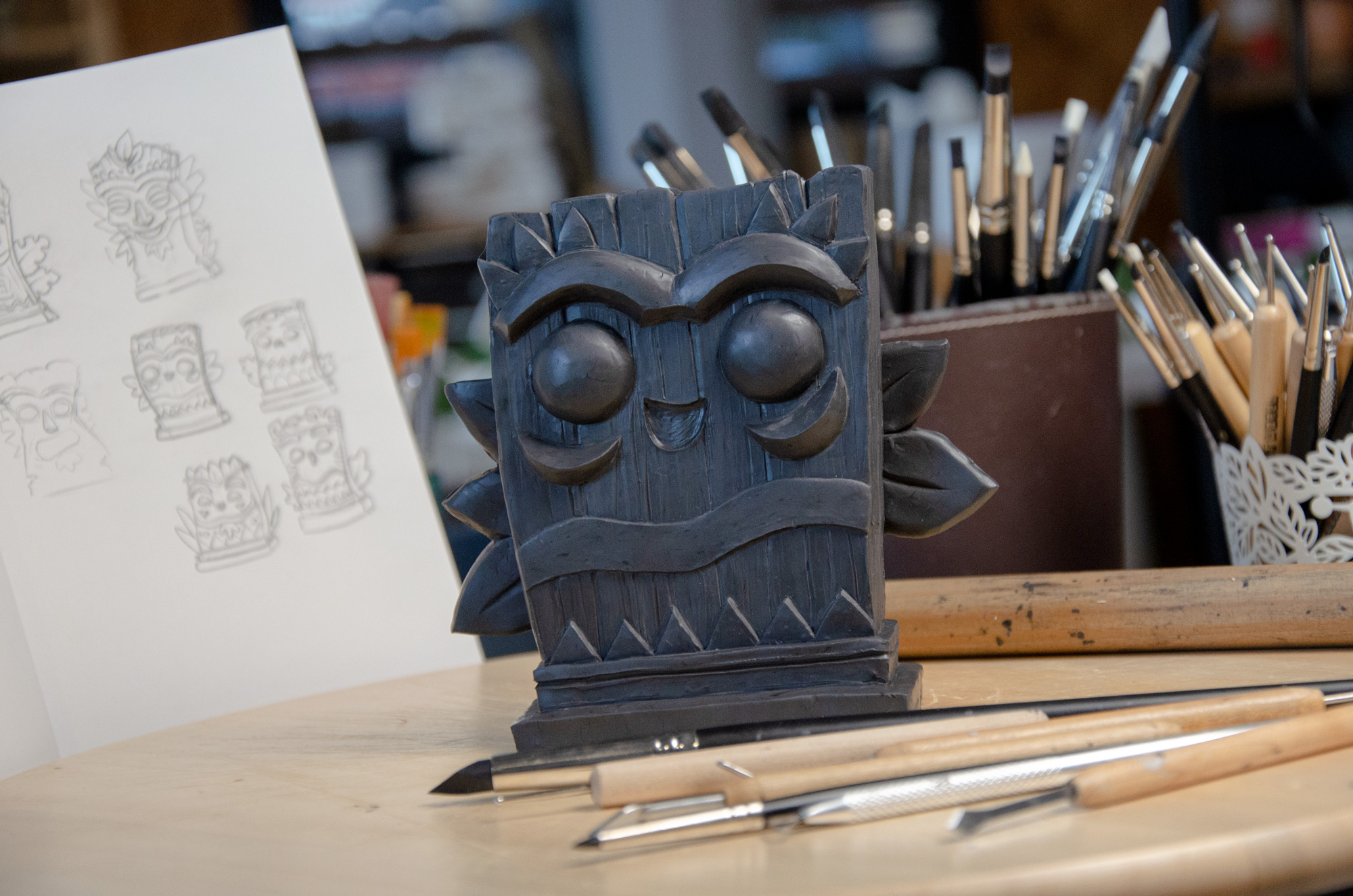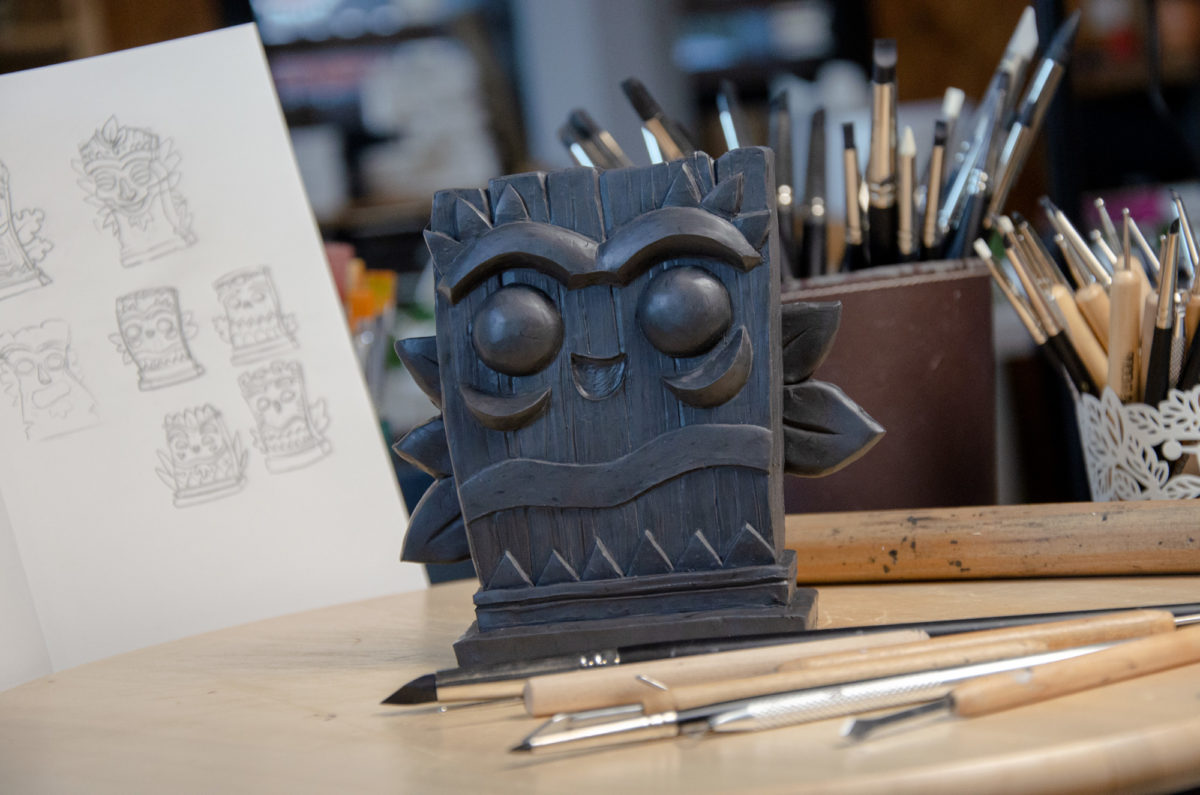 Finally, Light Gray Plastiline seems to me to be an interesting color in terms of contrast, but the tube (not yet marketed) was "striped", which causes visual discomfort when sculpting details. You can see this effect very slight on some other shades of Plastiline, but it's usually not as disturbing. To see if this will be fixed, otherwise my technique was to melt the Plastiline to a completely liquid state and mix to reduce the stripes.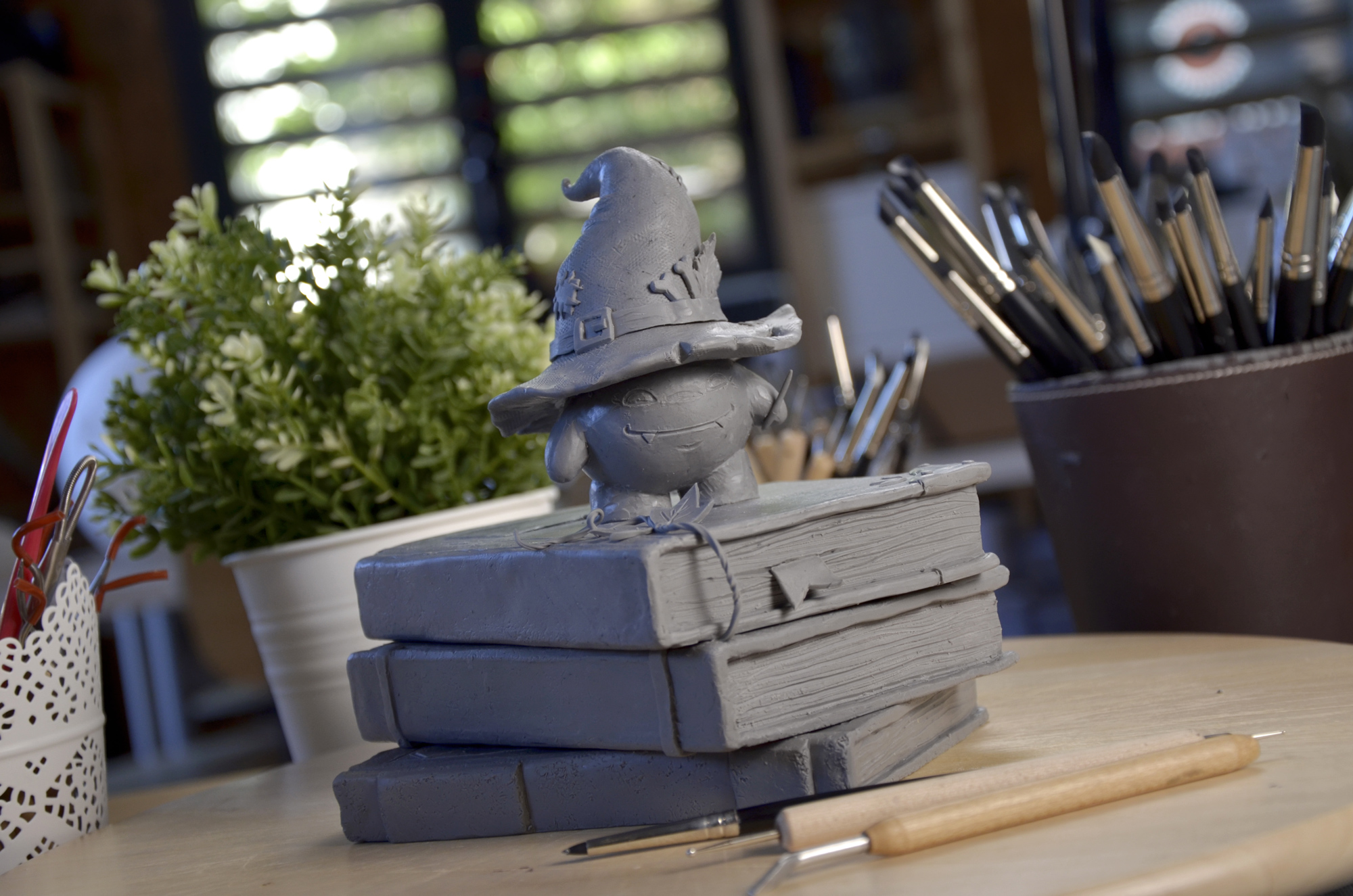 Texture
Both clays are relatively similar, but we can notice very slight differences to the touch.
Monster Clay
I have a preference for the texture of Monster Clay, which I find more waxy, smoother, and quite soft to the touch. The melting is regular in the different hardnesses that I tested (medium / hard).
Plastiline
Plastiline is more irregular (from one hardness to another, and even from one color to another). It is also quite smooth, but a little oily and leaves a feeling of greasy on the hands. If the melting of the soft and standard Plastiline is rather regular, I have on the other hand noticed small problems of melting on the high hardnesses (hard and very hard): slow melting, lumps, remains very little time in a "soft" state ", crystallization and the appearance of cracks when the temperature drops.
Packaging
Monster Clay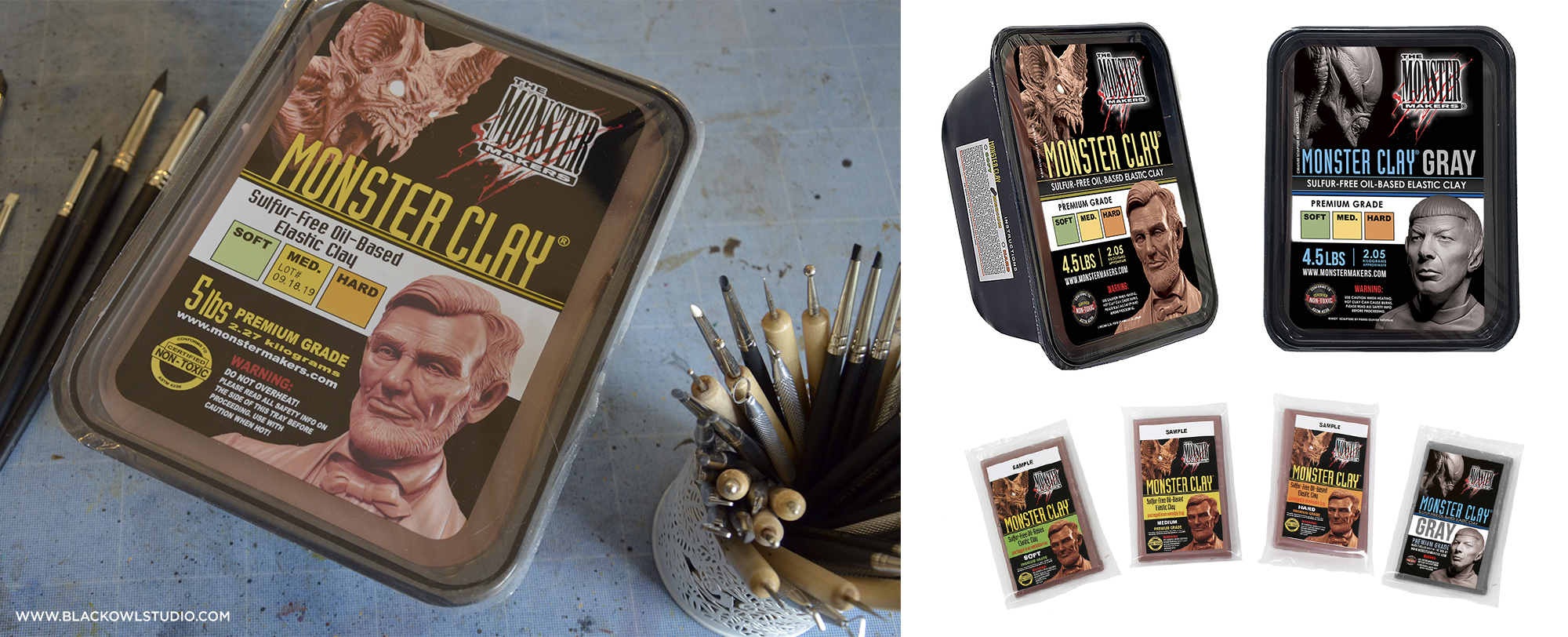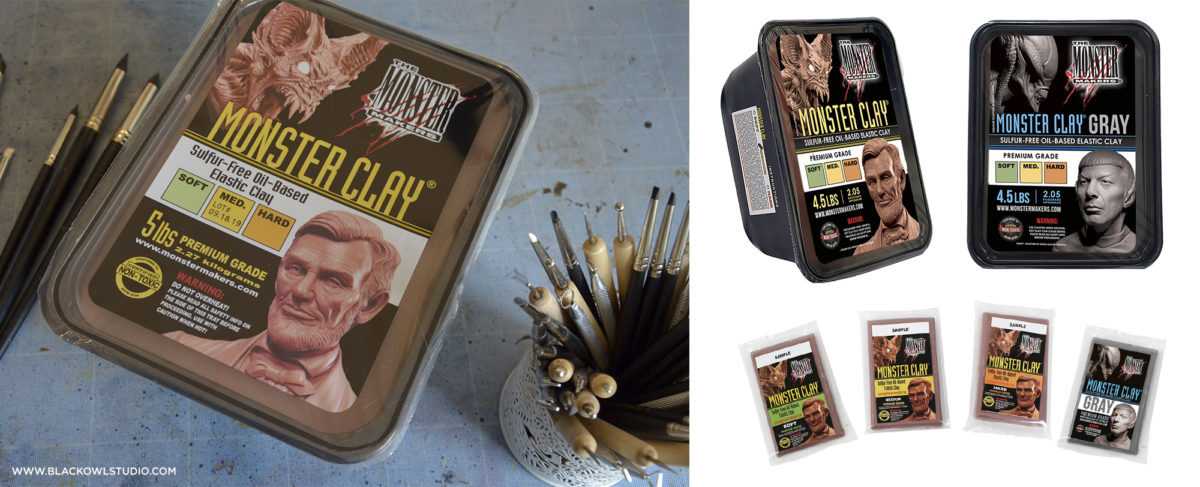 Monster Clay is generally distributed in a plastic bin of approximately 2kg (4.5 or 5lbs depending on the release date). It also exists in a "sample pack" with the 3 hardnesses in red + medium in gray (1/4lb of each), but this pack is almost impossible to find for a shipment to France.
The 2kg bin is quite practical since it is microwaveable, which makes it easy to melt Monster Clay. It is also compatible with the heat box we have in our workshop. On the other hand, once the lid is open, it is not possible to close the bin, so make sure to store it in an airtight box, or to cover the top of the bin to prevent dust from collecting.
Plastiline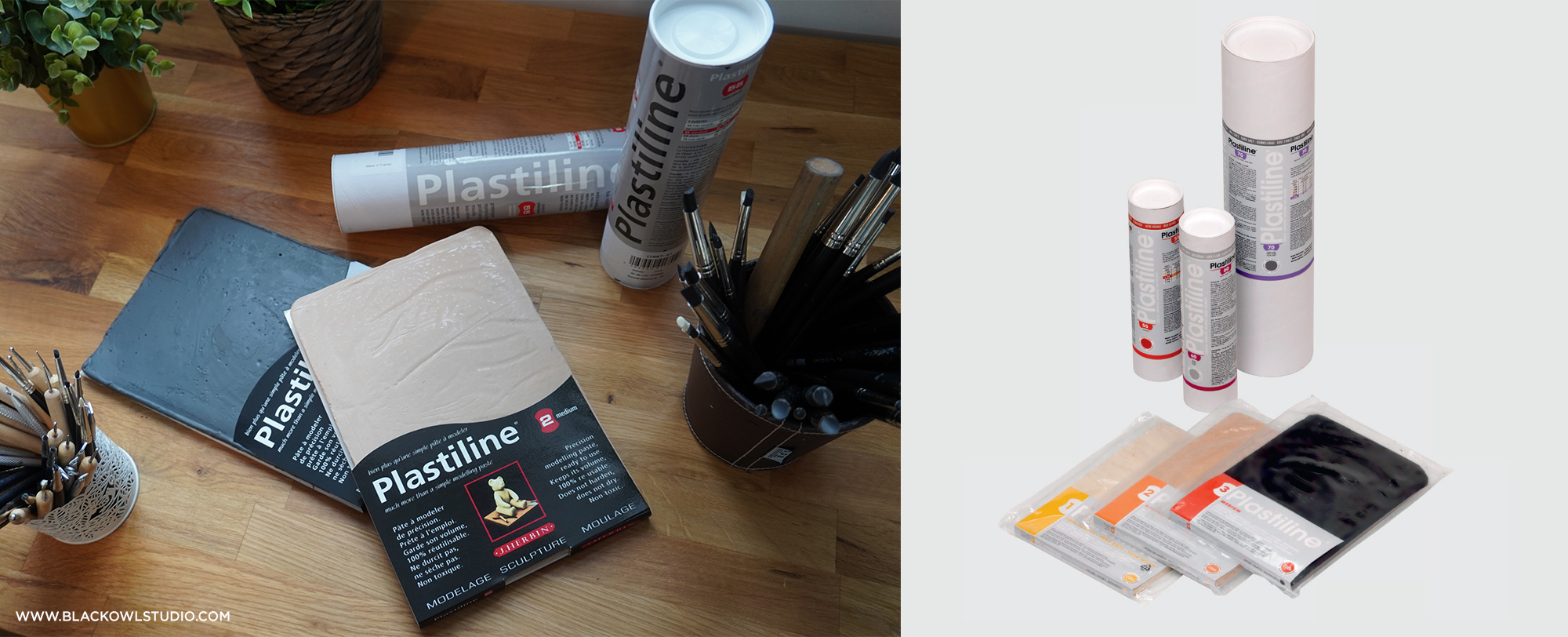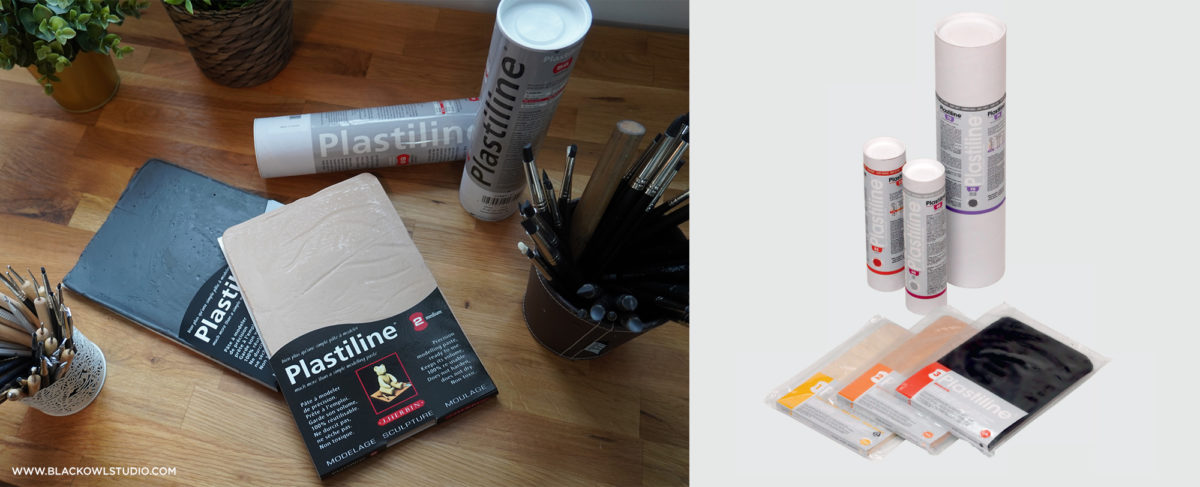 The Plastiline brand offers more choices in terms of packaging. You can find it in cardboard tubes of 1 and 5kg or in small sheets of 750g.
I have a preference for the 750g sheets which I find easy to use. Since these are fairly thin, it is easy to cut pieces even without having the Plastiline heated first. The sheets are wrapped in plastic film, so you must provide a box or a zipped bag in which to store the Plastiline after opening it.
The tubes (reclosable with a lid!) are practical for storage: being able to store them vertically side by side saves significant space.
Unfortunately, this is the only positive… It is very difficult and sometimes almost impossible to get the Plastiline out of the tube. I can't count the number of times I've cut my hands forcing on the cardboard. It stays stuck inside and even when pushing with all your might, it is impossible to loosen it in some cases. The only technique that we found then, is to cut the packaging with a cutter, which amounts to destroying the packaging. Once again, beware of the risk of injury, this is a tube so be careful to hold it so it does not roll around during the operation.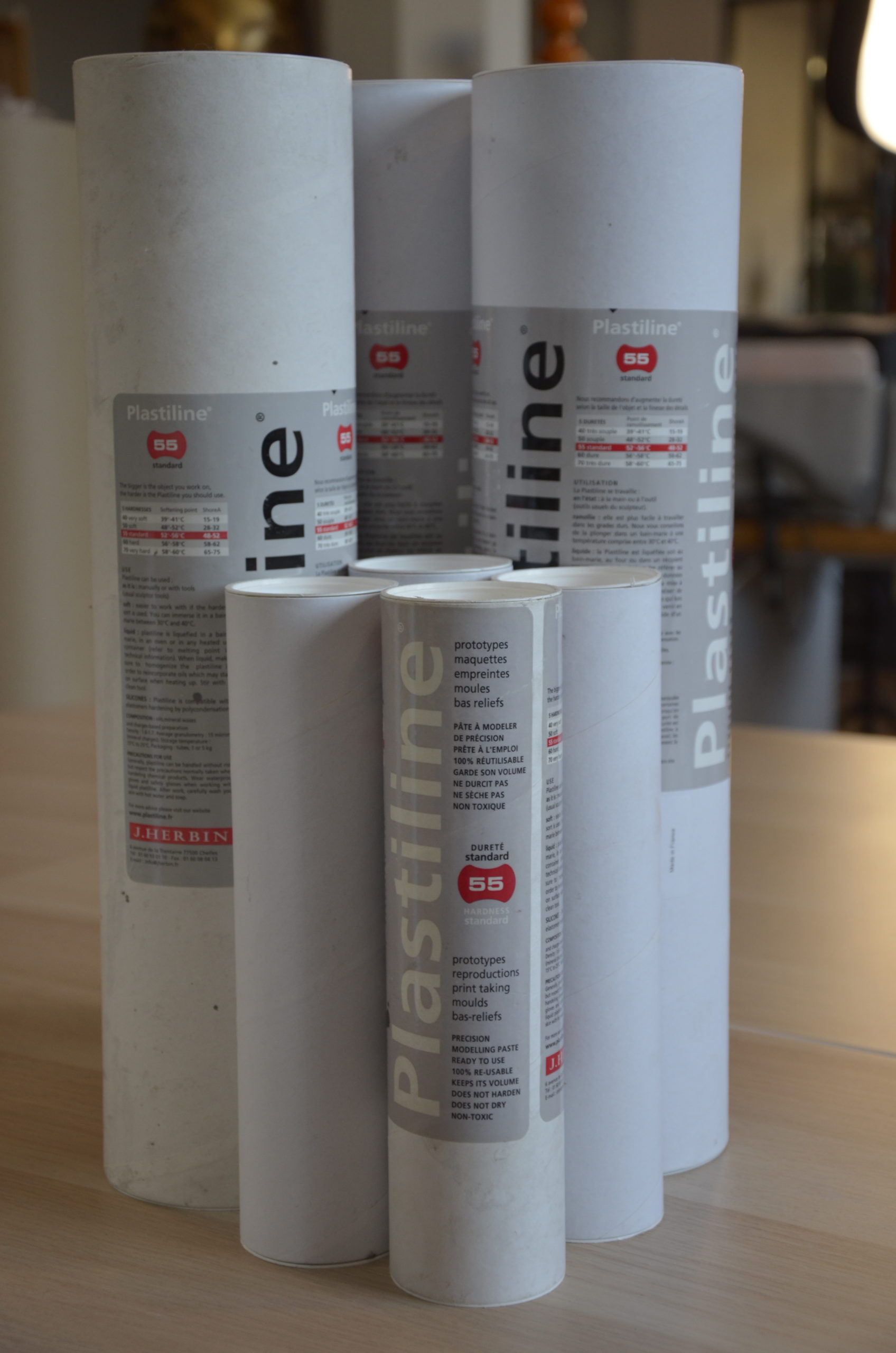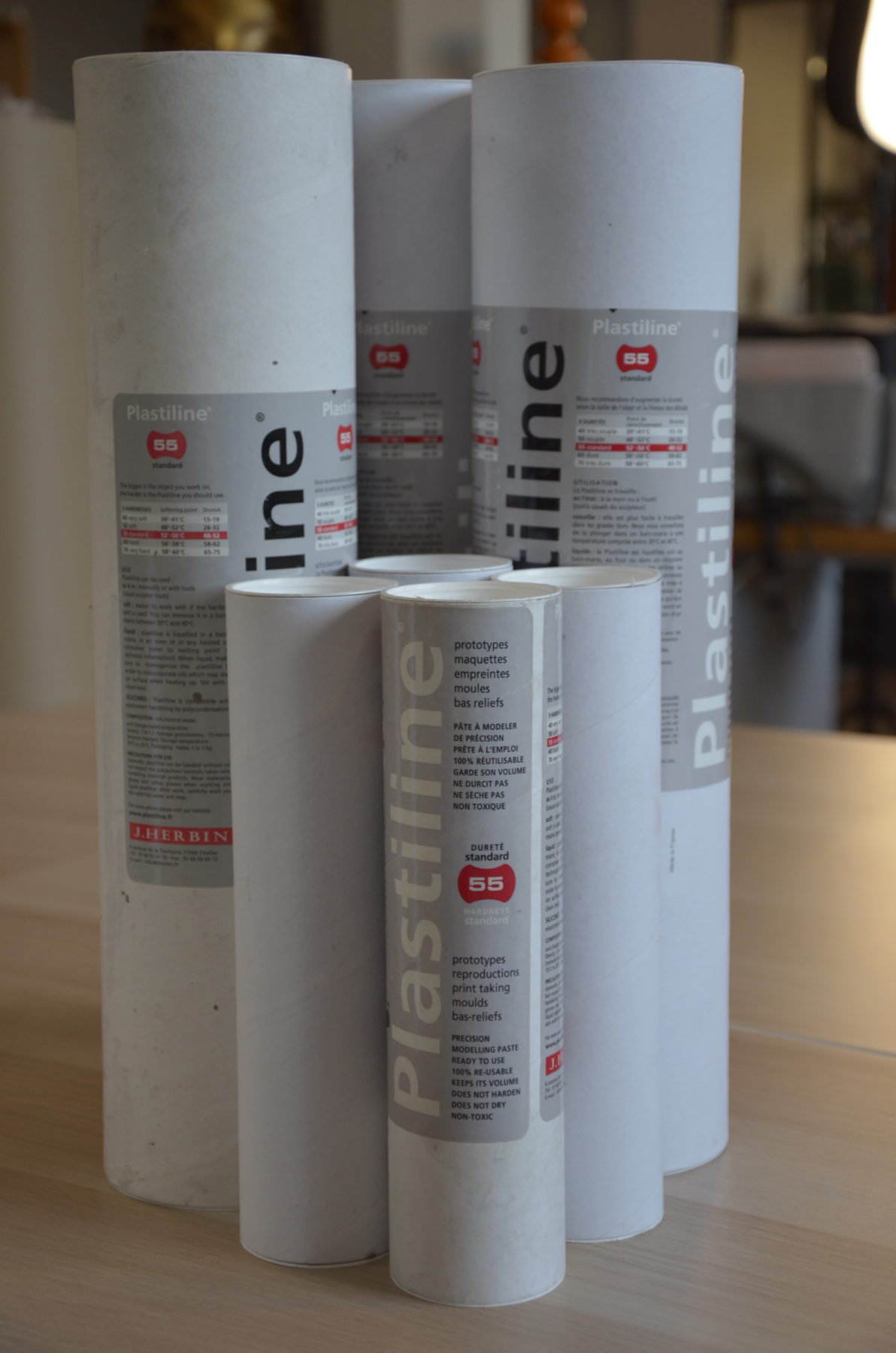 Supply and prices
Monster Clay
You can find Monster Clay on specialized websites (like FormX) and at certain resellers (Rougier & Plé for example), but not everywhere in France and often more expensive since it is an American brand and they have to add additional costs to import it to Europe.
Prices for a 2kg bin:
€39.33 on FormX (i.e. €17.33/kg)
€63.60 at Rougier & Plé (i.e. €28/kg)
Plastiline
Plastiline is Made in France (Cocorico!) It is easily found in creative hobbies shops (Cultura, Rougier & Plé, Géant des Beaux Arts, etc.), but also on many French sites and more recently on Amazon.
Prices for a 750g sheet:
€15.99 at Cultura
€17.65 at Rougier & Plé
€18.06 on Amazon
€21.50 at Le Géant des Beaux-Arts
Prices for a 1kg tube:
€17.99 at Cultura
€18.08 on FormX
€20.75 at Rougier & Plé
€20.91 on Amazon
€23.50 at Le Géant des Beaux-Arts
Conclusion:
Personally, I have a preference for Monster Clay in Medium hardness (standard red color), which I find smoother and more pleasant to the touch. However, we have to put things in perspective: we use oil based clays in a professional setting and it is a regular use. We source most of our raw materials from FormX (Smooth-On silicones and resins), so in terms of time and money it is the same to buy Monster Clay or Plastiline from them. Plastiline has small defects and irregularities: color differences, melting problems on certain hardnesses, slightly greasy feel, horrible tube packaging… which can become restrictive with regular use and in large quantities.
HOWEVER, for occasional use or for creative hobbies, I would recommend Plastiline instead (if you are located in France or nearby), which in my opinion more than meets all the criteria and whose flaws will be hardly noticeable (with moderate use). It is Made in France, easy to find, not too expensive and easy to use. That said, I would recommend packaging in 750g sheets which I find more practical (and less dangerous for the fingers).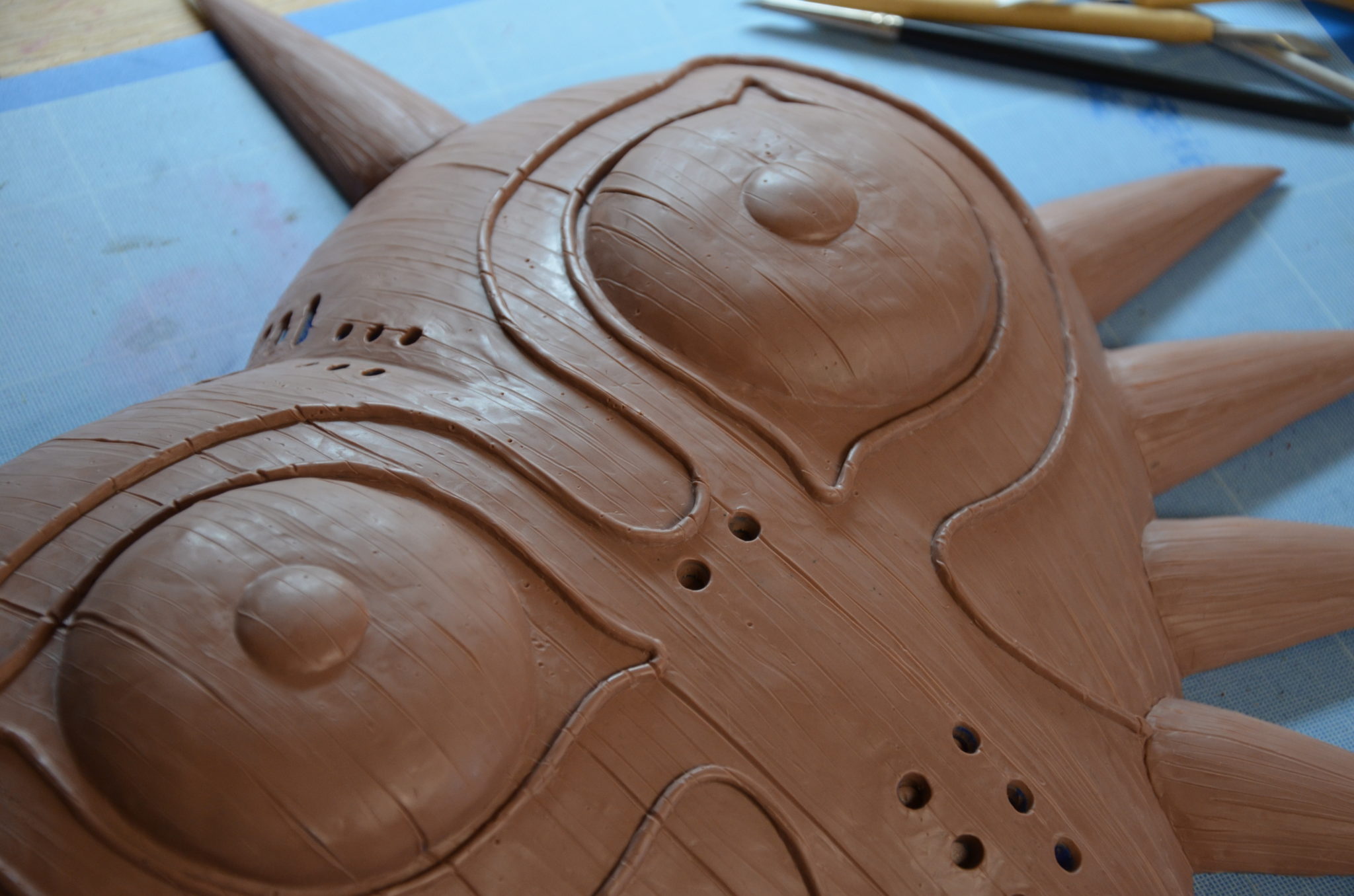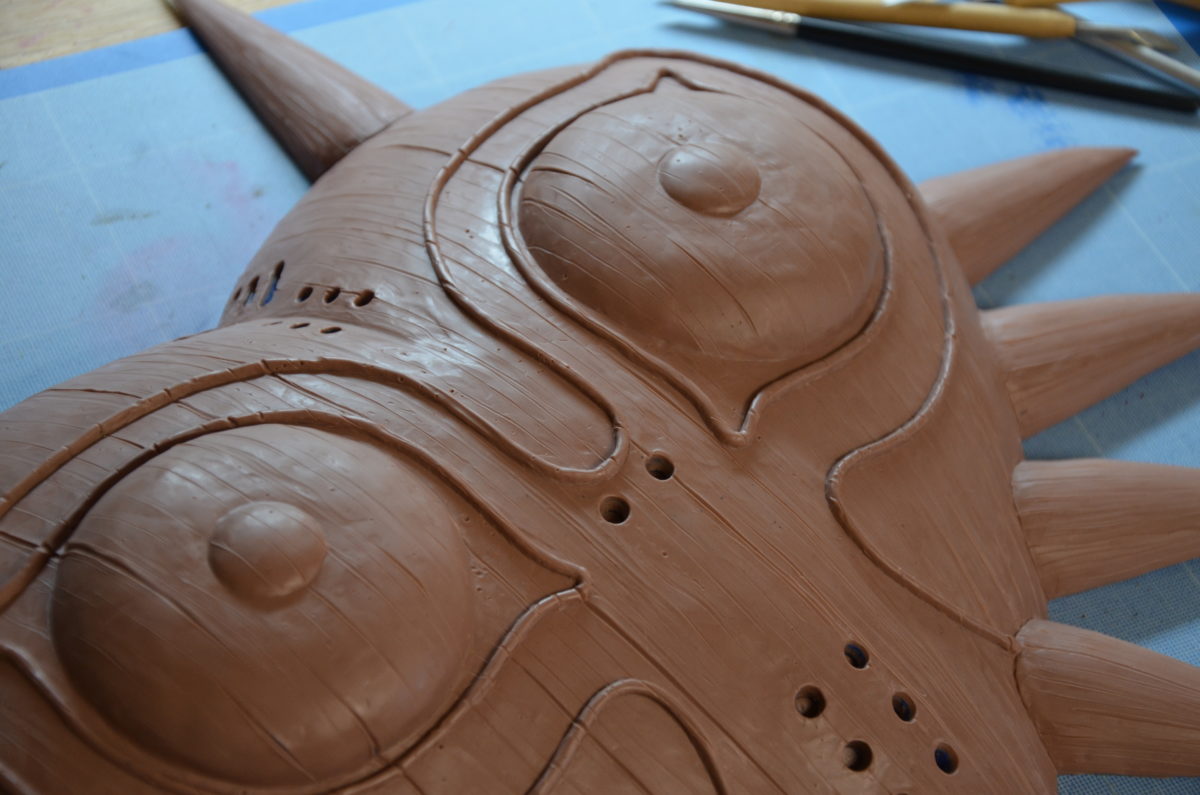 Materials and tools used :
Matérials
Amazon affiliate links