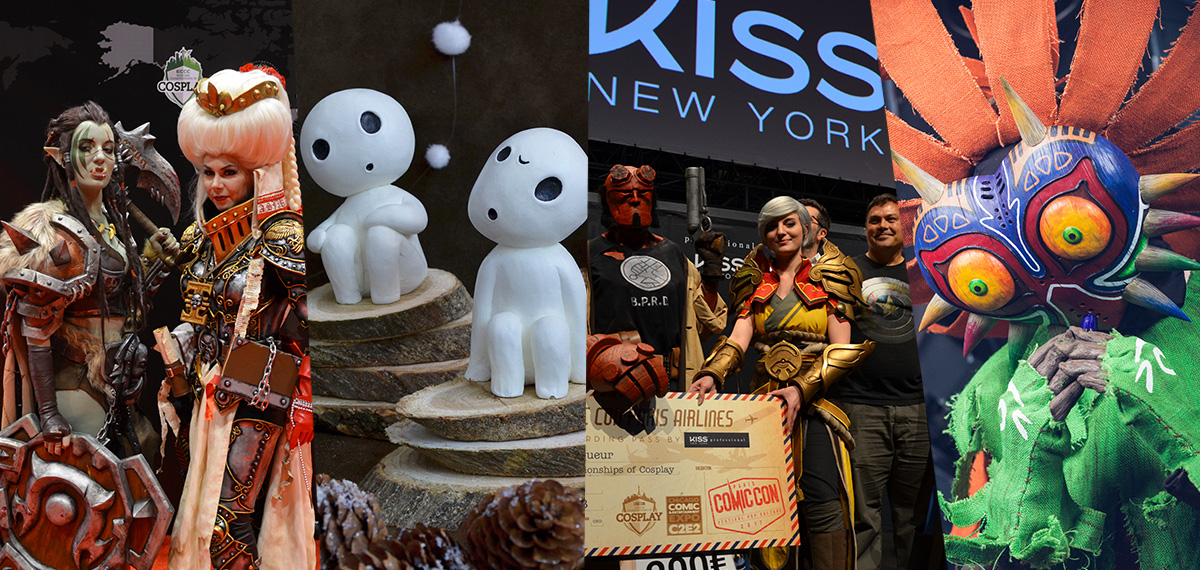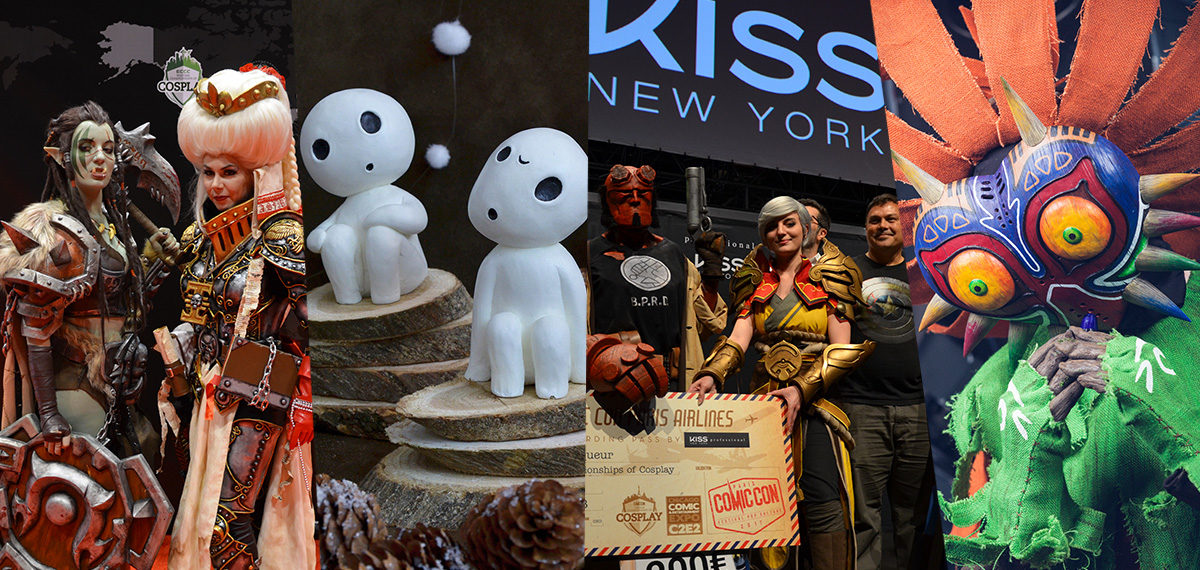 Review 2017
2017 was a really busy year for us at Black Owl Studio. Many conventions, the Crown Championships of Cosplay finals, new costumes, and the development of our little business still… Good experiences, fails and new year's projects, it's all there !
A year full of conventions
We went to a total of 19 conventions throughout the year, 14 of which as exhibitors!
March 5th : Senyu in Epinal (France)
March 24th – 26th : Happy'Games in Mulhouse (France)
April 8th : Makerfight in Mulhouse (France)
April 21st – 23rd : C2E2 in Chicago (USA)
April 29th – May 1st : Fantasy Basel (Switzerland)
May 21st : Cosplay'in Wesserling (France)
May 27th & 28th : Japan Addict Z in Strasbourg (France)
June 10th & 11th : Digital Game & Manga Show in Strasbourg (France)
July 1st & 2nd : Convention Geek Unchained in Mulhouse (France)
July 1st & 2nd : PG Series in Mulhouse (France)
July 6th – 9th : Japan Expo in Paris (France)
July 21st – 23rd : Festa Dell'Unicorno in Vinci (Italy)
August 26th : Numerik Games in Yverdon-les-Bains (Switzerland)
September 14th – 16th : Zurich Game Show (Switzerland)
September 23rd & 24th : Nekonvention in Colmar (France)
October 27th – 29th : Comic Con Paris (France)
November 11th & 12th : Cosplay Bern Festival (Switzerland)
November 4th & 5th : Horror Gaming Party in Wittenheim (France)
November 25th & 26th : SF Connexion in Turckheim (France)
These events allowed us to meet a lot of new or familiar faces, discover new places and show our work. We also had the chance to travel to Switzerland, Italy and even to the United States!
The drawback of such an agenda was that it became difficult for us to find time to rest. The end of the year was difficult: going to conventions, making products and repairing costumes between the events turned out to be more exhausting than we anticipated.
However, each event was a really rewarding experience and we hope that we'll participate in many conventions this year as well, even if we know that we'll need to make choices and reduce the number of events we attend…
Finals of the Crown Championships of Cosplay
The victory at the Comic Con Paris cosplay contest (end of 2016) opened to us the door of the C2E2 in Chicago last april for the Crown Championships of Cosplay finals.
One word: HUGE.
Three days that went so fast, visiting the convention (no time for the town sadly…), meeting a lot of super-nice people, tasting the "deep dish" (pizzas that looks like pies, local specialty), going to prejudging, waiting in line backstage with other contestants, getting nervous, going on stage, and taking the plane back home…
Judging cosplay contests
A bit less contests for us as contestants this year, but a few great experiences as judges !
Happy'Games, Cosplay'in Wesserling, Digital Game & Manga Show (for the European Cosplay Awards), Convention Geek Unchained II, Nekonvention, Cosplay Bern Festival, SF Connexion…
As many conventions that we spent through the Looking-Glass 🙂
And all of these in good company : Lightning Cosplay, LucioleS, Aldarion, Nuna Cosplay, Cosplay&Craft, EdenCraft, MiniNene, Mélyanis, Eiryhan Créations, Lfay, Yoshii Cosplay, Yuka Costumes…
But the most notable experience was at the Comic Con Paris, when I was invited to be a judge at the French Championships of Cosplay alongside Chris Donio (costume maker for Ant-Man among others) and Riki Lecotey (cosplayer and costume maker for Civil War and Infinity Wars, no less).
First, I was quite impressed by these two professionals who came from the United States especially for the contest. But I (surprisingly) found my place during pre-judging.
While they brought with them professionalism and technicality from movie studios, as well as their vision of cosplay contests in the United States (where the finals are held), I brought my experience from the contest as I lived it through the year from the selections to the finals in Chicago, but also some technical knowledge and a few translations on several materials their translator had some trouble with (some brands are not available in the US, so it can be hard to see what the contestant is talking about).
My opinion was taken into account on equal parts with theirs, and although it was really difficult to choose the winners of each category (armor, sewing, fx, and First place) among so many beautiful costumes, I spent a fantastic day with the judges, staff and cosplayers. Especially the female cosplayers with whom I could debrief when changing back at the end of the day…
NB : if you're judging a cosplay contest, do nott think you'll manage to quickly change yourself in the dressing room after the winners announcements 😉
Workshops
In 2017, we also held 11 workshops (plus a few panels we had on stage). Chain-mail, silicone molding, Worbla, we spoke about many things ! We really liked doing it widened our skillset as a bonus. We hope that we'll have even more workshops in 2018. In this direction, we added a new page to our website, talking about things we can do during conventions, and especially what subjects to go over for our workshops ! Hoping to expend even more!
Organizing a convention : Geek Unchained
In 2016, the Convention Geek Unchained was the first to invite us as exhibitors. At the end of the year, we joined their association and began to prepare for the 2nd edition. After more than a year of preparations, the Geek Unchained II Convention took place on the 1st and 2nd of July 2017.
A brand new experience in which we took part personally, but also as Black Owl Studio, while exhibiting costumes and props, making trophies and judging the cosplay contest.
A big success for the association as the hall was completely filled up all weekend, so the convention is now moving to a bigger place for the 3rd edition!
Black Owl Studio, with a lot of experience gained through many conventions, will manage this year's cosplay contest. We will also manage other things : organizing video game tournaments for Joris, developing websites for the association and the convention for Maël, and making the convention's visuals and communication mediums for me.
Facebook Geek Unchained / convention.geekunchained.fr / www.geekunchained.fr
New costumes
Early 2017, we announced three new costumes : Star Lord (The Guardians of the Galaxie), the Black Knight (Dark Souls) and Captain Amari (Overwatch)…
As you may have noticed, none of these three cosplays came to life… decreased motivation for Star Lord, lack of time for the Black Knight, and a lot of troubles on Captain Amari's costume (out of stock fabrics, pattern-making fails, fabrics destroyed by the washing machine…)
We didn't abandon all hopes however, and after Captain Amari's fail, we challenged ourselves to craft a costume in a week only : an original creation based on shaman fantasy.
A second costume was also created in a short time. After we made the Majora's Mask (from The Legend of Zelda video game), we crafted the rest of the Skull Kid's costume in less than 2 weeks…
The third cosplay, a bit longer this time, was the Monk (Diablo 3). A big rush as we wanted it to be ready for Comic Con Paris and that it was trickier for us (we are better at armor making or molding than sewing).
My little business
After we joined a «business incubator» at the end of 2016, we kept moving forward all year, growing our business during all the conventions but also thanks to our new Etsy shop.
www.etsy.com/fr/shop/BlackOwlStudio
After a slow start, orders finally came in, before almost overwhelming us in the festive season!
All in all since their creation, more than 230 mandrakes were adopted and found a warm welcoming home 🙂
All year long we've been working on new props or figurines that we then added to our shop. After the mandrakes, we made the Aku Aku's mask (Crash Bandicoot), the Majora's Mask (The Legend of Zelda) and the Kodamas (little forest spirits from Princess Mononoke).
In 2017, we also had our first trophies commissions :
Lastly : we announced this in our 2016 review and went ahead… we bought our new 3D printer!
What now, in 2018 ?
We already confirmed three dates in our agenda.
Necronomi'con in Belfort the 3rd and 4th of February 2018.
Then, we'll be at Cosplay'in Wesserling the 20th and 21st of May, where we'll have a booth and maybe hold a workshop (to be confirmed).
And lastly, we'll be at Convention Geek Unchained 3, as we're still part of the organization this year. We hope we'll see a lot of you guys there!
Other dates should come soon, as we already got some leads. Of course, we'll give priority to events and conventions that invite us.
We'll continue to grow our online shop, with (really soon) 3 new objects : The Te Fiti heart (Moana), the crow version of Reaper's mask (Overwatch) and a new edition of the Lara Croft's necklace (Tomb Raider).
We can already tell you that we are working on books about cosplay about various techniques we are using. We hope we'll be able to tell you more about that soon 😉
For now, don't hesitate to tell us what you retained from Black Owl Studio in 2017 :
costumes, memories from conventions, etc. and to share with us your desires or suggestions for 2018.