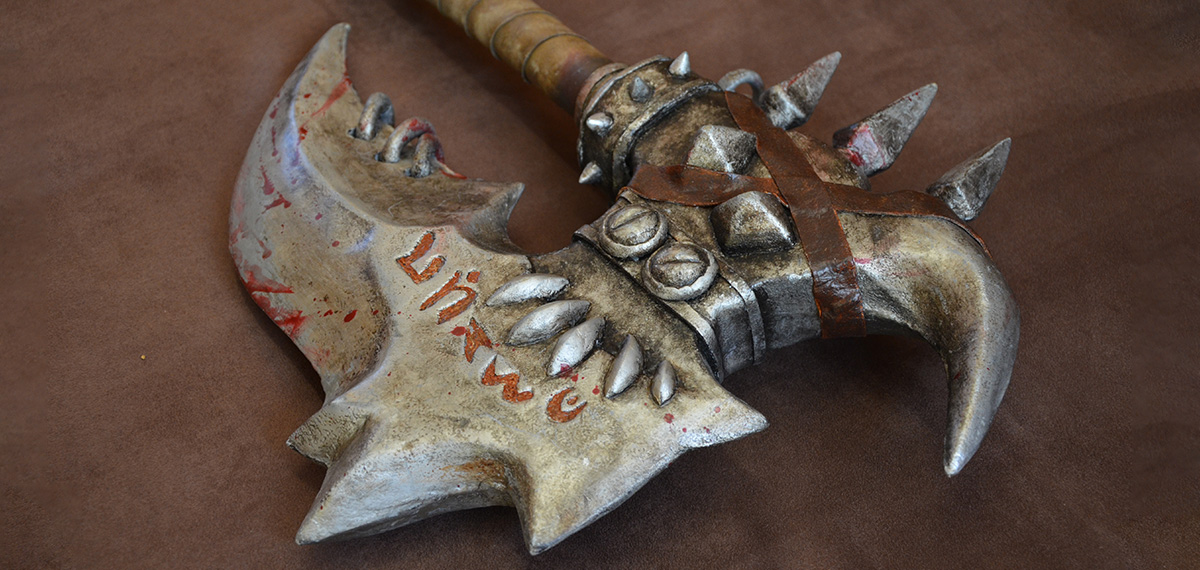 Warsong Commander: Axe making of
Following on the complete Warsong Commander costume making of, here is the process for the axe (shield is also available here).
Patterns + wooden body
To ease the making of this axe, I first re-drew it on Illustrator (vectorial drawing). From this, we obtained precise dimensions, and Joris could make the wooden body. This one is splitted in 2 parts (one for the handle, the other for the blade) in order to disassemble it so it takes less place in transport.
Foam basis
For this step, it's also Joris that takes the job… After glueing 3 layers of EVAfoam together with neoprene (integrating the wooden part inside of it), he had to carve it with a Dremel to get the right shape.
Worbla
Until then, that was Maël who mainly applied Worbla on foam pieces. But, with 3 costumes to finish at the same time (Warsong Commander, Guardian of Kings and Black Knight), I had to work with this material too. So this was my first complete Worbla piece and after tough starts (and a few fingers burned), I'm proud of this result.
I used the «sandwich» technique, I applied 2 Worbla sheets: one on a face, one on the other. Once the two sheets took the shape of the foam piece, I cut the border that is formed on the edge where the sheets stick to each other.
I then had to add details. Foam bases were made for the two small «pikes» (1st pic), all the rest was made from Worbla's Finest Art scraps and Worbla Black (rings, pikes on the edge, borders, etc.). Teeth were made with Fimo.
Painting
Before painting, I had to protect faux-fur and fake leather that are glued on the handle, as well as Fimo teeth. Once they are covered with masking tape, we primed Worbla parts and applied a coat of silver spray paint. Then, I added black paint with a brush, and wiped it off with a rag to give the «metal parts» an old aspect.
I also painted the fake leather a bit with different tints of brown, for a more natural look.
Finally, I splattered my axe with red paint to imitate blood squirts, and painted Worbla straps in brown (the ones on the blade).
Result